Ice Cream & Desserts
The Best Ice Cream, Fro-yo and Custard in Valley Forge & Montgomery County, PA
Bring your sweet tooth to Valley Forge and Montgomery County for a taste of our favorite frozen treats. From ice cream fresh from the dairy to build-your-own fro-yo, satisfy your craving at Montco's best ice cream shops.
Sweet, Sweet Victory
Are you drooling yet? With an array of dessert delicacies and award-winning pastry chefs, Montgomery County has everything you need to satisfy your sweet tooth. We scoured Instagram to find a baker's dozen of the best desserts in Montgomery County and its neighbors.
Due to recent restrictions, please check with the business to make sure they are open for curbside or takeout as hours and menus might have changed.
Montco's Most Instagram Worthy Desserts
DAVIO'S GALLERIA BAKERY + CAFE
Step inside a little slice of Italy at Davio's Galleria, where you can indulge in a magnificent scoop of rich, creamy gelato in flavors such as strawberry, Belgian chocolate and stracciatella. With rotating seasonal flavors as well, Davio's keeps the deliciousness going all year long.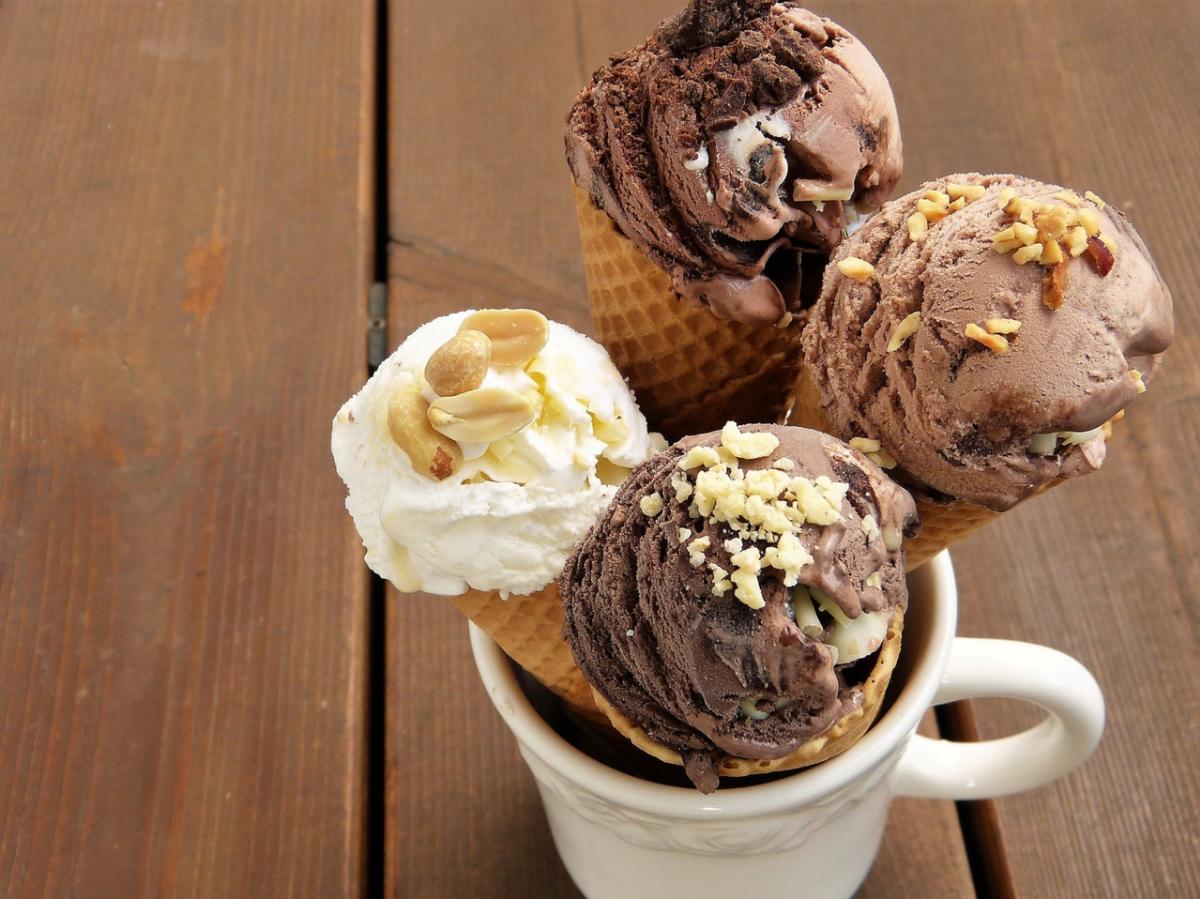 KILWIN'S KING OF PRUSSIA TOWN CENTER
Since 1947, Kilwins has earned a reputation for high-quality products, and for the first time the "Kilwins Experience" is now available in the Philadelphia area. Come see your favorite treats made, fresh in the store "theatre-style," including Sea Salt Caramel Fudge, Pecan Caramel Apples, Cashew Brittle and "Original Recipe" Ice Cream.
THE DAPPER DOUGHNUT
Plymouth Meeting
Kids go crazy for the Dapper Doughnut's handmade doughnut milkshake, served with one of their signature "cake style" doughnuts speared through the straw. Choose a specialty topping and watch it whirl together with ice cream and doughnuts to craft this unique treat.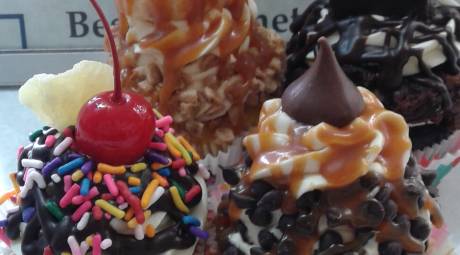 COSTA DELI
Called the Best Milkshake in Town for a reason, the shake at Costa Deli is blended to perfection. Pair it with one of Gina's Amazing Gourmet Cupcakes, freshly baked by Gina Costa herself, for a truly spectacular treat.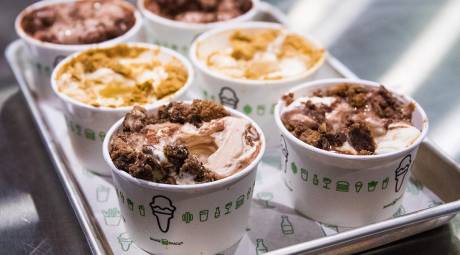 SHAKE SHACK
King of Prussia

Shake Shack now has two King of Prussia locations: one inside the mall (in the Savor food court) and one outside. Either store is the only place we know of to dive into a Valley Forge Freeze, made with chocolate custard, caramel sauce and cheesecake blondie.
DREAMS ICE CREAM FACTORY
Glenside

Dreams Ice Cream Factory is, indeed, a factory in that it produces dreamy ice creams onsite. Unique flavors like Maple Walnut and Cotton Candy are popular, but frozen dessert lovers pining for the fall line up in the summer months for the pumpkin flavor.
FREDDY HILL FARMS
Lansdale
Official PA Ice Cream Trail Stop
A full-fledged family-friendly outing – plus ice cream – is part of the appeal of Freddy Hill Farms. Kids can visit farm animals, play mini-golf or take a few swings in the batting cages. Then it's a tough decision on which hand-dipped masterpiece to choose. Cream of the crop flavors include Key Lime Pie, Fluffernutter, S'Mores and Strawberry Cheesecake.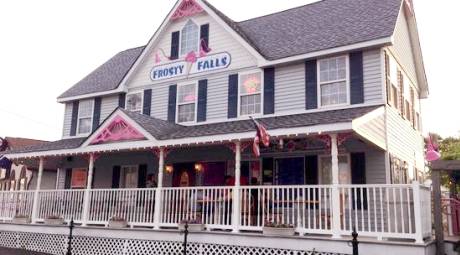 FROSTY FALLS
Bridgeport

Frosty Falls unites two summery treats – ice cream and funnel cake – in a unique combination, the Funnel Cake Sundae. Other specialties of the house include gelati, floats, milkshakes and water ice.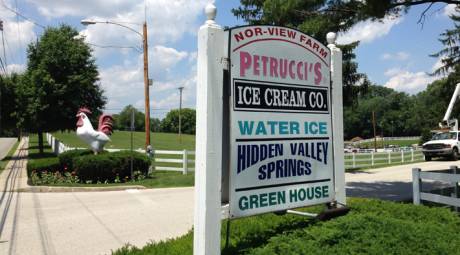 PETRUCCI'S ICE CREAM
King of Prussia

Need help finding Petrucci's Ice Cream? Keep your eyes peeled for the giant wooden rooster by the roadside. The frosty desserts (ice cream, gelati and water ice in numerous flavors and combinations) are perfect for cooling down on a hot summer night, as are the frozen, chocolate-covered bananas.
SULOMAN'S DAIRY
Gilbertsville

Once you've finished your treat at Suloman's Dairy, take your small one by the hand and visit the ducks at the pond. If you've got a pocketful of stale bread, you will be very popular. In addition to ice creams of all varieties, Suloman's is one of the few places we know of that still makes malted milk, just like they did at the soda fountains of the 1940s and 1950s.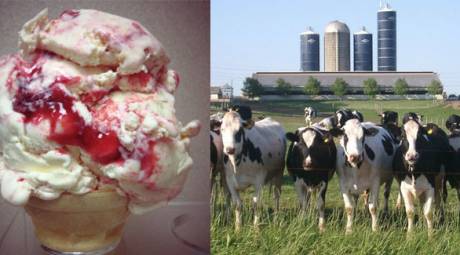 MERRYMEAD FARM
Lansdale
Official PA Ice Cream Trail Stop

Merrymead Farm may represent the county's fastest turnaround from cow to cone. Milk that's collected onsite twice daily is flavored, churned and frozen. One lick (pick any flavor – Moose Trail, for example, with its chocolate chunks and peanut butter cups) reveals how fresh it all is.
NELSON'S ICE CREAM STORE
Royersford

The Nelson's family started its Royersford dairy in 1916, when cows grazed on what is now Route 422. The ice cream business followed in 1935, and now, it's where Nelson's Ice Cream Store excels. The Graham Slam – graham-flavored ice cream with swirls of graham cracker ribbon and chocolate-covered crunch – is a standout.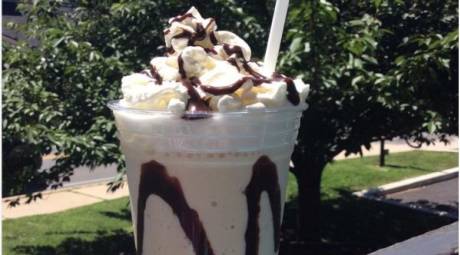 SKIPPACK SWEET SPOT
Skippack Village

When Skippack Sweet Spot makes a classic root beer float, it starts with generous portions of quality ice cream. Then comes the craft-brewed root beer, fizzing and popping with flavor. Topping off the deliciousness is a cloud of whipped cream and a generous drizzle of chocolate.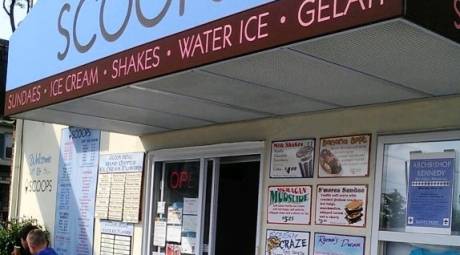 SCOOPS
Conshohocken

Visitors to Conshohocken who want to get their ice cream where the locals lap it up will do well to visit Scoops. The traditional flavors are to die for, but the real magic happens with specialties like Coconut Almond Joy and Salted Caramel Soft Pretzel.
VILLAGE TREATS
Narberth

Village Treats raises the simple ice cream sandwich to an art form. Try the traditional Chocolate Chip version, or go a little wilder, in which scoops of Nutella or Chocolate Salted Peanut ice cream are squashed deliciously between two cookies.
WELDON SODA FOUNTAIN
Glenside

Sometimes, it's the setting that makes an ice cream treat special. The retro look of the Weldon Soda Fountain evokes another day and time. It's easy to imagine couples jointly sipping an ice cream float, her in pink crinoline, him in a bow tie and suspenders.
ZWAHLEN'S ICE CREAM & CHOCOLATE
Audubon

The ice cream experts at Zwahlen's Ice Cream & Chocolate have created a process that adds about 50 percent less air in the churning, which makes the consistency richer and the flavors deeper. Try the Dizzy Redhead, which is vanilla ice cream, red velvet cake pieces, raspberry swirls, and chocolate chips.
FOUNDING FARMERS FIRST BAKE CAFE & CREAMERY
Enjoy Founding Farmers delicious house-churned ice cream in a float, shake or specialty sundae – or topping a homemade slice of pie. Feeling fancy? Try the affogato: a scoop of ice cream with espresso, cold nitro brew or Founding Spirits Arroyo's "Never Bitter" Amaro shot.