Farmers Markets
Montgomery County
It's rather interesting to see the farm-to-table concept take hold as a major culinary trend; Montgomery County has eaten that way for centuries.
From late spring to early autumn, local farmers, florists, dairymen and crafters spread their wares in quaint settings and offer the fruits of their labors - as well as a host of other tempting goods.
Here are the best of the best: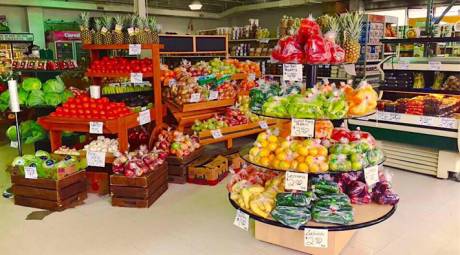 PLYMOUTH PRODUCE
Norristown
Hours: Monday-Saturday: 8 a.m. to 7 p.m. | Sunday: 9 a.m. to 6 p.m.
Reason to Go: Fresh produce from local farmers is just the beginning. Plymouth Produce also features Italian and Hispanic specialties, and you can enjoy hand-crafted sandwiches using premium Dietz & Watson lunch meat.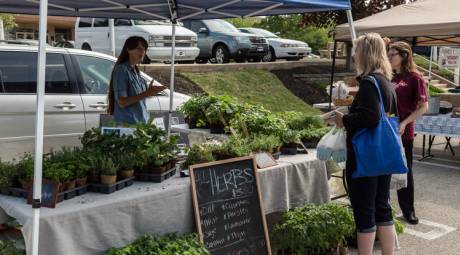 UPPER MERION FARMERS MARKET
King of Prussia
Hours: Saturday: 9 a.m. to 1 p.m.
Reason to Go: The meats sold here by Livengood Family Farm in Lancaster include ground sirloin made only from grass-fed cattle. The resulting burgers are outstanding. Upper Merion Farmers Market often features pets for adoption from local animal shelters, lending an "aww" factor that is popular with kids.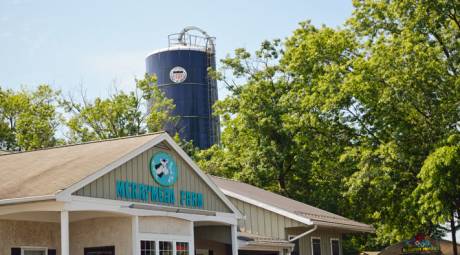 MERRYMEAD FARM
Lansdale
Hours: Monday -Saturday: 8 a.m. to 9 p.m. || Sunday: 10:30 a.m. to 9 p.m.
Reason to Go: Home-made specialties at Merrymead include some harder-to-find specialties like cheese curds and shoo-fly pie. While browsing the farm-fresh produce, grab a freshly dipped ice cream cone. The flavors are plentiful and, as we reported in a recent blog, the production starts with the cows that live just behind the store. 
GLENSIDE FARM MARKET
Glenside
Hours: Saturdays from 9 a.m. to 1 p.m.
Reason to Go: Amid the first-rate meats, produce and dairy, it's possible here to buy a skein of yarn spun from baby-soft alpaca fur. On the culinary side, try one of Humpty's Dumplings, which come in flavors such as cheesesteak, BBQ chicken and even sweet apple pie.
WEST NORRITON FARMERS MARKET
Norristown
Hours: Daily from 9 a.m. to 9 p.m.
Reason to Go: One of the best kept secrets in Norristown. Home chefs looking for unusual cuts of meat can find whatever specialty items they may need here, including tongue, tripe, heart, ear and even a whole pig head. Known for its international and ethnic variety including unique pastries, Jamaican spice rubs, wasabi seaweed snacks and Jarritos (a jazzy Mexican fruit soda).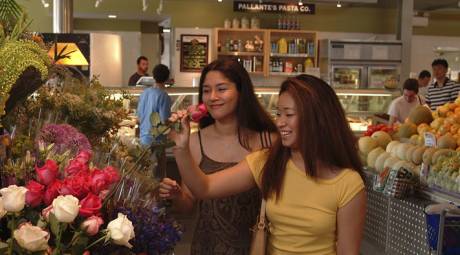 ARDMORE FARMERS MARKET
Ardmore
Hours: Monday - Friday: 8 a.m. to 7 p.m. || Saturday 8 a.m. to 5 p.m. || Sunday 8 a.m. to 4 p.m.
Reason to Go: If you've cultivated taste buds yearn for food prepared in the European style, Ardmore's got it. Stoltzfus Bakery makes homemade pretzels in the true Bavarian tradition. It's bakery has even been featured as the "Best Bakery" in Main Line News. DiBruno's offers meats and cheeses that are delizioso.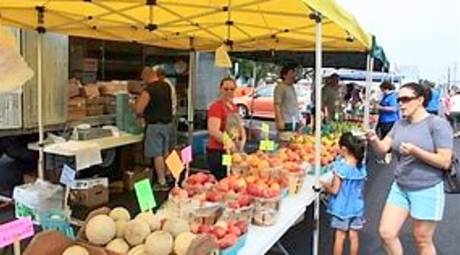 LANSDALE FARMERS MARKET
Lansdale
Hours: Saturdays from May 19 - November 17
Reason to Go: Joining the meats, cheeses, wine, baked goods, olive oil, maple syrup, spices, fair trade coffee, prepared foods and nursery stock is the Mushroom Guy, your go-to resource for fresh Shitakes, Chanterelles and Portobellos. A rotation of performers regularly presents live entertainment.
R&J FARM MARKET
Souderton
Hours: Monday to Friday: 9 a.m. to 6 p.m. || Saturday: 9 a.m. to 4 p.m.
Reason to Go: R&J is all about poultry in motion. Their claim-to-fame is chicken that is farm-raised, free-range and all natural. Likewise, the beef is locally raised and hormone- and antibiotic-free. Tasted side-by-side with your average supermarket fare, and there is no comparison. R&J uses non GMO seed only and is open all year round.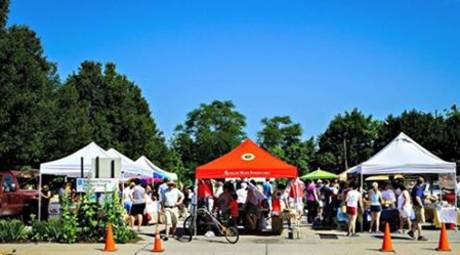 AMBLER FARMERS MARKET
Ambler
Hours: Saturdays from 9 a.m. to 1 p.m.
Reason to Go: The selections here are extensive, with Alice Bakery as a do-not-miss for anyone with a sweet tooth. Be sure to bring your dull kitchen carving knives. A local craftsman can get them gleaming and sharp in no time.
INDIAN VALLEY FARMERS' MARKET
Telford
Hours: Saturday: 8:30 a.m. to 12:30 p.m.
Reason to Go: Indian Valley has plenty for shoppers, but even kids can have a good time. The market readily hosts a craft table, where little ones can make a cute birdhouse or other artistic creation while you shop.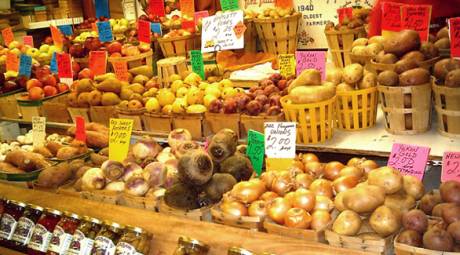 ZERNS FARMERS MARKET
Gilbertsville
Hours: Friday: 2 p.m. to 10 p.m. || Saturday: 10 a.m. to 10 p.m.
Reason to Go: Proximity to Lancaster's numerous Amish farmsteads makes the produce at Zerns - one of the oldest and largest markets in Montgomery County - plentiful. The shelves and bins overflow with apples, peaches, plums, nectarines, pears, strawberries, blueberries, raspberries, squash, peppers, cucumbers, eggplant, cabbage, beans, beets, herbs, bedding plants, vegetable plants and perennials. If you're into antiques, check out the extensive flea market, as described in our blog.
DEKALB PRODUCE
Blue Bell
Hours: Monday to Saturday: 9 a.m. to 7 p.m. || Sunday: 9 a.m. to 6 p.m.
Reason to Go: There are two reasons to stop at Dekalb Produce on your commute home from work on those golden summer evenings: One, it's open every day. Two, it's got basketsful of the sweetest, juiciest and freshest ears of white and yellow corn around.
FLOURTOWN FARMERS MARKET
Flourtown
Hours: Thursday: 8 a.m. to 6 p.m. || Friday: 8 a.m. to 7 p.m. || Saturday: 8 a.m. to 5 p.m.
Reason to Go: Ali Rashidian, who runs a local Middle Eastern restaurant in Lafayette Hill, is one of many reasons to seek out this market - and seek you must because it is hidden in a small nook near the local CVS. But Rashidian's products are off-the-charts good, especially the hummus. -- currently undergoing renovations.
HATBORO FARMERS MARKET
Hatboro
Hours: Fridays: 5 p.m. to 8:30 p.m.
Reason to Go: The specialty here is Clay Brick Farms, whose milk arrives on the shelves a mere two days after leaving the cows. While you're walking past all the unique things to buy, get a bag of kettle corn from the Popcorn Pit to munch along the way.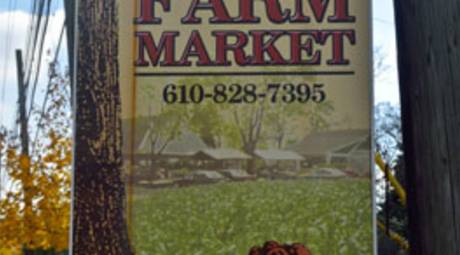 MAPLE ACRES FARM AND MARKET
Plymouth Meeting
Hours: Daily, 8 a.m. to 6 p.m.
Reason to Go: Wander the property for farm-fresh produce and meat, but be prepared to be entranced by the unique pottery, outdoor furniture, statues, hummingbird feeders, and a huge selection of garden decorations. In the fall, as our blog reported, Maple Acres supplies live turkeys for Thanksgiving.
*Ardmore Farmers Market photos credit B. Krist for Visit Philadelphia