Collegeville Restaurants
The Best Dining in Collegeville, Trappe, Evansburg, and Lower Providence
College towns always seem to have the best dining. So it's no surprise that Collegeville, home to Ursinus College, is one of Montco's top dining destinations. Between the downtown dining options and the incredible choices at the Providence Town Center, great food is easy to find in Collegeville.
FIREBIRDS WOOD FIRED GRILL
Collegeville
The first Firebirds Wood Fired Grill opened at the turn of the millennium in Charlotte, NC. Today, they operate restaurants across the United States. Fueled by the power of concept, the passion of a team and the loyalty of their guests, they're adding locations all the time. It's become a neighborhood favorite; the lunch spot everyone agrees on and a dinner invitation no one passes up.
TROUBLES END BREWING
Collegeville
At Troubles End Brewing, they pride ourselves on high quality food & drink. In addition to the great food, they offer a wide selection of House Beers, guest beers, wine & crafted cocktails. Enjoy!
P.F. CHANG'S
Collegeville
P.F. Chang's serves its signature Asian flavors in Collegeville's Providence Town Center. Enjoy favorites like firecracker chicken, Mongolian beef and kung pao shrimp, or try something new like Hong Kong style sea bass or street noodles.
BONJUNG JAPANESE RESTAURANT
Collegeville
An authentic Japanese dining experience is right around the corner in Collegeville. Enjoy the subtle yet profound flavors of Japanese food, including a sushi bar, at Bonjung.
CHOW BISTRO
Collegeville
Local restaurateur Guy Clauson puts his culinary life experiences on the plate at Chow Bistro. Drawing inspiration from everywhere (South American to Parisian to Japanese cuisines), the seasonal menu is sure to delight any diner.
COLLEGEVILLE DINER
Collegeville
Every town needs an old-school diner, and this one does breakfast to perfection. With a menu that goes on for days, Collegeville Diner will keep you coming back.
COLLEGEVILLE ITALIAN BAKERY
Lower Providence
TripAdvisor's No. 1 restaurant in Collegeville, the Collegeville Italian Bakery is famous for its pizza - more than 50 varieties. But that's just the beginning. Everything on the sandwich menu - and it is extensive - is served on the bakery's homemade rolls.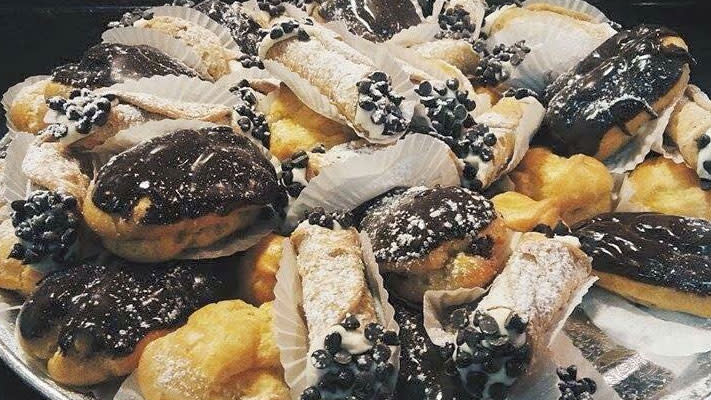 SPECK'S DRIVE IN
Lower Providence
A Collegeville favorite, Speck's has been serving the best fried chicken for generations. Their Broasted chicken is award-winning, and be sure to try the cole slaw, too.
TORTUGAS MEXICAN EATERY
Collegeville
Always arrive at Tortugas Mexican Eatery with an empty stomach. The portions here are very generous. Meat-lovers will appreciate the carne asada, which is an actual serving of real steak and not some previously frozen pre-chopped cut of unknown origin.
THAI BASIL BISTRO
Collegeville
From drunken noodles to pho, Thai Basil Bistro has a tantalizing variety. Many would argue the true star of the menu is the homemade taro ice cream, so make sure to save room for dessert.