Graeme Park
Location: Horsham
Built: 1722
Graeme Park was the home of British Loyalist Henry Hugh Fergusson, who served with the British Army in Philadelphia. The property was seized by the Colonial government in 1778 after Fergusson used his wife to send messages to Washington demanding surrender.
History

When it was built in 1722, the manor house at Graeme Park served as the summer home of Pennsylvania governor William Keith, though he rarely visited the in following years before being removed as governor in 1726.
The property was purchased in 1739 by Dr. Thomas Graeme, a Scottish physician who came to America two decades before, taking up practice in Philadelphia. It is from Dr. Graeme that the property takes its name, but it was his daughter, Elizabeth Graeme, and her husband who forever linked the family and property to the American Revolution.
In December of 1771, Elizabeth met Henry Hugh Fergussen, and the two were married just five months later. Fergussen, a British loyalist, returned to Great Britain prior to the Revolution, returning in 1777 on the same ship as William Howe. Fergussen witnessed first-hand the Battle of Brandywine and the occupation of Philadelphia.
After convincing his wife to meet him in Germantown, Fergussen asked her to deliver a letter to George Washington asking for him to renounce the Declaration of Independence and surrender. In a separate incident, she was asked to take a bribe to an American officer. As a result, Graeme Park was confiscated by the Americans in 1778.
Henry Fergussen returned to Britain, and three years later the property was returned to Elizabeth.
The large manor house has remained largely unchanged in the centuries since. The park grounds are free to visit anytime, though there is a fee for tours of the Keith House.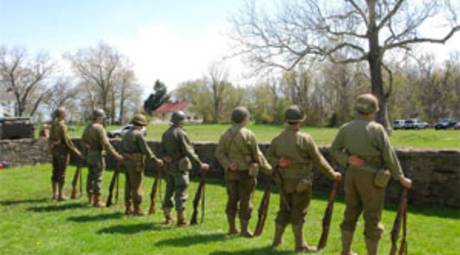 WWII Weekend
May
The Keith House is transformed into the scene of an occupied farm in France during the annual World War II weekend. Weekend events include battle reenactments, military vendors, USO dance and dinner, 18-piece swing band, Abbott & Costello comedy show, military vehicles display, World War II survivors, guest speakers and more.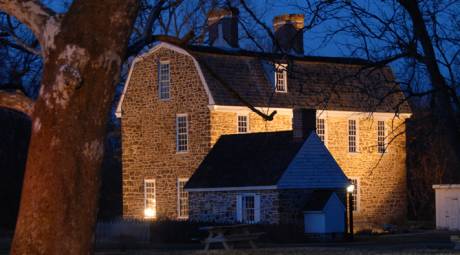 A Continental Christmas
November
A Continental Christmas commemorates the seizure of the Graeme Park property by the Continental Army in 1777 and the two-month encampment of more than 2,000 soldiers before leaving for Chester County.