General William Howe
William Howe was born in 1729 to an aristocratic family in England. Howe joined the military at age 17. He came to America for the first time during the Seven Years' War. He was promoted to lieutenant colonel, commanding troops in pivotal battles, including the capture of Montreal and Belle Ile, and served as adjunct general of the force that captured Havana in 1762.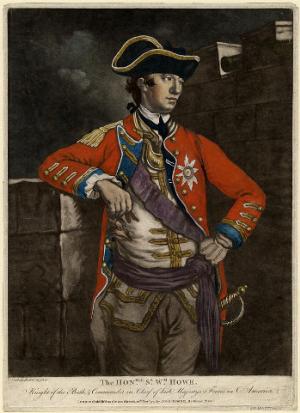 Howe served in the British Parliament beginning in 1758, taking over the position vacated by his brother. Howe was publicly sympathetic to the American cause and did not believe the British force could overcome the Americans. But when called upon to serve by King George, Howe accepted, sailing for American in 1775. 
Howe's first battle action was at Bunker Hill before being named Commander-in-Chief of the British Army in America that October. In 1776, Howe set his sights on New York, routing General George Washington and the Americans in the Battle of Long Island in August. Howe earned knighthood for his victory. Howe continued to take the fight to the Americans in and around New York, forcing the Americans to retreat across New Jersey. 
In 1777, Howe set his sights on Philadelphia, the colonial capital city. Howe and Washington led their men against each other in continued action beginning with the Battle of Brandywine on September 11. After more victories in the Battle of the Clouds and the Battle of Paoli, Howe marched triumphantly into Philadelphia. Another decisive victory in the Battle of Germantown meant the capital would remain in British hands through the winter. 
While Washington's men struggled at Valley Forge, Howe's British Army rested in the relative comfort of the city. Only occasional skirmishes occurred when raiding parties from the two sides happened upon each other in the countryside. 
Despite his successful Philadelphia campaign, Howe sent a letter of resignation to London. He sailed home on May 24, 1778, never to return to America. His military service continued with action against Spain and British involvement in the French Revolution. He resigned from active service in 1803 and passed away in 1814.