As communications manager for the Valley Forge Tourism and Convention Board (VFTCB), I have been involved with the visit by Pope Francis since it was first announced: I've written copy, curated stories, compiled talking points and brainstormed about Valley Forge Family Day, the county's September 25 party celebrating families.
What I never expected to do was sing. But that's exactly what I will be doing at the Papal Mass on September 27.
How I got here requires some explanation.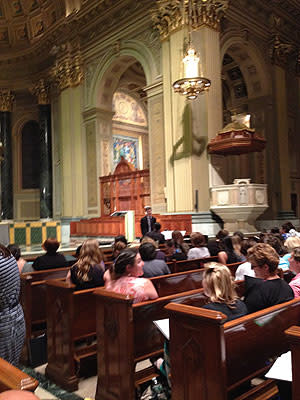 In my off hours from the VFTCB, I am involved with the choir at my local Catholic church. I've been involved in choral music since my pre-teen years, inheriting musicianship from my father, whose talents included singing tenor and playing piano.
In late June, the call went out from the Archdiocese of Philadelphia, looking for singers for the Papal Mass. I was immediately interested, having attended the 1979 Mass celebrated by Pope John Paul II as a high-schooler. The chance to participate up close and personal in another visit from a Pope was too appealing to miss.
I signed up for the tryouts, scheduling an appointment at the Cathedral Basilica of Saints Peter & Paul for an evaluation of my skills in singing and sight-reading. Potential members were told up front that, owing to the time frame (only eight weeks of rehearsal to learn 20 pieces of music from composers like Beethoven and Handel), singers would need a demonstrable ability to navigate complex harmonies very quickly.
The audition was friendly but intimidating. My evaluator tested my range, and then handed me a piece of music to sing sight-unseen. She gave me the first note and set me loose. I struggled somewhat but found my footing.
She thanked me for coming, saying, "At this point, with so many qualified people, it's more of a lottery. Who makes it and who doesn't really is a numbers game." She did say I had a slight advantage as a male, with a greater number of auditions scheduled from the women's sections of sopranos and altos.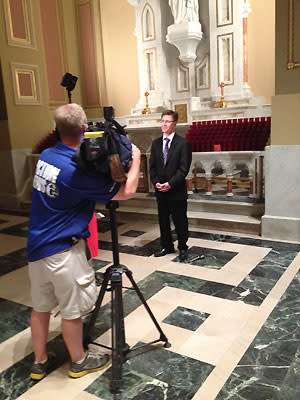 A handful of days later, the email came: I had made it.
Rehearsals were set Monday evenings at the Cathedral, with the final two taking place at Verizon Hall with the Philadelphia Orchestra. Several other items of housekeeping were shared:
Absentees run the risk of being asked to leave the choir
Our voices would form the core of the choir for Mass, but other choirs would be joining, including one comprising high school voices from across the Archdiocese
We would need to be fully vetted for security purposes prior to the Mass, including an FBI fingerprint check
Transportation for the choir to the Mass would be provided, with details to come on exactly how and when
At the first rehearsal on July 27, our director, David Kimock, asked four things of all of us:
Practice on our own, daily if possible
Arrive well-hydrated and warmed up ("Sing in the car on your drive here," he recommended.)
Bring a pencil. And perhaps a spare if a neighboring singer forgets one
Keep the chatter to a minimum, as it is especially distracting in such a large space with acoustics that echo
Getting to work quickly, he warmed the 350 singers up with a few physical and vocal exercises. We dove right in. Piece after piece was tackled until, driven by the clock, the practice ended.
The second rehearsal was much like the first, but Kimock delved further into finessing the pieces. "This one was written for cellos," he said, referring to a composition by Mendelssohn. "So tenors and basses, let's be cellos." We also tackled texts in German and Latin, reviewing the pronunciations carefully.
By the end of the night, I was feeling the effect of all that effort, but sheer thrill erased the fatigue.
Two rehearsals down. Six to go. For an event that I am still in some state of disbelief at having been invited to take such a unique role.
I find myself so taken aback that I have kept the email telling me of my acceptance into the choir.
I can't find the motivation to delete it.
Maybe I never will.
Hotel reservations within Montgomery County are evaporating for the last week of September. But there are still accommodations left for visitors who act quickly. For a list of recommended hotels, see our website, which also contains a microsite with content specific to the World Meeting of Families, Valley Forge Family Day and the Papal Visit.