Help Support Montgomery County's, PA COVID-19 Response Fund by Purchasing a T-shirt

The Valley Forge Tourism & Convention Board (VFTCB) has launched a #MontCoStrong t-shirt fundraiser to help support Montgomery County, PA's COVID-19 Response Fund, which was recently established to support local relief efforts in response to the coronavirus outbreak.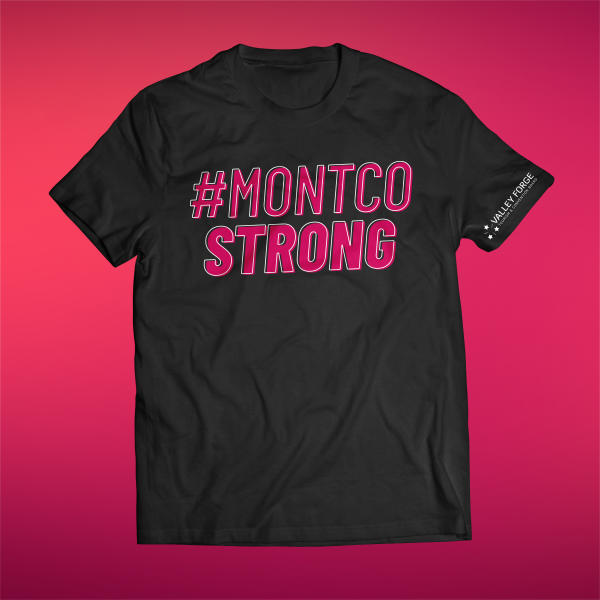 Gildan® 5.3 Oz. Heavy Cotton Short Sleeve Tee Shirt
Price: $25
Sizes Available: Youth Medium, Youth Large, Adult Small - Adult XXXL

---
The VFTCB designed the shirt, and is partnering with DJB Specialities, Inc., a VFTCB member in North Wales that specializes in custom apparel and promotional products, to sell them for $25 apiece.
All of the proceeds from the #MontCoStrong t-shirt sales will be donated to the MontcoPA COVID-19 Response Fund, which will exclusively assist community safety net organizations critically impacted by the current public health crisis such as those serving low-income and food-insecure residents, senior citizens, veterans, homeless and homebound individuals.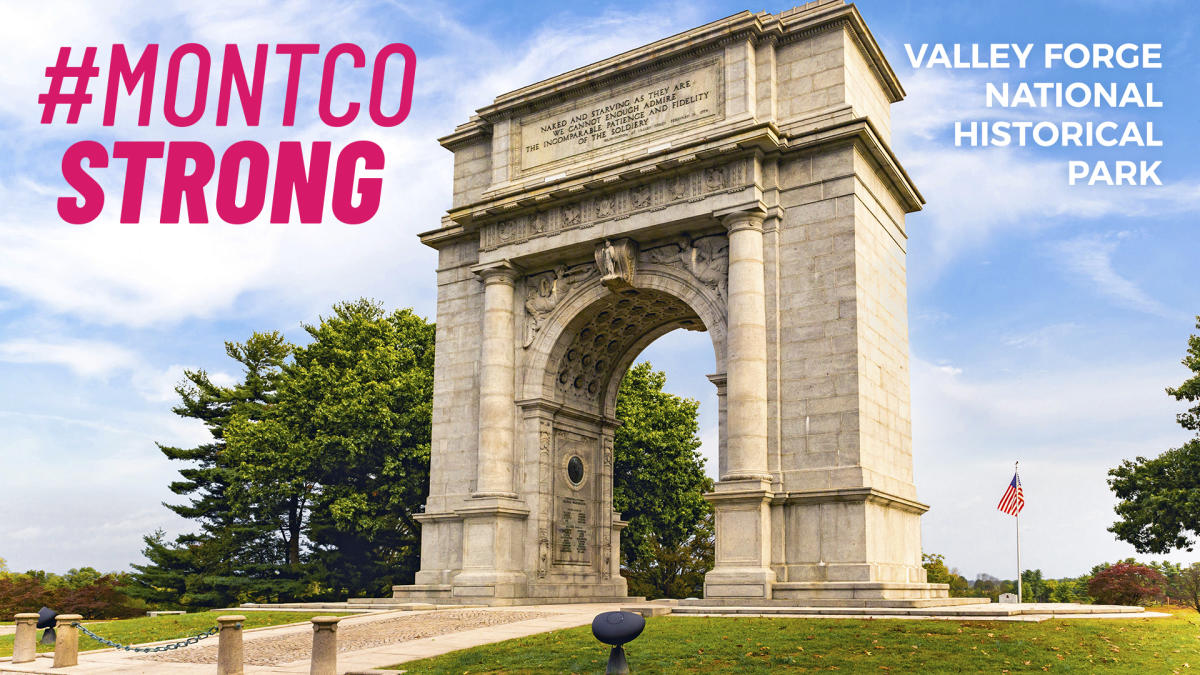 #MAKEITMONTCO at home with your #MONTCOSTRONG Zoom Backgrounds
We've put together over 10 backgrounds of Montgomery County for you to use during your Zoom virtual meetings.
To apply your new background on your desktop Zoom app, follow the steps below. To apply the background on mobile devices, please refer to Zoom's official guidelines.
Choose your preferred background using the link below and click on the image to download and save to your computer.
Select "Virtual Background" and then choose the "+" icon to add your desired image as a background option
Open your Zoom app, log in to your account, and navigate to your account settings.
CO-VID 19 RESOURCES, TIPS, & ARTICLES
National
U.S. Small Business Administration
Apply for Coronavirus Relief Loan

https://www.fountainheadcc.com/apply-relief-loan/
CDC Interim Guidance for Businesses
https://www.cdc.gov/coronavirus/2019-ncov/community/guidance-business-response.html
U.S. Department of Labor
https://www.dol.gov/coronavirus
National Restaurant Association
https://restaurant.org/covid19
State
PA Department of Community and Economic Development
PA Department of Health: COVID-19 Information for Businesses
https://www.health.pa.gov/topics/Documents/Diseases%20and%20Conditions/Coronavirus%20Businesses%20Fact%20Sheet.pdf
Pennsylvania Department of Labor & Industry
https://www.uc.pa.gov/COVID-19/Pages/default.aspx
PA Restaurant and Lodging Association
https://www.prla.org/coronavirus.html
Local
MontcoStrong Small Business Grant Program Announced
Eligible small businesses in Montgomery County can apply for up to $25,000 to help with making rent or mortgage payments, meeting payroll expenses, and covering utility bills.  The complete eligibility criteria, program information, program guidelines, program FAQ, and application instructions are all available at www.montcopa.org/MontcoStrongSBGP - links to this webpage can be found on our Commerce Department's homepage (www.montcopa.org/Commerce) as well as on the Montgomery County COVID-19 data hub (www.montcopa.org/COVID-19).
Montgomery County and Local Partners Announce COVID-19 Response Fund to Support Local Relief Efforts
https://www.montcopa.org/ArchiveCenter/ViewFile/Item/5120
Montgomery County, PA Workforce Development and Unemployment Compensation Information
https://webapp02.montcopa.org/health/coronavirus/WFDandUCInfoforDataHub.pdf
Montgomery County Commerce Department
https://www.montcopa.org/779/Commerce
For the most up-to-date information on how our county is responding, check directly with local and state leaders.
Montgomery County, PA: https://www.montcopa.org/
State of Pennsylvania: https://www.health.pa.gov/topics/disease/coronavirus/Pages/Coronavirus.aspx
Webinars

Coronavirus Resources for Employers



Please join MEA for an extended 45 minute session where Amy McAndrew, MEA's Director of Legal and Compliance Services will discuss the employment related matters around COVID-19 including the FFCRA.

Amy will also be joined by guest speakers including experts on CARES Act, Paycheck Protection Program (PPP), and more.

Register Now
Additional Resources
CareerLink Services – call (610) 270-3429 - for life-sustaining businesses that need additional workers

Recruitment and online job posting assistance is available.
Funds are still available for on-the-job training and Incumbent Worker Training.
​

For businesses that have closed or are laying off workers

Rapid Response services continue to actively seek lay-off aversion strategies
Please advise your workers to apply for Unemployment Compensation and reach out to PA CareerLink® Montgomery County so the team can offer support through the process.
 

UC Information - https://www.uc.pa.gov/Pages/covid19.aspx
FMLA and COVID-19 - https://www.dol.gov/agencies/whd/pandemic/ffcra-employee-paid-leave
Text Message Marketing Summit: Register Now
It's true, your email open rates are probably lower than they ever have been, and you NEED to find new innovative ways to get and KEEP your customer's attention. That's why we've partnered with Chad Evan Collins to bring you a virtual event he and his team are putting together all about TEXT MESSAGE Marketing for Small Businesses just like yours.  This event is a 100% free online summit for our members.
How to Support Tourism & Hospitality in Montgomery County, Pa