African American Sites of Significance
Throughout the colonies' quest for liberty, African Americans' contributions were both significant and heartfelt. African-American troops fought valiantly against the British, representing the last time the U.S. Army would integrate soldiers until the Korean War in 1950.
The Montgomery County locations in which African Americans made significant strides – during the revolution and thereafter – inspire Patriot Trails visitors today with a deep sense of respect and gratitude.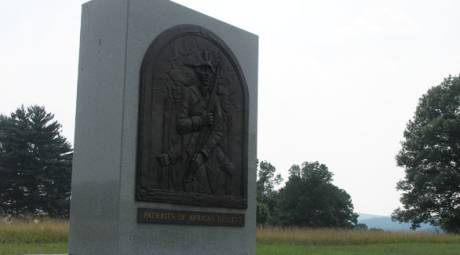 TRIBUTE TO THE PATRIOTS OF AFRICAN DESCENT
This monument, an impressive ten-foot block of granite, was placed onsite in 1993 as the nation's only commemoration on federal property honoring 5,000 African patriots who served in the founding of our nation. The commemorative rests on the site where the Rhode Island regiments were housed, one of the first units to integrate its fighting forces. The brigade comprised many soldiers that, in exchange for £250 per man, were freed in return for their service.
PAWLING FARM
This property, on the northwestern border of the park, had a role in the 1777-1778 winter encampment, as a location for both protection and supply. However, its historical significance goes beyond the Revolution. Quaker and abolitionist Elijah Pennypacker used it as a crossing point for the Underground Railroad as they left Chester County for Montgomery County. Slaves seeking freedom were transported by canoe at Pawling's Ford (also nearby Port Providence), on their way to safety.
HECTOR STREET
Conshohocken
This 1.3-mile stretch through residential Conshohocken is named for Edward "Ned" Hector, an African-American soldier who fought in the Continental Army. Hector's service was first chronicled in a 1777 muster roll as bombardier, one of the cannon-firing crew. After the war, Hector settled in then-Plymouth Township (now Conshohocken). He is believed to be buried in nearby Bridgeport.
CAMP WILLIAM PENN
7322 Sycamore Ave
LaMott
Site of Pennsylvania's only Civil War training camp for African-American soldiers, Camp William Penn, at its height of activity, instructed 10,000 men across 11 regiments. The first recruits arrived in June 1863 and, once sufficiently drilled, dispatched to Virginia, South Carolina and Florida. The 13 acres on which the camp sat once belonged to Quaker abolitionist Lucretia Mott. The site can be visited; however, ongoing programming and reenactments are scheduled only occasionally.
NORRISTOWN FRIENDS MEETING
20 E. Jacoby St
Norristown
In 1842, land was deeded for a Quaker meeting house in the borough of Norristown. The meeting house was built and regular worship services were held beginning in April 1852. Early speakers included Joseph Foulke, noted schoolmaster in Gwynedd, and Lucretia Mott, widely known Quaker preacher and leader in the anti-slavery movement. It was a safe-haven house for slaves making their way north.
PLYMOUTH FRIENDS MEETINGHOUSE
Germantown Pk & Butler Pk
Plymouth Meeting, PA 19462
Plymouth Friends Meetinghouse was built in 1708 as a log cabin-type schoolhouse. Its function during the Revolutionary War was as a hospital for General Washington's troops, but in the 1800s, it became a strategic stop on the Underground Railroad. Abolition Hall, on the same site, was so named for its service as an informational site supporting abolitionism.