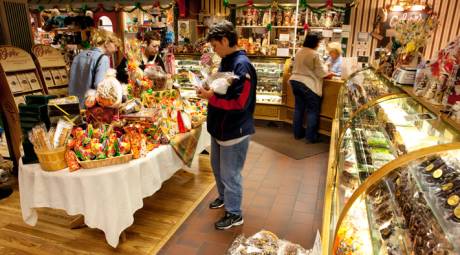 ASHER'S CHOCOLATES
80 Wambold Rd
Souderton, PA
Asher's Peanut Butter Hearts will make any sugar-salt fan swoon, as will the chocolate covered pretzels, each decorated with a drizzle of red and white for the holiday. The white chocolate crispy pop is deliciously eye-appealing, covered in a flurry of red candy hearts.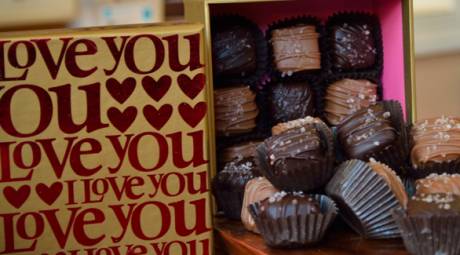 BRIDGE STREET CHOCOLATES
158 Bridge St
Phoenixville, PA
If truffles make your heart ruffle, see the wide selection at Bridge Street Chocolates. Varieties include caramel pecan, champagne, red velvet and white chocolate.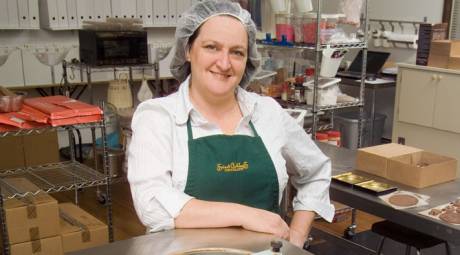 SWEET ASHLEY'S CHOCOLATE
343 Main St
Royersford, PA
Give the gift of candy that is as individual as your special someone is. Sweet Ashley's makes Schuylkill Mud, named for the river nearby in Royersford. It's a salty and sweet combination of buttery toffee, peanut butter, potato chips and pretzels.
EDWARDS-FREEMAN NUT COMPANY
441 East Hector St
Conshohocken, PA
Valentine's Day passion is all about heat, so a gift of Hot Tamales to your loved one may send just the right message, bursting with cinnamon. They are available - along with hundreds of other types of retro candy - at Edwards-Freeman Nut Company. Just think of the fun you can have this time of year with a pair of waxed lips.
THE PEPPERMINT STICK CANDY STORE
9 S. Washington St
Boyertown, PA
Put some crackle into your love life while re-living one of the hottest candy trends of the 1970s. Pop Rocks, those a fizzy concoction that erupt with fruitful flavor, are amply available at The Peppermint Stick.
SKIPPACK SWEET SPOT
4019 Skippack Pk
Skippack, PA
Three worlds will simplify your Valentine's shopping from Skippack Sweet Spot: chocolate-covered bacon.
STUTZ CANDY COMPANY, INC.
400 S. Warminster Rd
Hatboro, PA
Traditionalists who give those large cardboard hearts filled with candy often struggle because as beautiful as the presentation is, the candy inside is often sketchy. Get the outside and the inside right at Stutz, where Valentine's hearts are filled with primo buttercreams, milk-dark combos and cherry cordials.
ZWAHLEN'S ICE CREAM AND CHOCOLATE COMPANY
670 Shannondell Blvd
Audubon, PA
The apple of your eye will love a chocolate-enrobed Granny Smith from Zwahlen's. The thick layer of chocolate atop a tart apple is tempting enough as is, but it can be boosted to the next level by being rolled in peanut butter cup chips, chocolate cookie crumbs or even s'mores fixings.
MONTCO'S MOST ROMANTIC RESTAURANTS
Valentine's Day Dining in Montgomery County
Here's a recipe for romance: A quiet table for two. Quiet conversation accompanied by soft music. The flicker of candlelight from the centerpiece. A creative menu prepared under the strictest culinary guidelines. A Montgomery County setting that features an historic inn, trend-setting bistro or comfy cafe.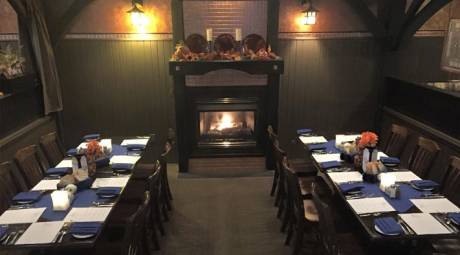 COPPERFIELD INN AT LAKESIDE
594 W Ridge Pike
Limerick, PA
Copperfield Inn boasts not one, not two, but five separate fireplaces for optimum warmth and comfort. If February 14 turns out to be extra chilly, end your meal with a warm mocha cocoa or mint cappuccino kicker.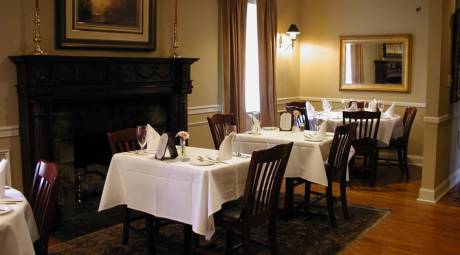 CREED'S SEAFOOD AND STEAKS
499 North Gulf Road
King of Prussia, PA
Dig into a plate of surf and turf while staying toasty with a table by the fireplace at Creed's. Complete the experience with a glass of your preferred Valentine's red (or, if you must, white) from the extensive wine list.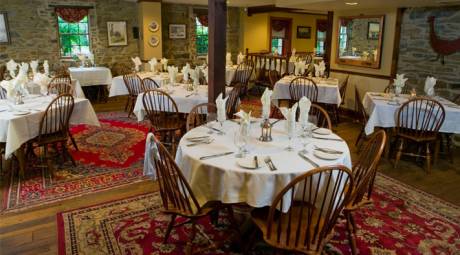 JOSEPH AMBLER INN
1005 Horsham Rd
North Wales, PA 19454
The rustic and historic Joseph Ambler Inn in North Wales is giving you a chance to turn your romantic dinner into a weekend getaway. Enjoy a fine dining experience for two, then add an overnight stay in a suite or deluxe room, plus champagne, chocolate covered strawberries and a full country breakfast.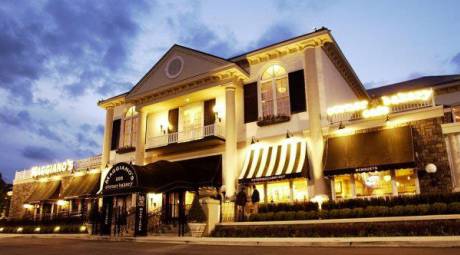 MAGGIANO'S LITTLE ITALY
205 Mall Blvd
King of Prussia, PA
Maggiano's is opening the upstairs ballroom for a Sweethearts Dinner on February 13 and 14. The four-course prix fixe dinner includes their dessert buffet bar and a complimentary photo booth to capture your memories.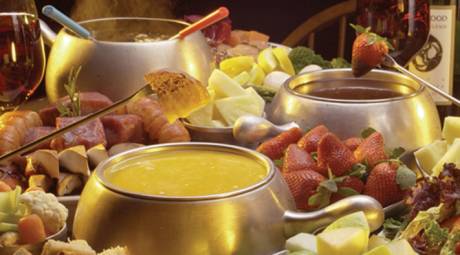 THE MELTING POT
150 Allendale Road, Suite 2100
King of Prussia, PA 19406
Does your special someone melt your heart? Treat him or her to a February 14 seat at The Melting Pot. The four-course prix fixe meal consists of a pear-and-brie cheese fondue, a winter harvest salad, entrees that include lobster tail and desserts of the house specialty, chocolate fondue. Gluten-free and vegetarian choices can easily be substituted.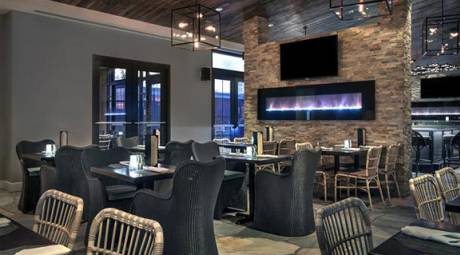 THE PORCH (COURTYARD PHILADELPHIA)
1737 Sumneytown Pike
Lansdale, PA
Step out to the patio at The Porch and foil the February frost. The outdoor fire pit, combined with the modern American menu, allows for a snug and satisfying meal.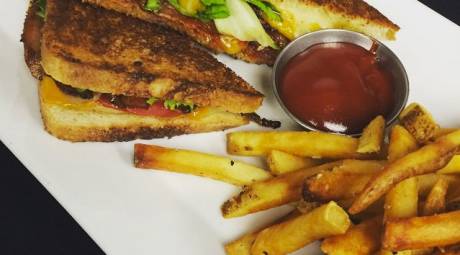 TAPHOUSE 23
266 East 4th Street
Bridgeport, PA
Another outdoor dining spot for Valentine's Day is Taphouse 23. The patio is equipped with tents, heat lamps, fire pit tables and an all-important bar. It's a great place for a group to huddle together, enjoying the warmth of friendship.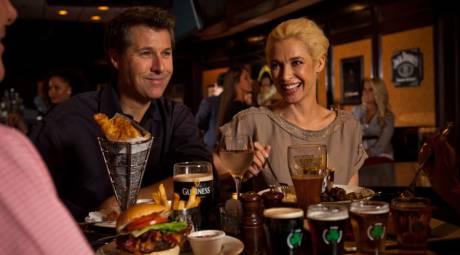 VALLEY TAVERN
1160 First Ave
King of Prussia, PA
Valley Tavern may be the casual dining spot at the Valley Forge Casino Resort, but it is going all-out for Valentine's Day. The special menu includes a complimentary glass of champagne, Caprese or Caesar salad, choice of filet mignon or stuffed flounder with crab imperial, and for dessert: impossible flan.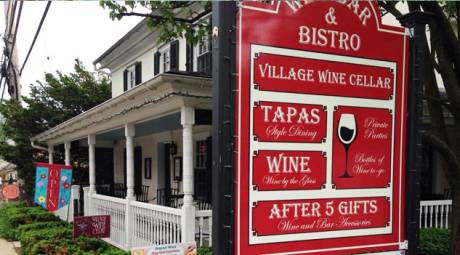 VILLAGE WINE CELLAR BAR AND BISTRO
4038 Skippack Pike
Skippack, PA
Enjoy a three- or four-course dinner at the Village Wine Cellar over the February 12-14 weekend. Wine and chocolate pairings can be added to the meal, making for a truly indulgent night out. Reservations made before February 5 can be prepaid at a $10 discount.
WILLIAM PENN INN
1017 DeKalb Pike
Gwynedd, PA
The Penn's Tavern and Surrey Ballroom are laying out a gourmet dinner buffet on February 13. It includes a complimentary glass of Champagne with dessert. In the Monet Dining room, an à la carte menu is being served February 13-14, and as an added touch of elegance, diners can add a gift of roses to the spectacular meal.
HISTORIC GENERAL WARREN RESTAURANT
9 Old Lancaster Road
Malvern, PA
Get a jump on the Valentine's rush by dining at the General Warren the night before the 14th. Reservations for a finely crafted menu are available from 4-10 p.m. On Valentine's Day itself, a chef's selection of romantic dishes is served from 4-9 p.m. Bridging the two is the opportunity for an overnight in one of the eight onsite guest suites.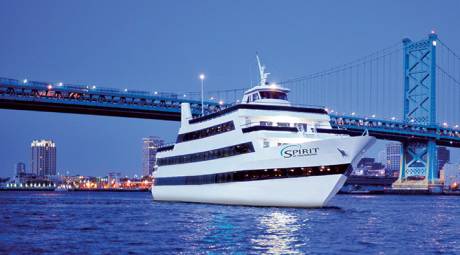 SPIRIT OF PHILADELPHIA
401 S. Columbus Blvd
Philadelphia, PA
Beyond Monto's borders, Valentine's Day-themed excursions are leaving Penn's Landing for delicious and scenic cruises of the Philadelphia waterfront. Buffets covering both lunch and dinner are scheduled for the entire February 13-14 weekend.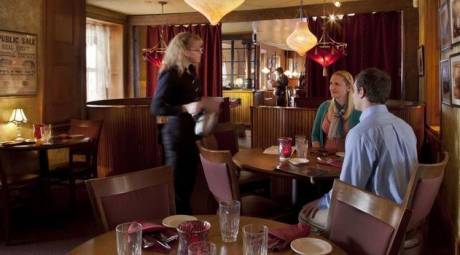 THE WASHINGTON HOUSE
136 N. Main St
Sellersville, PA
The Washington House, a landmark in Sellersville, Bucks County, offers two chances to romance your loved one on Valentine's Day. Enjoy the four-course dinner menu that includes delicacies like apple stuffed duck brast and lobster and shrimp risotto. Or come early for their three-course Valentine's Brunch.
WHITE HORSE TAVERN (SHERATON GREAT VALLEY)
707 Lancaster Ave
Frazer, PA
With options for both indoor and outdoor dining by the fire, the White Horse Tavern provides warmth at every turn. Get comfy with a cocktail by the fire pit outside, or stay toasty at a table by the roaring hearth in the main dining room.