From the moment this distinct building started to rise on the King of Prussia skyline - looking something like a large, capital letter M - it was clear it was going to be something special.
And indeed it is.
iFLY, which has been perfecting the technology of a 'vertical wind tunnel' since 2002, simulates the free-fall experience of skydiving, without the need to actually jump out of a plane.
So for me, who has always dreamt of unencumbered flight but could never imagine having the guts to strap on a parachute, it represented the chance of a lifetime.
On June 11, its opening day, that chance comes to all of Montgomery County. iFly adventurers from ages three to 103 can take flight.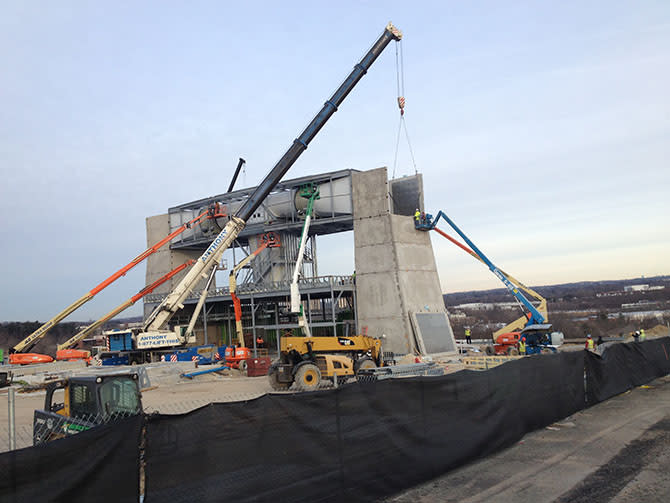 As part of the attraction's soft-open, I was able to give it a try.
And long story short, it was one of the most thrilling experiences I have ever had.
Packages start at $69.95 for two sessions in the chamber. The cost covers all the essentials: training, personal instruction, flight suit, earplugs, goggles and helmet. iFLY even supplies sneakers if you happen to arrive in hard shoes or flip flops.
Add-ons include still shots and video, and plenty of iFLY gear - hats, hoodies, tees - is available to remember your experience. Packages at differing price points can send a family of five or an entire flock of as many as 12 flyers aloft.
Once we were checked in, it was time for the training. We met Chad, our instructor, who introduced the video portion of our instruction.
The video informed us that hearing inside the chamber would be impossible; therefore, the success of our flights would rely on us being able to respond to various hand signals.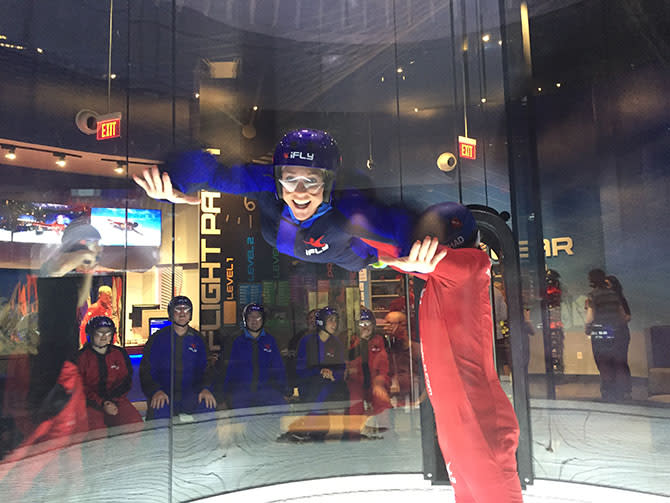 Pointing straight up, for example, was a reminder to lift the chin.
Two fingers outstretched in a V was our sign to straighten our legs. With those fingers curled, we were to bend our knees.
The most important signal, according to Chad, was the "shaka sign." It was his way of telling us to relax.
When the video had ended, we reviewed a few more caveats (don't fly when pregnant; avoid flying with a preexisting shoulder injury, etc.) and suited up.
Flyers can keep their street clothing on; the baggy jumpsuits have ample room to cover shirts, shorts and jeans.
Also, good news for me, flyers can wear glasses. The goggles are large enough - and the elastic tight enough - not to require their removal.
What must come off, though, is jewelry. All of it. iFLY supplies lockers for its safekeeping, along with cellphones, jackets, bags and other nonessential gear.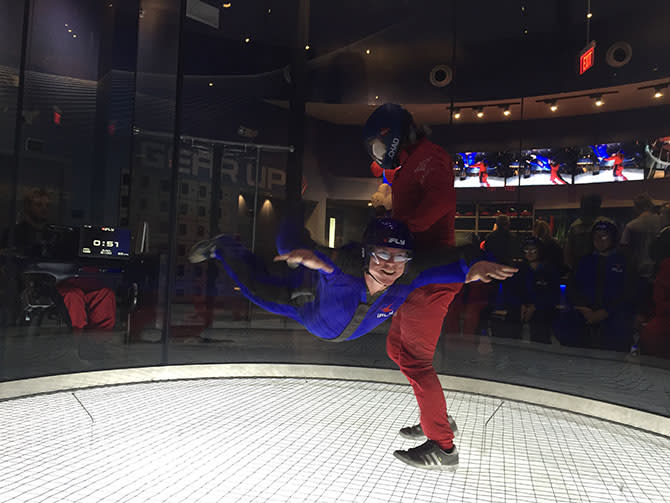 From there, we sat in a row of benches, awaiting our turn in the flight chamber.
This huge, Plexiglas cylinder has no floor, but a wire mesh net provides trampoline-style protection.
Not that flyers get close enough to it to matter. Once the turbines crank up, flyers are held aloft on a cushion of 50-60 mile-per-hour wind.
When it was my turn, I approached the door, raised my hands and, as instructed, fell forward. Chad was there to provide guidance, but I was immediately caught by the whoosh of air and found myself floating.
Each flight suit has a pair of hand-holds, which Chad grabbed to steady me.
I got the finger up sign and pointed my head upward. He adjusted my arms, had me straighten my legs and maintained his hold while I bobbed in place.
Flights are one minute long, which doesn't sound like much except for the fact that it is actually longer than the fall-time for a traditional skydive. And given the adrenaline rush, it feels much longer than 60 seconds.
As I exited, it was high-fives all around.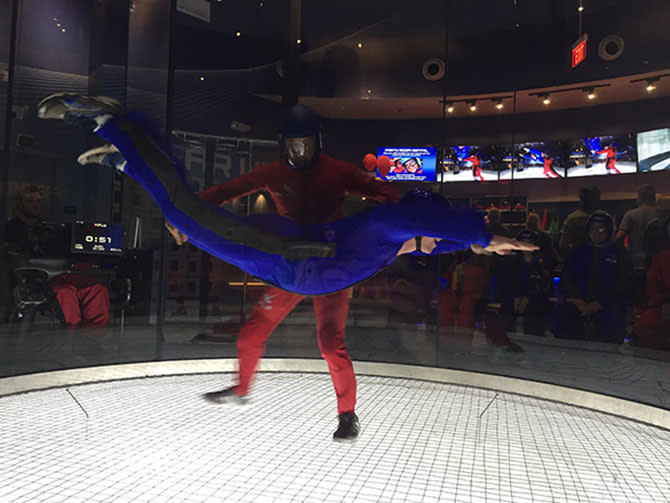 Flight two was where things got even more interesting.
Chad steadied me and then handed me off to an associate. The fans below kicked into overdrive and both of us rose quickly. We corkscrewed up into the upper reaches of the column and gently spun back down.
Up again. I was Peter Pan on steroids. I was Ironman soaring. I was Harry Potter who needed no broom.
I was one ecstatic flyer.
Three times we approached the clouds. The final landing brought me to the exit, and the experience was over.
Within minutes, I was leaving the building, returning to my workday.
But even then, my feet weren't wholly on the ground.
And in some respects, they still aren't.