October is here, and cooler weather brings some of the coolest events of the year to Montgomery County. From one-of-a-kind fall festivals to some of the biggest brew fests in Pennsylvania, we've got 21 reasons to make a getaway to Montco this week.
FEATURED EVENT: SKIPPACK DAYS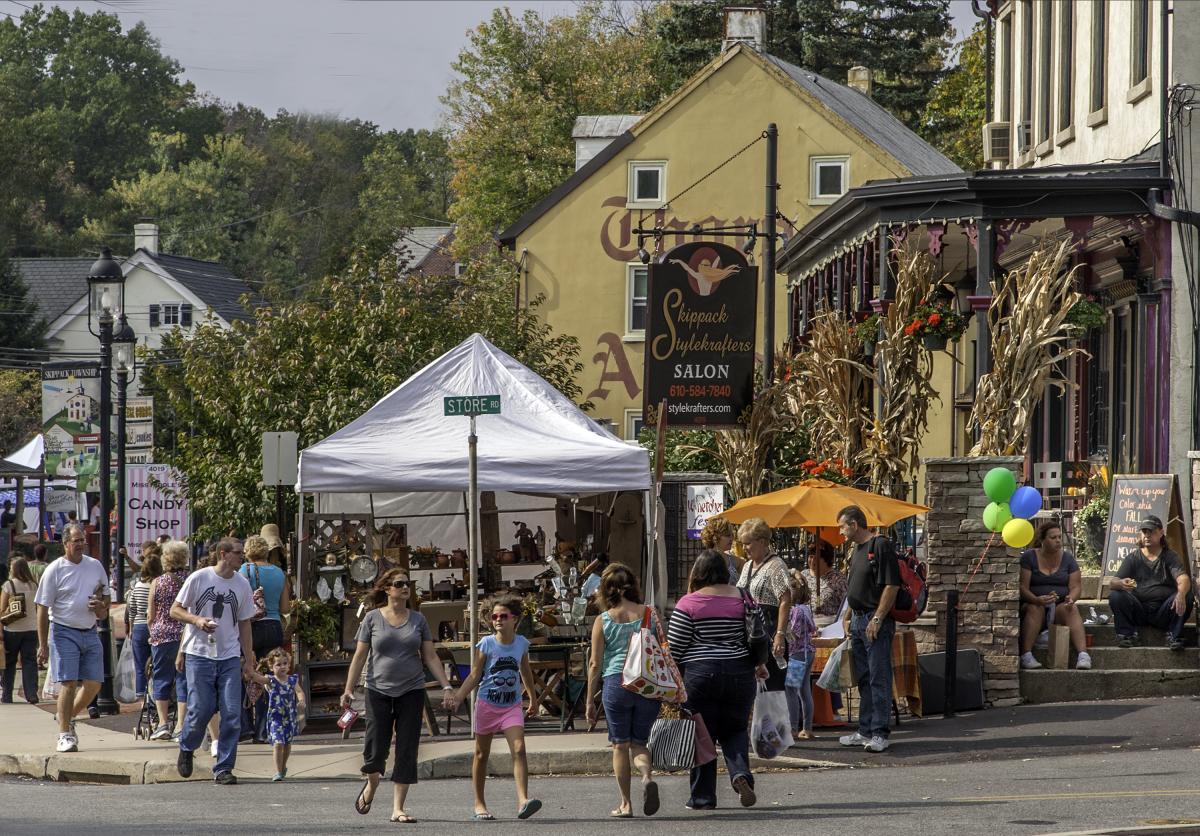 October 7-8
Skippack Village
The largest event of the year for Skippack Village, the annual Skippack Days festival features artisans and crafters, great food and live entertainment lining the Village streets.
The event is free to attend, and runs from 10 a.m. to 6 p.m. both days.
FEATURED EVENT: KOP BEERFEST ROYALE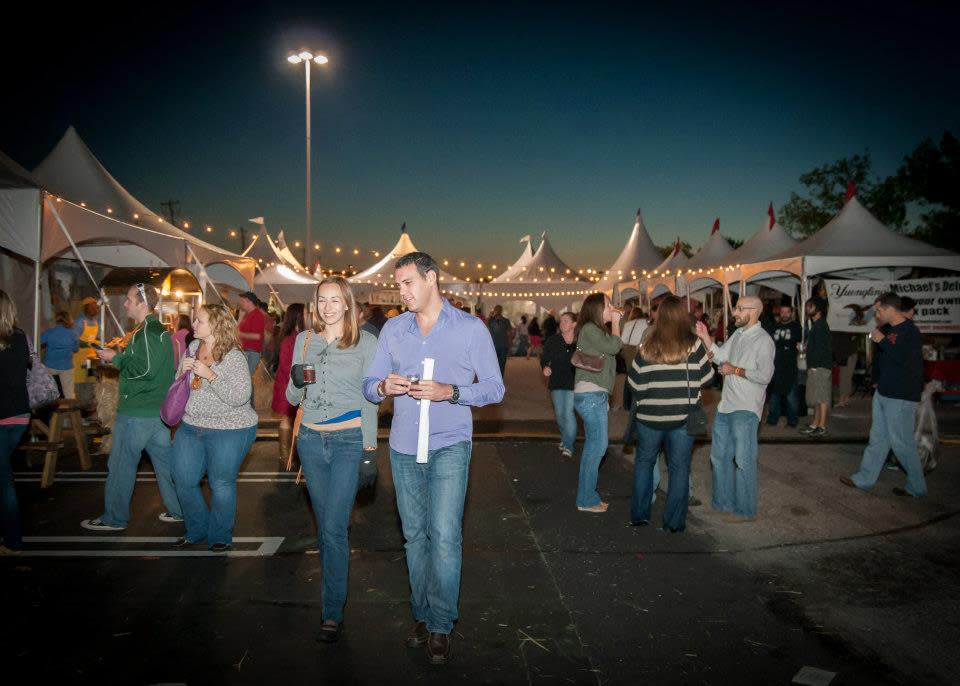 October 5 & 7
Presented by King of Prussia BID
King of Prussia's premiere beer fest is back and bigger than ever! Craft and international brews from all corners of the world will be pouring during this year's KOP Beerfest Royale. Performances from Nick Greeley and the Operators as well as Swift Technique will be happening on both days.
The event is held outside the King of Prussia Mall. Tickets start at $65 for Thursday's Donnerstag Happy Hour and $40 for the two Saturday sessions.
FALL FESTIVALS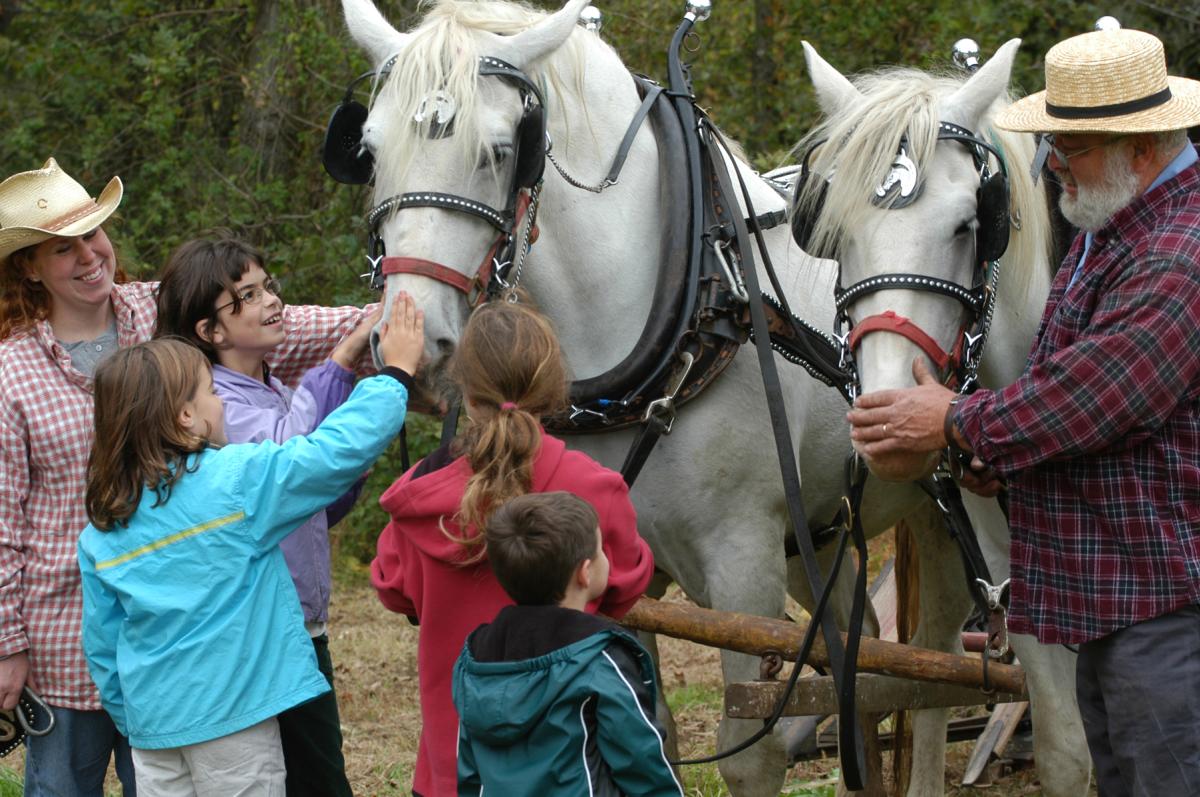 Apple Butter Frolic
October 7
Mennonite Heritage Center
The popular Apple Butter Frolic, hosted by the Mennonite Heritage Center, has been enjoyed by the local community for over 40 years. The frolic is an opportunity to learn how Mennonites and their neighbors lived 100 or more years ago, with folk craft demonstrations, horse and wagon rides, and delicious Pennsylvania German food.
 
Oktoberfest
October 7
Ambler Main Street
Ambler's Oktoberfest celebrated 25 years in 2016. Once again in 2017, Butler Avenue will be lined with more than 90 vendors and 10 food trucks. The event also features live musical entertainment on two stages, kids rides, and of course, the beer garden. 
 
Fall Festival
October 7-8
Morris Arboretum of the University of Pennsylvania
Morris Arboretum's annual Fall Festival combines family fun and the beauty of fall. See special guests from the Elmwood Park Zoo, taste the season's best apples, make your own scarecrow to take home and enjoy an afternoon at the Arboretum.
SPECIAL EVENTS
First Friday Lansdale
October 6
Presented by Discover Lansdale
Lansdale's First Friday turns into Fall Fest this Firday. The Friday night lineup features a chili cookoff to warm you up and music by local rockers AM Radio.
 
Fringe Festival
October 5 – 7
Ursinus College
Ursinus College's 17th annual Fringe Festival is a true celebration of the arts. The weekend schedule includes dance parties, live music, a drag show, student performances and much more. Here's a look at some of the schedule highlights:
October 5: Balloon Artist Megan Weber
October 5: Drag Show
October 5: Student One-Acts
October 7: Cabaret and Dance Party
October 7: Dance Cinema
All Fringe Festival events are free and open to the public.
 
Zombie Hunter Trains
October 3
Colebrookdale Railroad
Take a train ride into a world of walking dead as the Colebrookdale Railroad presents Zombie Hunter Trains. Passengers will be equipped with blaster packs as the train rolls into the zombie camp along the tracks. It's an experience like no other. 
If zombies aren't your thing, the Colebrookdale Railroad has a full slate of excursions scheduled this week, including Autumn Splendor Fall Foliage train rides on Tuesday, Saturday and Sunday.
HISTORY EVENTS ALONG PATRIOT TRAILS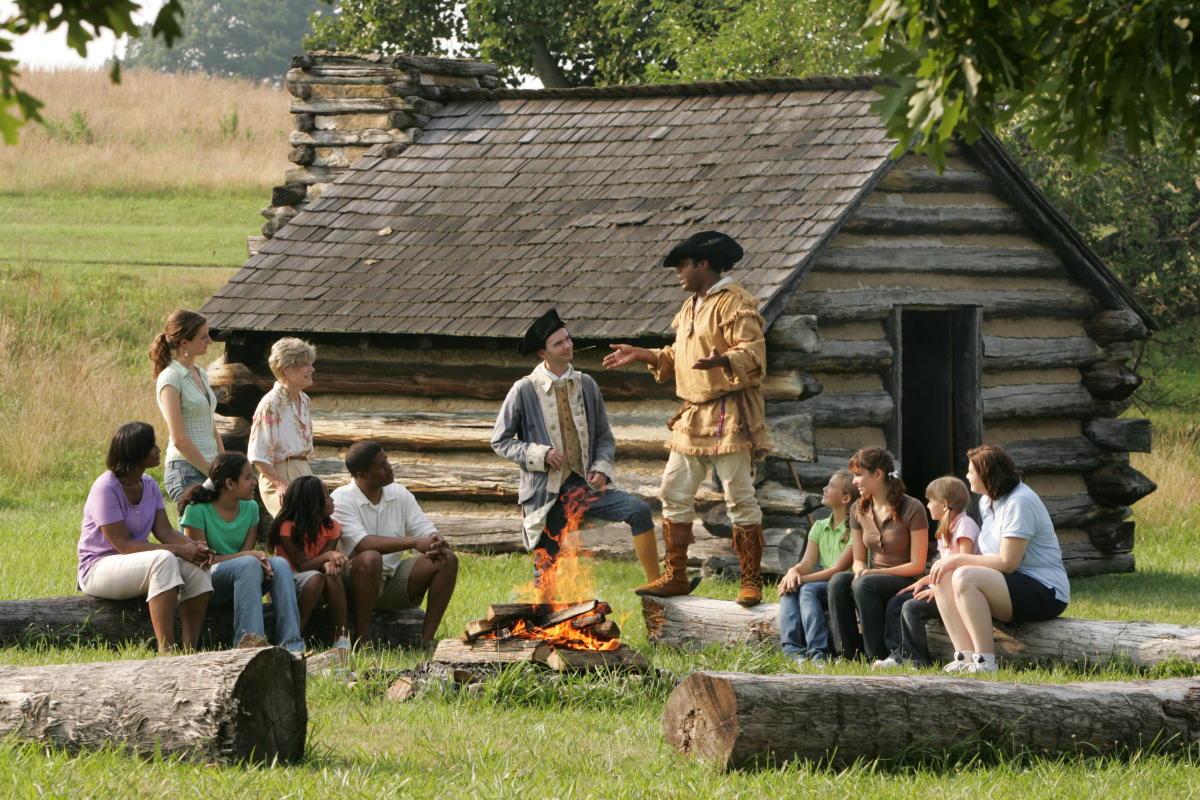 Fall Campfire Programs
October 7
Valley Forge National Historical Park
Join a National Park Ranger around the campfire for a unique evening of storytelling at Valley Forge Park. The Fall Campfire Programs are offered after-hours and provide a unique experience for park visitors. This week's discussion is titled "Not Just for Marshmallows," a look at the use of fire throughout human history.
 
Germans Around Valley Forge
October 3
Washington Memorial Chapel
The Valley Forge Park Alliance presents its Speaker Series events on the first Tuesday of the month at the Washington Memorial Chapel inside Valley Forge Park. This month, the Rev. Karl Kreuger, Ph.D. - Associate Priest, Washington Memorial Chapel - explores the American Revolution through the eyes of the Pennsylvania Germans who lived and worked in the area around Valley Forge during the war.
 
Farm Day
October 4
Peter Wentz Farmstead
Farming is hard work, and on October 4, preschoolers have a chance to experience what life was like on the farm during the 1700s. Farm Day gives pre-schoolers a chance to experience sweeping, fetching water, cleaning, feeding the chickens and more.
 
Revolutionary Germantown Festival
October 7
Cliveden
Our neighbors in Philadelphia commemorate the 240th anniversary of the Battle of Germantown during the annual Revolutionary Germantown Festival, this Saturday. The free event features historic encampments, battle reenactments, and visits from George Washington and other famous figures from the Revolution.
ARTS MONTCO IN CONCERT
Citadel Palooza Featuring Hunter Hayes
October 7
Pottstown Memorial Park
Country music superstar Hunter Hayes is the headliner of Citadel Palooza, a day-long event at Pottstown Memorial Park celebrating Citadel Bank's 80th anniversary. The day includes performances by local stars Kendal Conrad, Stephanie Grace and the Jess Zimmerman Band. Carter Winter takes the stage at 6:30 with Hunter Hayes closing the night at 8:30 p.m.
 
Whitney Cummings
October 5
Keswick Theatre
Comedienne Whitney Cummings brings her signature brand of humor to the Keswick Theatre for a performance on Thursday night. Cummings tells all as she shares stories of her life that you will find in the pages of her new book, I'm Fine…and Other Lies.
Also at the Keswick this week, The Spinners with Little Anthony and the Imperials take the stage on Saturday night. The legendary R&B stars are best known for their hits like "Then Came You," "Working My Way Back to You/Forgive Me, Girl" and "The Rubberband Man." On Sunday, jazz funk artists Incognito will appear.
 
The Church Sisters
October 7
Montgomery County Community College
Montgomery County Community College kicks off its 2017 Lively Arts Series with a performance by folk duo, The Church Sisters. The Virginia-born artists will captivate audiences with their incredible harmonies and musical storytelling.
 
Autumn Music Showcase
October 7
The Underground
This Saturday night, the Underground hosts the Autumn Music Showcase, an all-ages concert event featuring the students and friends of local artist Herman Bruning. This event is free, but be sure to reserve your seat before they are gone.
ARTS MONTCO ON STAGE
The Nerd
Friday through Sunday
Steel River Playhouse
Opening Week: Steel River Playhouse starts its 2017-18 season with the outrageous Broadway hit The Nerd to the stage in Pottsotwn. Performances are Friday and Saturday at 8 p.m. and Sunday at 2 p.m.
 
A Murder of Crows
Thursday through Saturday
Playcrafters of Skippack
Opening Week: Playcrafters of Skippack present the thought-provoking and gripping A Murder of Crows. The story centers around an elderly couple, two of the last remaining residents of a town declared a toxic waste dump. They continue to hold onto their lives and livelihood while struggling with cancer and a town that has fallen apart around them. Performances are Thursday through Saturday at 8 p.m.
 
THE HOUND OF THE BASKERVILLES
Friday through Sunday
Village Players of Hatboro
Opening Week: Sherlock Holmes is on the case of his most legendary mystery as the Village Players of Hatboro present The Hunder of the Baskervilles. Watch as Sir Athur Conan Doyle's famous sleuth comes to life during this thrilling whodunnit. Performances are Friday and Saturday at 8 p.m. and Sunday at 2 p.m.
 
2.5 Minute Ride
Friday through Sunday
Theatre Horizon
Opening Week: Written by Tony-award winning writer Lisa Kron, the autobiographical one-woman show 2.5 Minute Ride tells the story of Lisa's 74-year-old father and his love of roller coasters. Leah Walton stars as Lisa in this witty but honest look at life with an aging loved one. Performances are Friday and Saturday at 8 p.m. and Sunday at 3 p.m.
 
The Gin Game
Wednesday through Sunday
Montgomery Theater
Closing Week: Montgomery Theater presents The Gin Game, a Pulitzer Prize winning play about a pair of residents at a retirement home who strike up a friendship, and eventual rivalry, around the game of gin rummy. Performances are Wednesday and Thursday at 7:30 p.m., Friday and Saturday at 8 p.m., and Sunday at 3 p.m.
MONTCO WEDDINGS BRIDAL SHOWS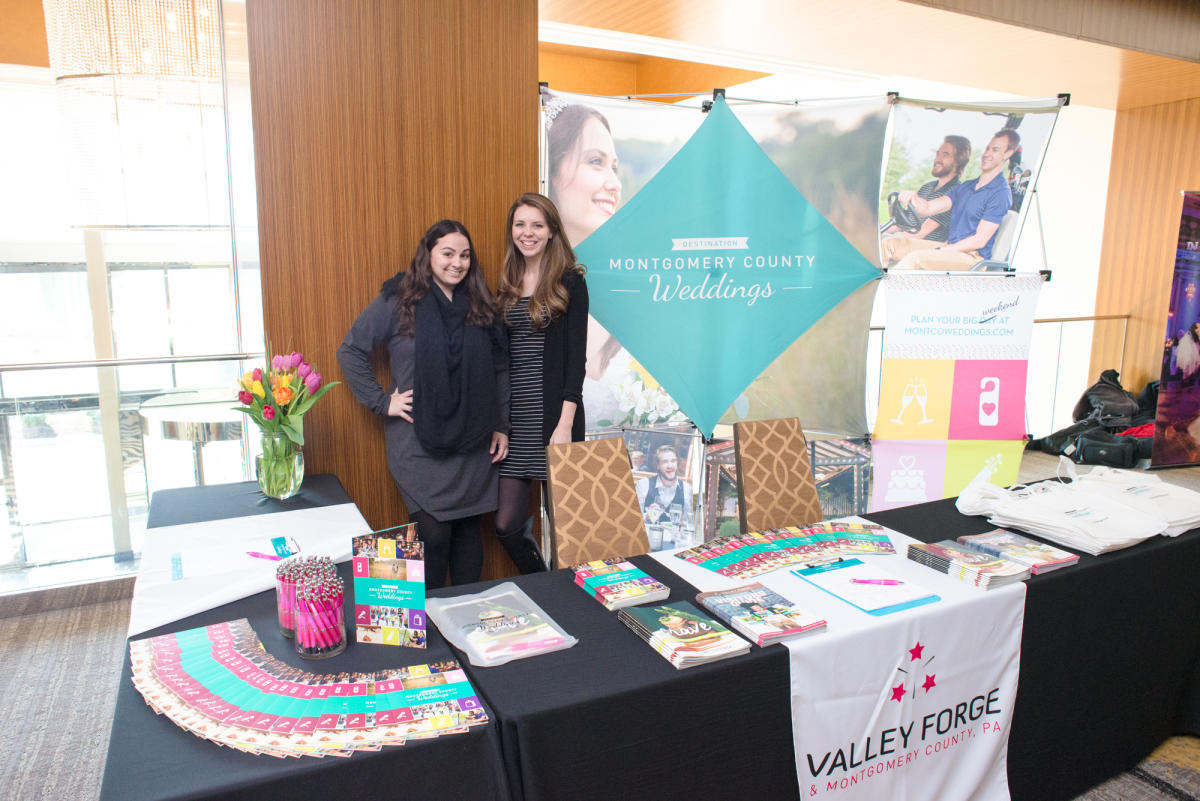 The Bridal Event by Bouche Productions
October 8
La Massaria at Bella Vista Golf Course
Presented by Bouche Productions, this Bridal Showcase takes place in one of Montgomery County's premier venues: La Massaria at Bella Vista Golf Course. Vendors, bridal fashion, live entertainment, great food and wedding cake tasting is all part of the day.
Be sure to stop by the Destination Montgomery County Weddings booth to learn about the free services available to help you plan your big weekend.