As a new week begins, so does a brand new batch of exciting, incredible events coming exclusively to Montgomery County! Check out some of our biggest and best events happening this week below!
SPECIAL EVENTS
JUICE WRLD: DEATH RACE FOR LOVE TOUR WITH SKI MASK THE SLUMP GOD & THE LYRICAL LEMONADE ALL-STARS @ SKYLINE STAGE
May 15
​The Mann Center for the Performing Arts
One of the most commanding artists to emerge from the SoundCloud underground, Juice WRLD makes introspective hip-hop that's emotionally raw but powerfully melodic. In 2018, the 20-year-old Chicago native earned such accolades as being named Apple Music's Breakthrough Artist of the Year and Spotify's Biggest Breakout Artist of 2018, partly due to the smash success of his four-times-platinum single "Lucid Dreams," a genre-warping track that's spent over 38 weeks on the Billboard Hot 100 (peaking at #2), in addition to hitting #1 on YouTube's U.S. Top Songs Chart, #1 on Spotify's Global Chart, and #2 on Billboard's Streaming Songs Chart.
THANK YOU SCIENTIST
May 16
​Ardmore Music Hall
Thank You Scientist is an American progressive rock band from Montclair, New Jersey, United States.Thank You Scientist was born at the New Jersey Montclair State University's music program, when guitar player Tom Monda met saxophonist Ellis Jasenovic and trumpet player Andrew Digrius. Their musical taste for Frank Zappa, Harry Nilsson, The Beatles and Mahavishnu Orchestra would later become an influence and a seed for Thank You Scientist.
Montco Makers
Beer, Wine & Spirits Events
Adventure Montco
Energizing Events
PADDLE PENN'S LANDING
May 3 - September 29
Independence Seaport Museum
Paddle your way around the Penn's Landing basin in a kayak, rowboat, swan, or dragon for the perfect outdoor recreational activity.  Located near Spruce Street Harbor Park and the Hilton Penn's Landing, Paddle Penn's Landing is a unique afternoon adventure with family and friends or a memorable date with your sweetheart on the Delaware River in Philadelphia.
ADMIRAL'S TAVERN
May 10 - September 28
Independence Seaport Museum
Kick back on summer nights with stunning views of the Ben Franklin Bridge and a cold drink in hand, all while aboard the oldest steel warship afloat in the world.  The Admiral's Tavern beer garden (21+) is popping up again on Cruiser Olympia at Independence Seaport Museum every Friday and Saturday from 6:30 - 10:30 p.m.  
Gather your crew for drinks, snacks, fun, and games on the most historic ship in Philadelphia.  Food will be available for purchase.
Cover charge: $8 per person, includes on drink ticket. 
Patriot Trails
Historic Events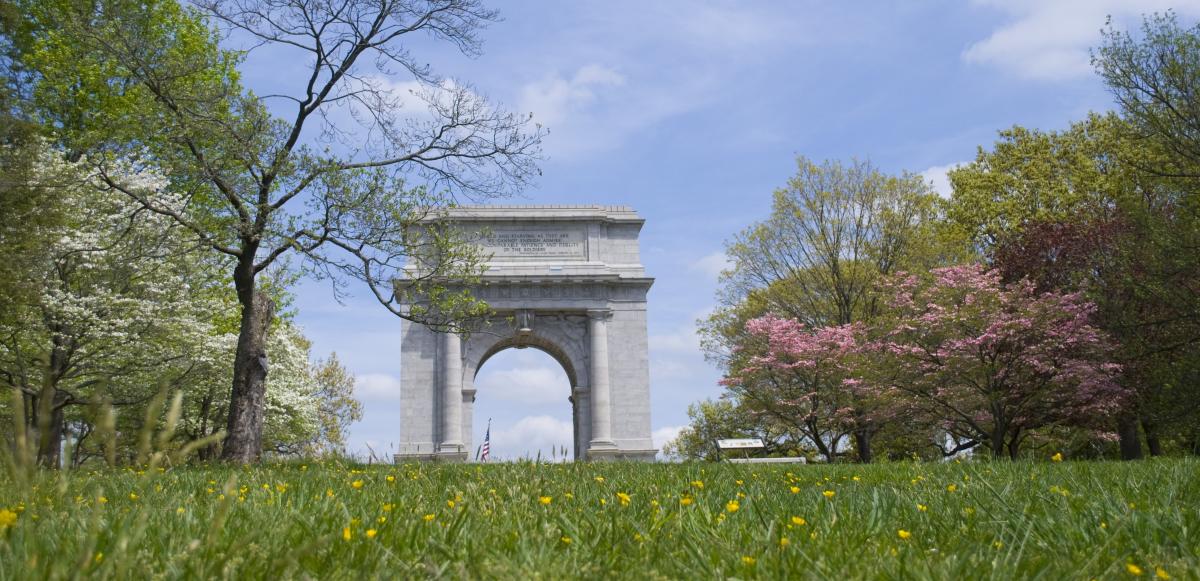 PATRIOT TRAILS
Take a journey back to 1777 with Patriot Trails, our history brand dedicated to exploring the sights and sounds of the Revolutionary War.

Follow in George Washington's footsteps from Valley Forge National Historic Park to the history and heritage woven throughout the towns of Montgomery County.

Feel the stories come to life around you as you tour through the historical homes and parks, then sink deeper into the story as you indulge in historic eats. Discover history like never before.
Arts Montco
Special Events
Arts Montco
On the Stage