In the build-up to the 89th Academy Awards broadcast on February 26, all eyes will be glued to the red carpet and the parade of stars making its way into the Dolby Theater.
But the artisans at Taylor Backes Studio, Boyertown, may be more focused on the theater's distinctive façade than the Hollywood glitterati on display.
Their shift in attention, though, is understandable, as they admire their own work.
Several of the design elements at the Dolby Theater – including the building's shimmery face and some of the light fixtures along the massive aisles – were created by Boyertown glassblowers.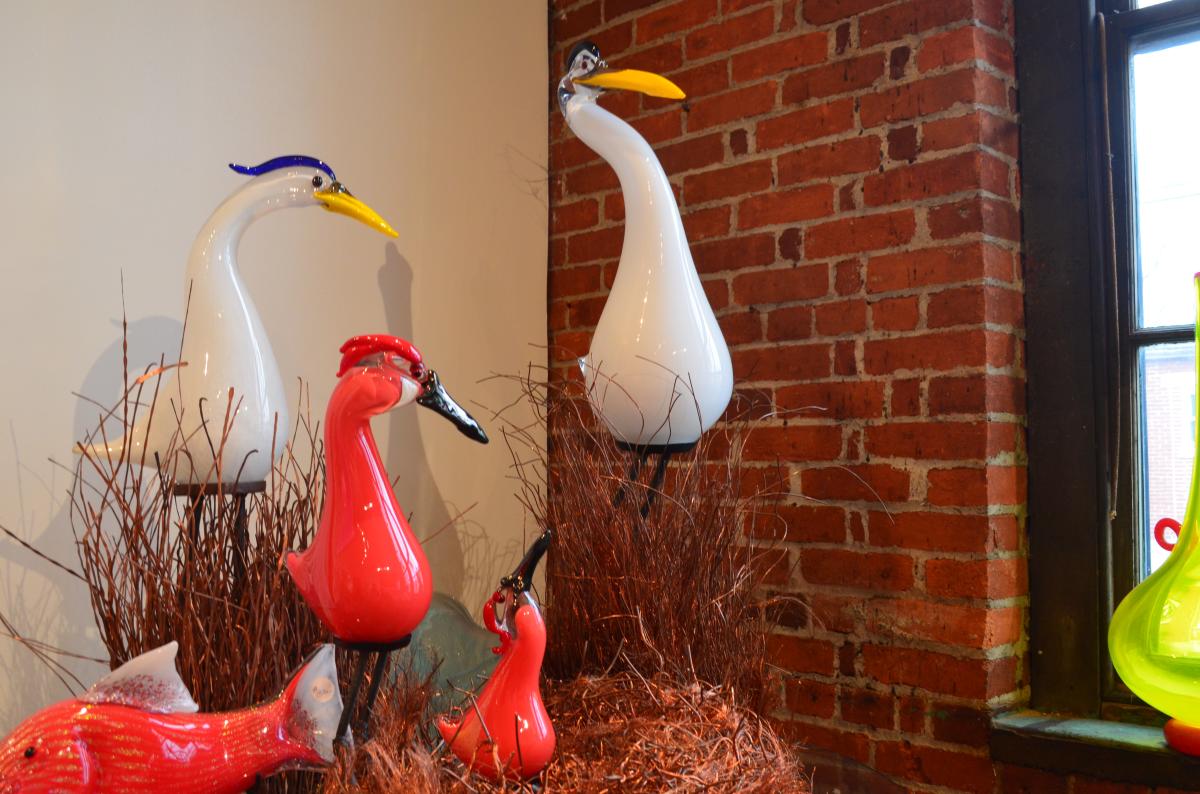 Will Dexter and his business associate Karla Trinkley have been at the helm of Taylor Backes Studio since it opened in 1981. The business' unusual title comes from the maiden names of these owners' two mothers. The location, nestled on the cozy corner of Washington and Second, includes a workshop and retail space.
Dexter, who grew up in Florida, took various art courses throughout his high school and college years, eventually earning a degree from the University of Miami. Several media interested him, but it wasn't until a ceramics teacher in 1973 introduced him to artistic possibilities that resulted when chemically-rich elements were combined with heat.
Pottery didn't quite get his creative juices flowing. So instead, he shifted to molten glass.
Formal study at Philadelphia's Tyler School of Art brought him to the area, and he fell in love with it.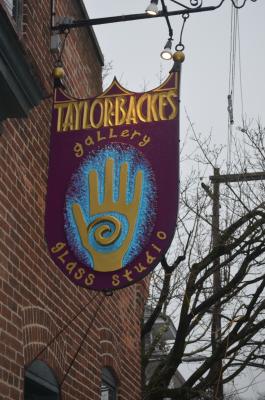 "I loved the diversity; there were amazing opportunities here; and the local radio stations were great," Dexter recalls.
When it came time to set up his own studio, the cost of real estate in markets like New Hampshire and North Carolina were out of reach.
So he stayed, settling in Boyertown.
"This building was a former tool-and-die machine shop," Dexter says. "When I first saw it, it was a mess. There was water leaking through the roof, and the floors were filthy. But there was something about the character of the place that appealed to me.
"It was owned by this curmudgeonly but sweet guy. And as I kept coming around, he finally said, 'Do you want to buy my building?' We agreed on terms, and before I could move in, a group of Mennonite farmers swept through the building and removed all the old belt-drive equipment.
"I was good to go," he says.
As Dexter tells me his story, three of his artisan-employees are working on a vase. They start with a glob of red-hot glass, which they attach to a metal rod and then begin blowing.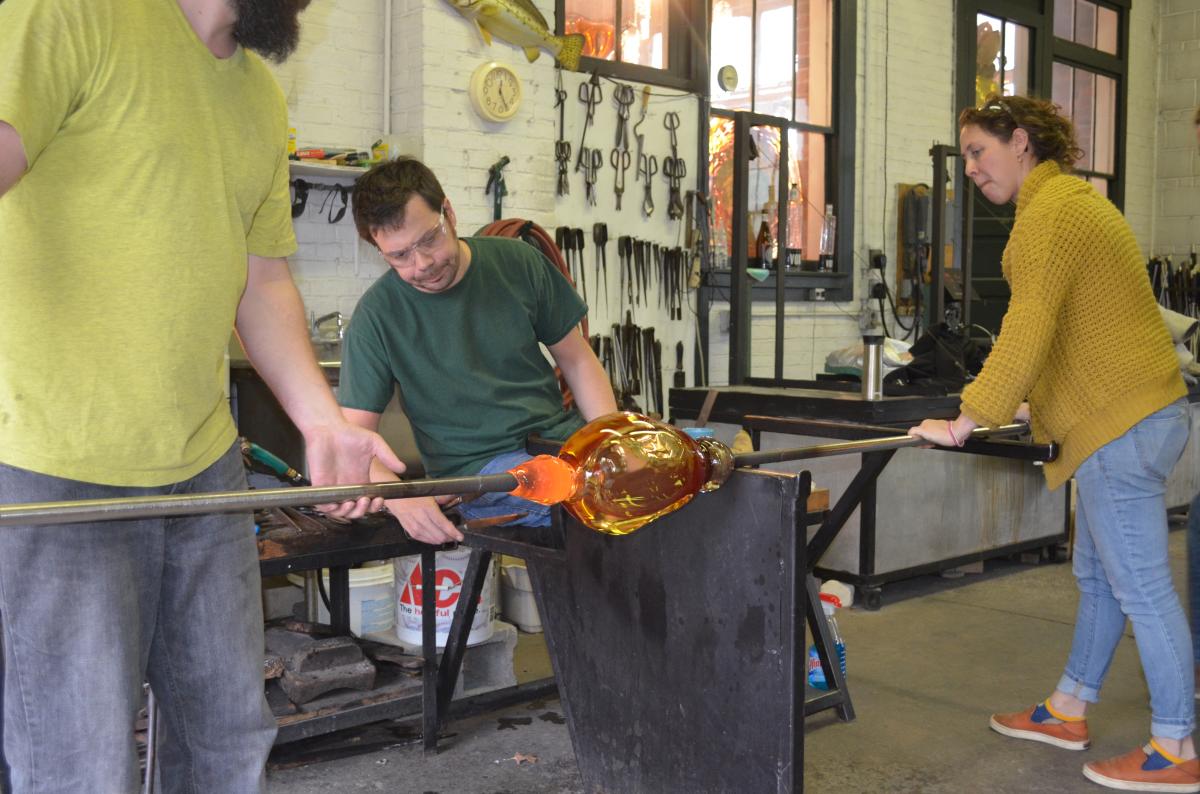 "Our main furnace is kept at a constant 1,950 degrees [Fahrenheit]," Dexter explains. "It would take too much time and energy to fire it up to that temperature every day, so we keep it on. That furnace has been at that steady temperature for more than two years.
"Working here in July and August is tough," he admits.
The workers adhere another design element to the vase – an additional glass orb. Once it is firmly heated into place, they upend the piece and allow it to stretch. The vase quickly reaches approximately three feet and, before it can shatter, they halt the process and begin cooling it.
"I didn't know it was going to be that large," I comment.
Dexter laughs. "I didn't either. This is an art with more than a few variables: heat, gravity and centrifugal force."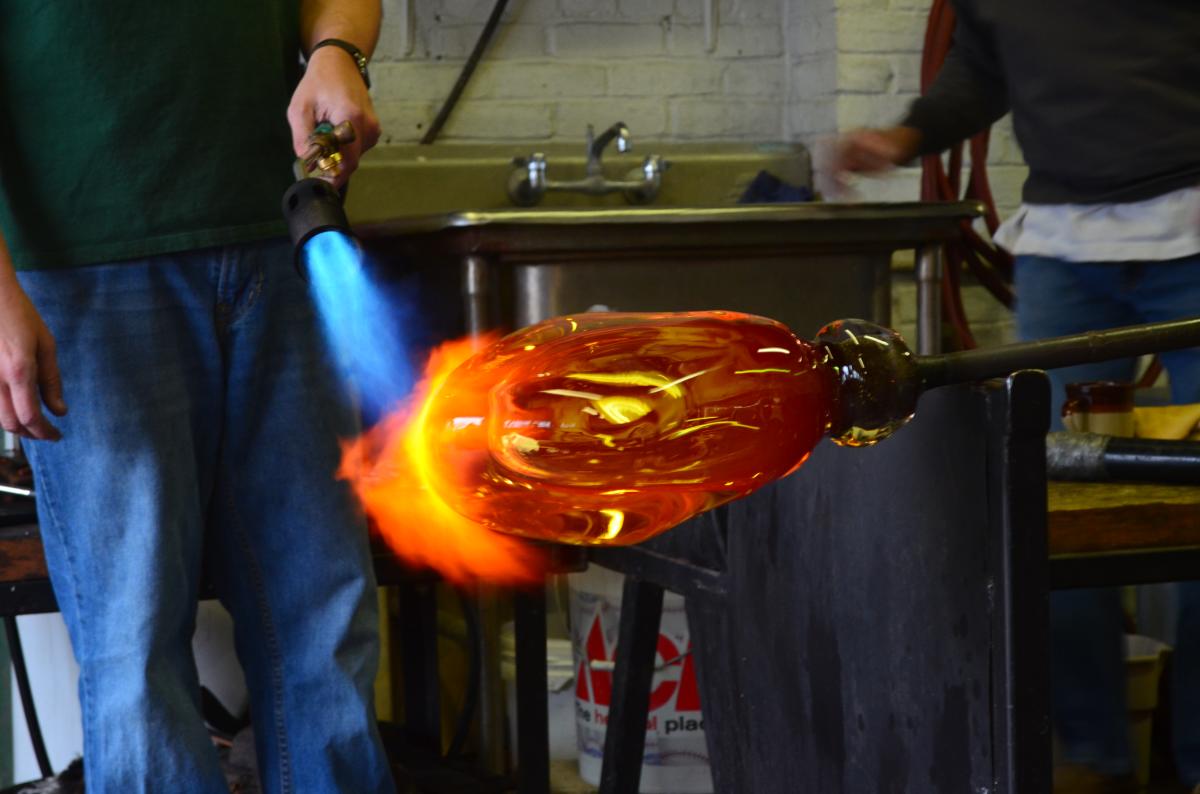 Centrifugal force?
I see that factor in the next piece he creates, an ornate bowl. Another mass of molten glass is opened on one end. And then the craftspeople spin the rod to which it is attached. A lovely bowl opens up, lotus-like,
Score one for centrifugal force.