Following the colossal success of Beauty and the Beast and The Lion King on Broadway, Disney Theatrical set sail in 2008 with a stage version of The Little Mermaid.
The Hans Christian Anderson tail… er, tale… remained more or less intact. Headstrong Ariel falls in love with a human, much to the chagrin of her protective pop, Triton, King of the Sea.
The ambitious production used a variety of methods for its undersea setting. Initially, the Broadway cast glided through the plot on Heelys (roller-skating shoes) to suggest the fluidity of swimming. Those were replaced in a 2012 overhaul with rigging that suspended the merfolk from above.
Now that the musical is available to community theaters, smaller-scale companies must grapple with what has become a slippery-eel of a production. They've got to navigate two intricate and visually diverse worlds, one undersea and one on land.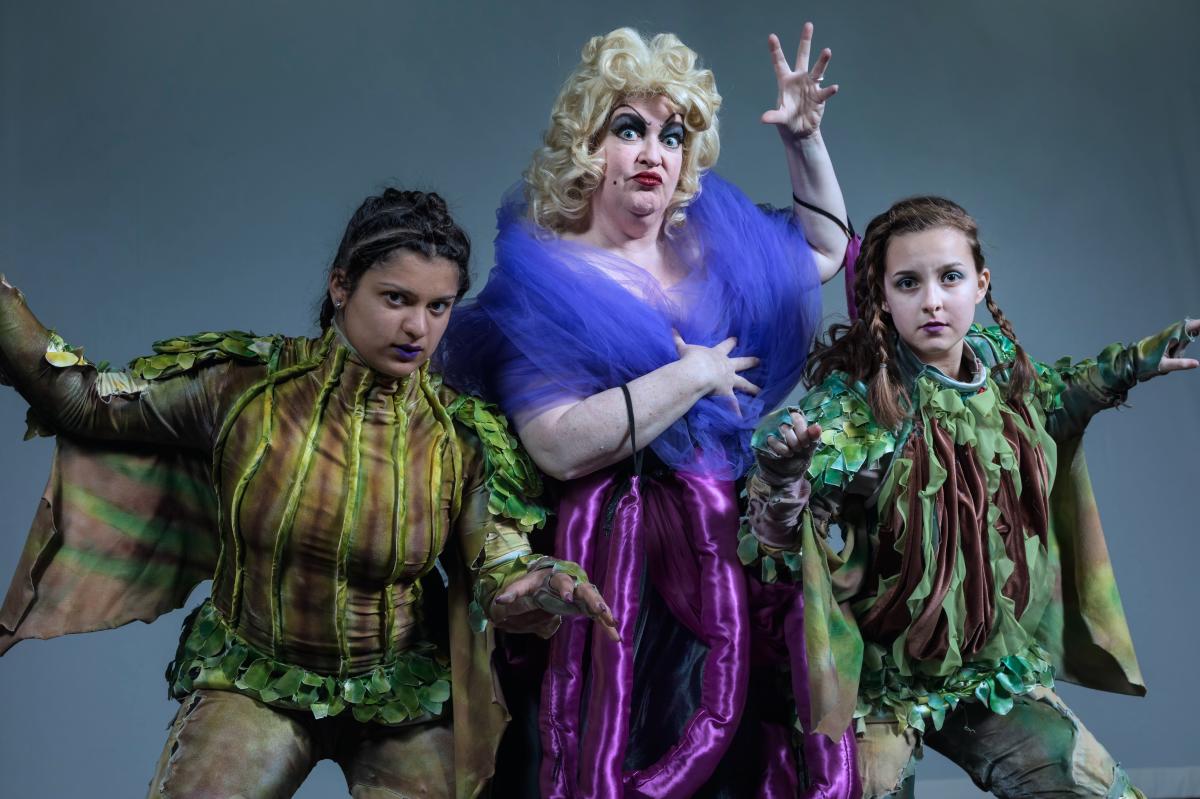 The solution devised by Steel River Playhouse is obvious to anyone who nets a ticket: Put the musical in the hands of a steady, sturdy captain.
It's clear from the moment this fish-out-of-water story launches that director-choreographer Dann Dunn has a firm hand on the tiller.
His scenic designer Josh Gallagher makes maximum use of the intimate Steel River stage. While Ariel wistfully pines for the "world above," four craggy archways suggest her grotto. Once the action swaps out for Prince Eric's palace, they become architected archways.
The transitions are quick and effective, aided by Jerry Jonas' lighting design and a dance ensemble with silky flags to suggest waves and stormy seas.
All this stagecraft supports the multitalented cast.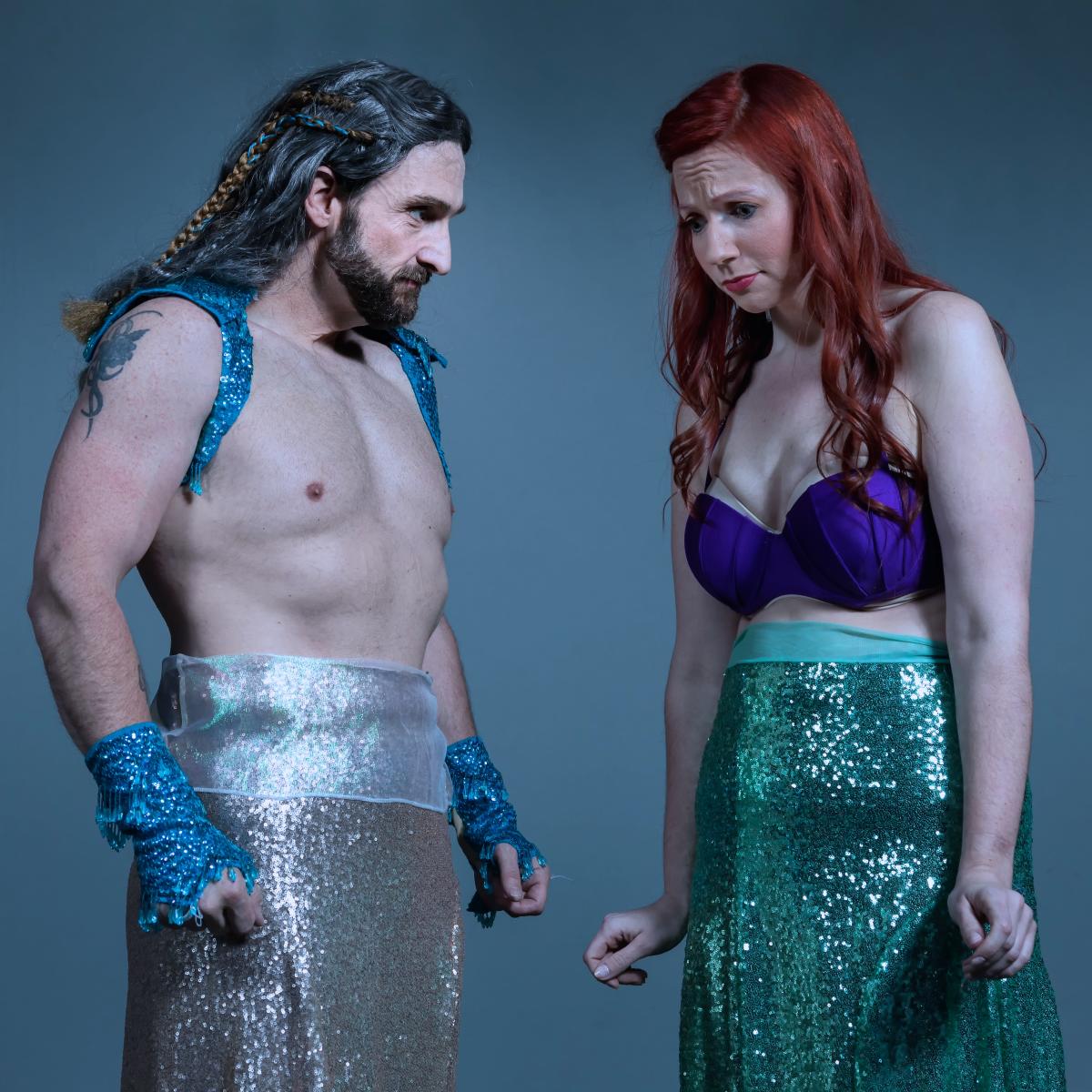 Amanda Morrell as Ariel looks and sings as if she just stepped ashore from the animated classic. She deftly balances the character's diverse (under)world-view: wide-eyed naivete and headstrong ambitiousness. John DiFerdinando's Eric is appropriately princely, and his rich baritone envelopes the Steel River house with deep emotion.
The supporting cast is a treasure, from Brian Rock's Triton to Tyreese Kadle's Sebastian.
The juicy role of Ursula goes to Alicia Huppman, who plumbs the depths of this villain down to her tentacle-tips. Her Act 1 rendition of "Daddy's Little Angel" (a late-addition to the official score) nearly stops the show. Her two minions, Flotsam (Jordan McAndrew) and Jetsam (Anastasia Moskal) deftly swim their way through the tight harmonies of "Sweet Child," a song that leads naïve Ariel to Ursula's lair.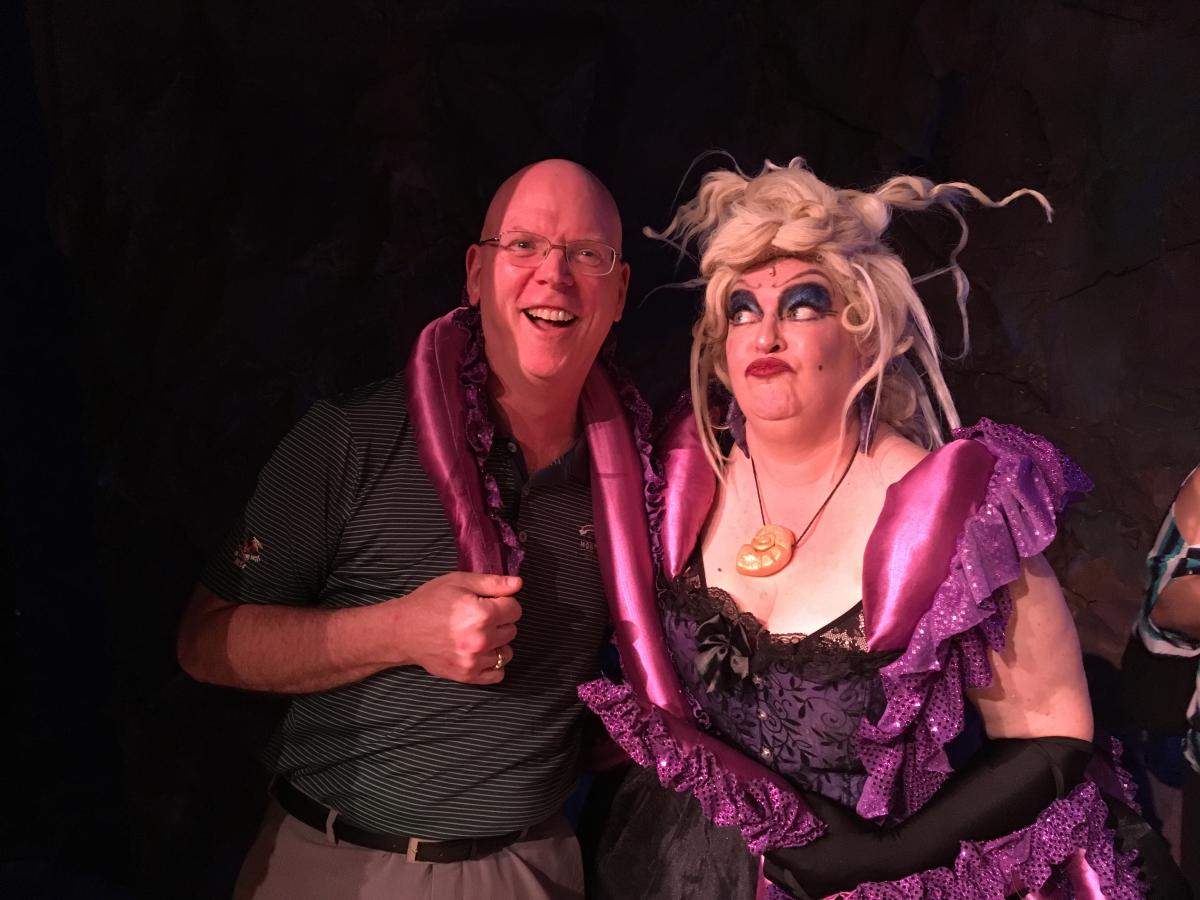 Ariel's six sisters offer boatloads of comic relief, especially when Sebastian's concert goes comically awry. Courtney Harris as Atina deserves special mention for the way she embodies seaside sibling rivalry.
In addition to its mainstage productions, Steel River runs coursework for children. Seeding talent in this way not only engages young actors but also provides a pool of kids who can be showcased in productions. The Little Mermaid, for example, benefits from cute-as-a-button turtles that glide their way through big production numbers like "Under the Sea."
While on the topic of the production's younger actors, mention need be made of Olivia Reitz as Flounder. She may only be a sixth grader (at North Coventry Elementary), but she holds her own, especially in "She's in Love," a finger-snappy doo-wop number. 
"The Little Mermaid"

The score draws from numerous traditions, including reggae ("Under the Sea"), ballad ("Her Voice") and character songs ("Poor Unfortunate Souls," "Les Poissons"). The work of Musical Director Melissa McVaugh and Conductor Barbara Newberry enable the singers to sail through these numbers effortlessly.

Go Under The Sea Like Never Before at SRP. The Highly Anticipated Broadway Hit "The Little Mermaid" runs 5/26-6/11. Get your tickets at www.steelriver.org before we sell out! Join in the fun and be entertained by the best area talent, performing alongside a live orchestra and professionally directed by Dann Dunn. See Disney Magic come to life at Your Community Theatre Steel River Playhouse!

Posted by Steel River Playhouse on Thursday, May 25, 2017

In also tackling choreography, Dann Dunn has his cast doing everything from the limbo to a rousing tap number. The latter is just one of the highlights of the performance of Lisa Hendricks as Scuttle, Ariel's goofy, malaprop-prone seagull. That song, "Positoovity," launches Act 2 with plenty of deft footwork and comic energy.
From its overture to the exit music, Steel River Playhouse's production of The Little Mermaid sparkles like a sunset on a calm bay.
Miss it?
Holy Mackerel, you'd better not.
The Little Mermaid
Steel River Playhouse
245 East High Street
Pottstown, PA 19464
610.970.1199
Shows: June 2 (8 p.m.); June 3 (2 p.m., 8 p.m.); June 4 (2 p.m.); June 8 (8 p.m.); June 9 (8 p.m.); June 10 (2 p.m.); June 11 (2 p.m.)
Barnacle Bash: On June 3 at noon, the cast and crew of The Little Mermaid invite kids age four and up to a cast meet-and-greet that includes snacks, photo ops and crafts. The party ends at 1:30 p.m., enabling families to attend the 2 p.m. performance (as a separate ticketed event).