If launching a new restaurant in King of Prussia Mall were a theatrical production, these last few days before the April 13 opening of The Bonefish Grill would be the previews before opening night.
And E. Jay Myers, Managing Partner, would be the director.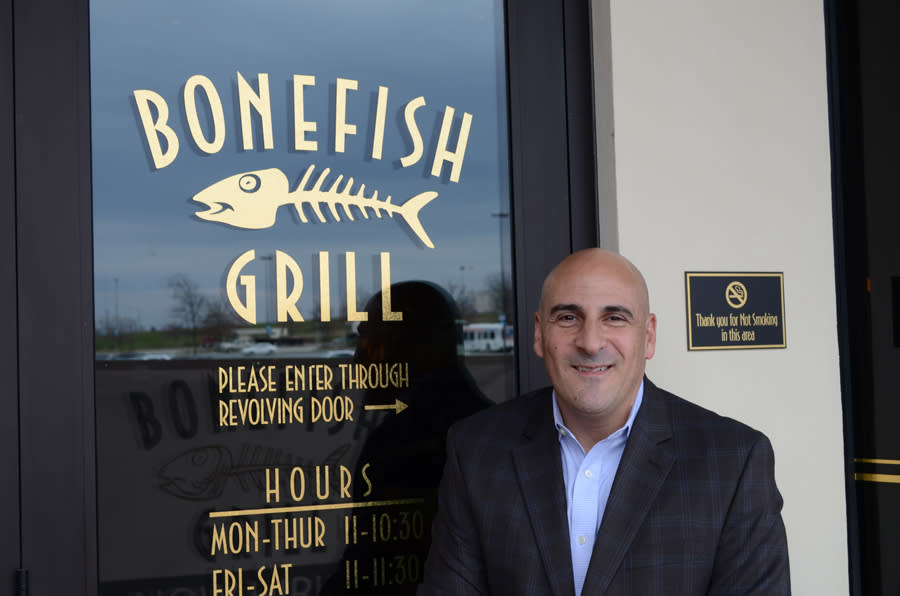 Around him swirls a large cast of servers, bartenders, kitchen staff, and maintenance personnel. A vacuum whirs in the background, keeping the carpet spotless. The last of the wall hangings - an abstract piece of artwork with ocean-blue swirls that befits the restaurant's accent on seafood - is being positioned and leveled. Bartenders have their noses deep in a three-ring binder of mixology information, busily "boning up" on ingredient lists and pour techniques. In the connected meeting room, a corps of servers is viewing a presentation on the unique requirements of handling a large dining party associated with a corporate meeting or private event like a baby or bridal shower.
Myers misses none of this, and as we walk the location, he gives a nod, a wave, a high-five, a smile in recognition that all is coming together well. His staff, referred to as "Anglers," are enthusiastic, energized and excited to launch King of Prussia's newest dining experience.
"We are so excited to be part of this dining scene," he says. "This is a flagship location for Bonefish; all eyes are on King of Prussia. From the variety of dining experiences here to things like the King of Prussia Restaurant Week and the October Beerfest, this has become a real foodie destination."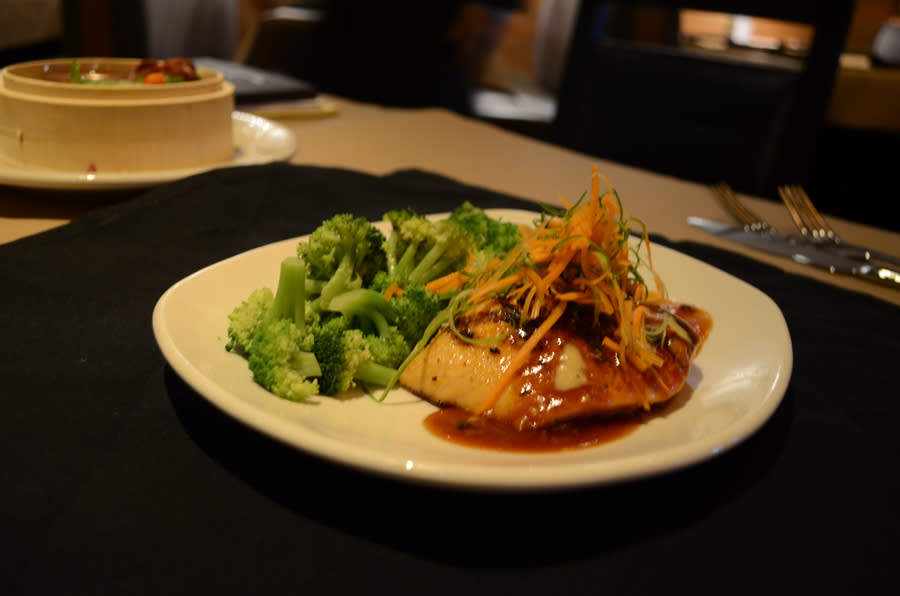 At 355 seats, this is the largest Bonefish location, or as Myers puts it: "...a step up for the brand." Guests can dine at the bar, at a table, at a row of community tables, at traditional booths or curved banquettes tucked into the corner nooks. A comfortable patio is an option when the weather is inviting, and additional seating in the mall corridor offers an alfresco feeling when Mother Nature does not cooperate.
The restaurant occupies the former footprint of TGI Fridays, but every vestige of the former eatery is gone. The walls covered with pop culture kitsch and brash colors have been replaced by rich taupes, natural wood and subdued lighting that looks like it was taken from the deck of a cruise ship. "I call it polished casual," Myers says.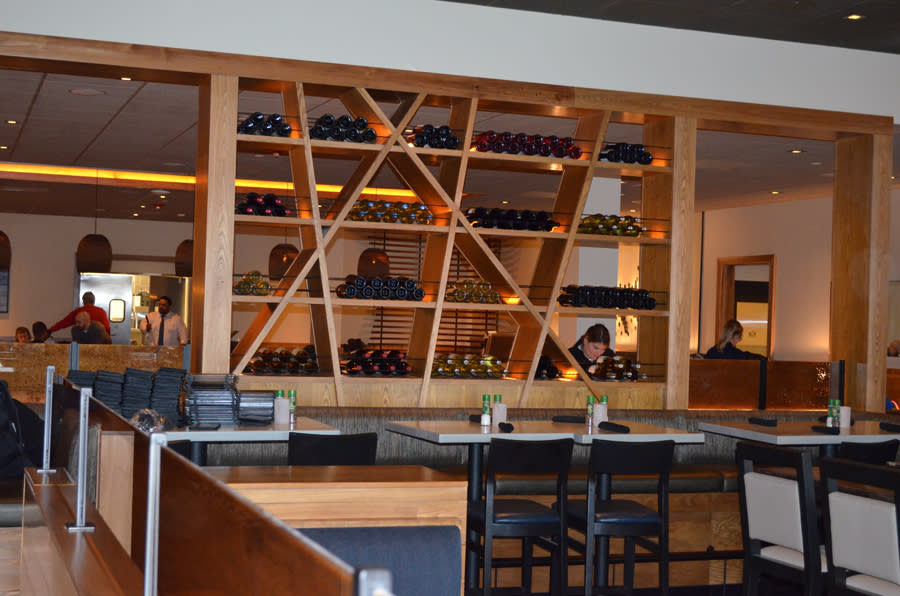 He points to a row of lighted woven baskets that hang from a slight recess in the ceiling. "This is a great design element; I love it. It provides soft light. And it visually helps break the room up. It keeps it from being just a huge rectangle."
Although fish is the foundation of the menu, the culinary outlook is much broader. "One of the things we're really proud of that not many people know about is our Sunday Brunch," Myers explains. "It's very popular for family birthdays on a Sunday morning. Or for a girls' getaway, especially in the fall. The husbands will be home watching football, and they'll come in and have some mimosas or bellinis. We have a crème brulee French toast that is just amazing."
We take a quick view of the kitchen, which gleams with preparedness. Myers invites me to take a seat and on the spur of the moment, the kitchen leaps into action to provide some samples. First out are the dim sum sliders, which comes with what looks like tiny oven mitts of bread, perfect for grabbing the tender pork and dipping it in the accompanying sauce. A serving of grilled Atlantic salmon, topped with a savory carrot slaw, is next. A mountain of Bonefish's signature dish - Bang Bang Shrimp - is presented with chopsticks. "They're my favorite," Myers confesses, and I can see why as I begin making them disappear at an alarming rate.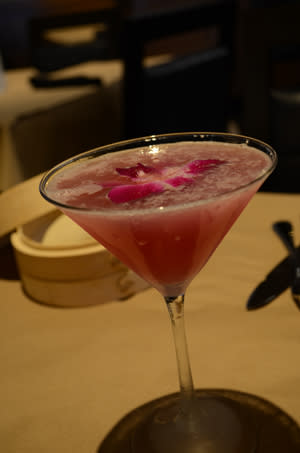 From the bar comes a martini in which floats an edible flower. I pass on taking a sip, but the presentation is beautiful. "We do a lot by hand," Myers says. "We make our own simple syrup for the bar. We infuse our own fruit flavors. We monitor all our ingredients carefully. All this takes more time, but it allows us to maintain the quality we want. We can taste, adjust and make sure the guest experience is the best each and every time."
The ongoing training - this is day four of a five-day regimen - may culminate with the arrival of the first guest on April 13, but Myers says it does not end there. "We train every day. We are always evolving. Seasonal changes to the menu mean the Anglers have to know what's going on and be able to best serve customers. This is not a once-and-done task," he concludes.
As of the April 13 opening, The Bonefish Grill's hours are 11 a.m. to 10:30 p.m., Monday through Thursday, and 11 a.m. to 11:30 p.m. on Friday and Saturday. Sunday hours are 10 a.m. to 9 p.m. Committed to supporting the local community, the restaurant will donate 50 percent of its opening-day sales to The Children's Hospital of Philadelphia's Specialty Care Center, scheduled to open this summer in King of Prussia.
A meal at the new Bonefish is the perfect centerpiece to a weekend escape for couples, families and even singles. See our website for recommendations on accommodations near King of Prussia Mall, as well as throughout Valley Forge and Montgomery County.