Nate Walter, head brewer for McKenzie Brew House in Berwyn, is both scientist and Spiderman.
As he began the process that would result a brewed batch of 450 gallons of beer, he set a watchful eye on filling the "mash tun," a specialized vat, with steamy water.
But he also crawled his way up, over and around an octopus array of hoses and a dashboard of multiple levers that control the process.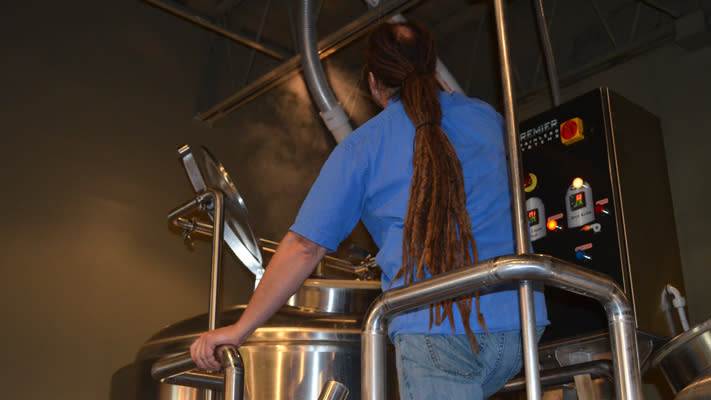 As the water continued to flow, Walter twisted the control that added milled grain. A combination of barley, wheat and rye (called malt) began sliding into the accumulating water.
Walter invited me to take a look. Inside the massive vessel, the mixture looked something like an industrial serving of oatmeal.
He handed me a large metal paddle and directed me to stir.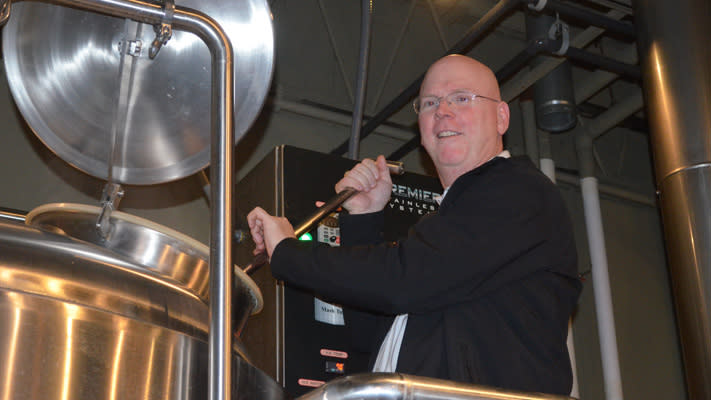 "See those clumps?" he asked, pointing to clusters of malt that had bubbled to the surface. "Make sure to break those up."
This initial task in the brewing process is known as "mashing," and its purpose is to release natural enzymes that will break down the starch within the malt to produce sugar. This sugar is crucial to fermentation.
Walter came by his unusual career by expanding the breadth and depth of his hobby. He was an at-home brewer who honed his skills and "...learned on the job." He's been with McKenzie's for almost five years.
The mash mixture in the vat will eventually become beer - one that McKenzie's will market uniquely. The branding will reflect Valley Forge National Historical Park's dual celebrations for 2016: the centennial celebration of the founding of the National Park Service and the 40th anniversary of the park's reassignment from a state-run site to a national one.
"We've timed this beer to be ready to be on tap for the Rev Run," Walter said, referring to the Valley Forge Revolutionary 5-Mile Run® of April 17.
After the competition wrapped up for last year's run, McKenzie's served brunch-style food and beverages to participants. "It would be nice to be able to have this at the after-party," Walter commented. "It will be a lighter ale, with a relatively low alcohol content of 5 to 5.2 percent, which should be good for runners."
The brewing process continued, with the grain-and-water mixture resting. The heat levels were timed to vary, triggering the chemical reactions that result in the production of alcohol. As that phase continued, the liquid - known as wort - continued cooking. Fruit, hops, herbs and eventually yeast were added, and the batch was left to ferment for up to three weeks.
It would then go on tap.
One detail that Walter is still struggling with is a name for his new beer.
"We want the name to have the words Valley Forge in it. And centennial. We have used local roads to name some of our beer, like our Route 202 Pale Ale, so we might go that way. Maybe something like 'Valley Forge Centennial Ale' or 'Route 23 something,'" Walter said.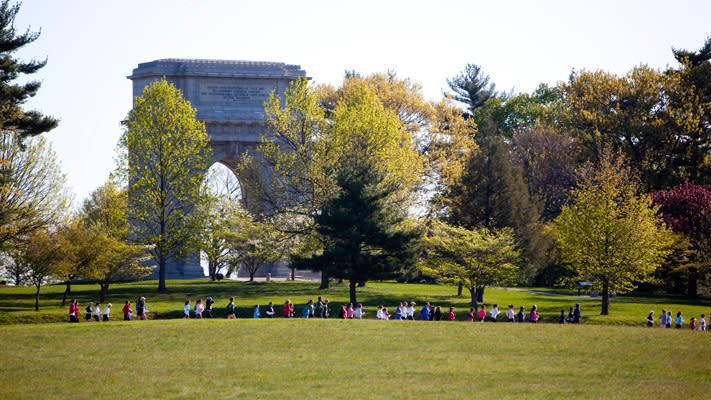 The connection to Valley Forge is one that McKenzie's is interested in highlighting, given the nearly two million visitors who explore the park every year. Walter described a scenario where he tweaks the flavor profile seasonally, perhaps with spices, for a winter-themed brew.
"People associate winter with Valley Forge, so that would make sense," he concluded.
Online registrations for the 2016 Valley Forge Revolutionary 5-Mile Run® will close April 15. The event comprises the five-mile run, a three-mile walk and a 1.776 km Young Patriots Fun Run. Sign up today.
McKenzie's special beer is expected to last about seven weeks or so, meaning that Rev Run fans, history buffs and those who like craft-brewed pale ales have only a short time to give it a try.
Until the next batch rolls around.