Interior design in the workplace has come a long way since the Mad Men days of solid, wooden desks; massive leather chairs and walls covered with utilitarian, eggshell paint.
A brand management firm in Miami, for example, provides employees with an outdoor conference room. And a design company in Toronto uses a giant, orange sliding board to take staff down from floor to floor.
These unusual architectural elements feed a corporate need to spark creativity, adding a bit of whimsy to the workday routine.
SEI also promotes out-of-the-box thinking throughout its corporate headquarters in Oaks.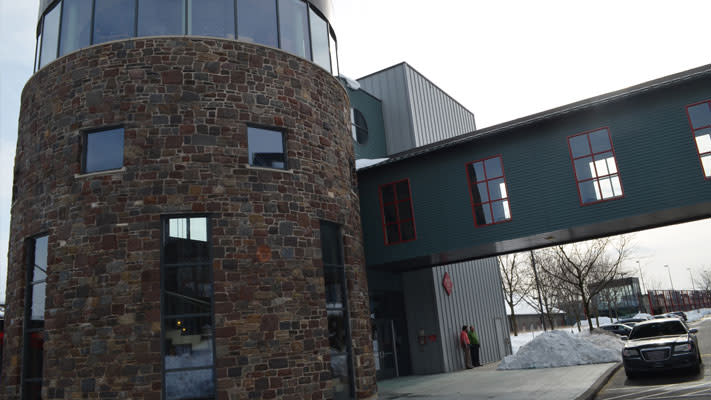 In fact, the company routinely invites members of the public to come in and see for themselves just how cool a workspace can be.
Each Tuesday from noon to 1 p.m., visitors can take a guided tour through The West Collection, contemporary artwork curated over the past 18 years by SEI founder Al West and his daughter, Paige. The pieces within the collection are peppered across all buildings, decorating hallways, common spaces, meeting areas and various internal cafeterias and break rooms.
After registering, I received instructions to report to the company's main reception desk.
When I got there, a few tour-goers were milling around; about half were SEI employees and others were not. We met our guide, Julia Staples.
Our exploration of art in the workplace began in the SEI lobby.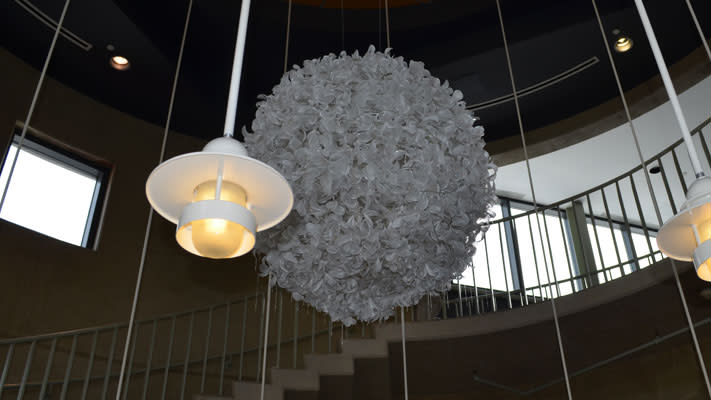 Staples pointed out the most obvious piece, a large flower-like 3-D sculpture hanging from the ceiling. Its rounded shape matched the 360° style of a circular staircase that ringed the lobby, and it seemed a natural fit for the space. "We call this 'The Chrysanthemum,'" Staples explained.
We then began the walking tour through the SEI workspace.
"At any one point, there are about 1,200 works on display throughout our offices," Staples said. "There are about 5,000 pieces in the entire collection, and what isn't hanging in here right now is kept in storage across Route 422. But employees can browse that storehouse online and request art they want. They can also 'vote out' a piece that they tire of looking at, replacing it with something new at any time.
"Al West started curating this art as a way of sparking creativity in his employees. The idea was to startle, to challenge, to shake the status quo some, leading to better service to our customers. He has since ceded the art project to his daughter, who continues adding to the collection. Some works we have commissioned, but others come our way through her discovery."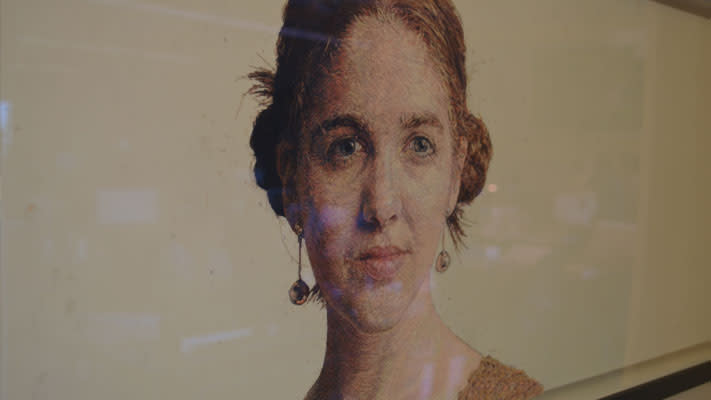 The variety is startling. Staples pauses by what looks to be a painted portrait of a pioneer woman. "This is embroidery," she says, "from artist Cayce Zanaglia, who is from St. Louis. She painstakingly works to make her needlework reflect enough detail so that it mimics the subtleties of brushstrokes. And if you think the front of this is impressive," Staples continues, "you should see the back!"
We continued touring.
We moved onto the shark tank. This impressive space is taken up by two sculpted sharks that hang from chains bolted to the ceiling. The texture of their skin was hard to identify at first, but then, as I looked at the ridges and ruts, it became clear: They were made of car tires.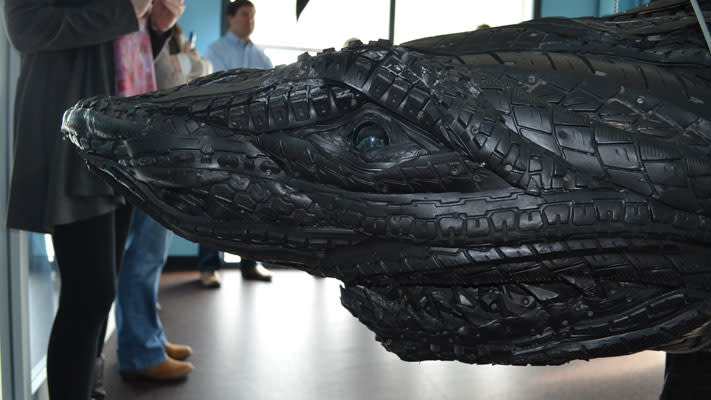 "We get a lot of comments on this space," Staples said. "We bring tours of kids in, and it's one of the only pieces that they're able to touch. We also offer a gentle word of caution to SEI hiring managers: Do not schedule your first interview here. It's a bit intimidating."
There was much more to see, including a passageway decorated with composers' busts. The work appeared to be done in marble, but closer examination showed the real material. Mozart, Bach, Mendelssohn, Brahms and the others had been carved from books, with the sheaves of pages giving the appearance of stone.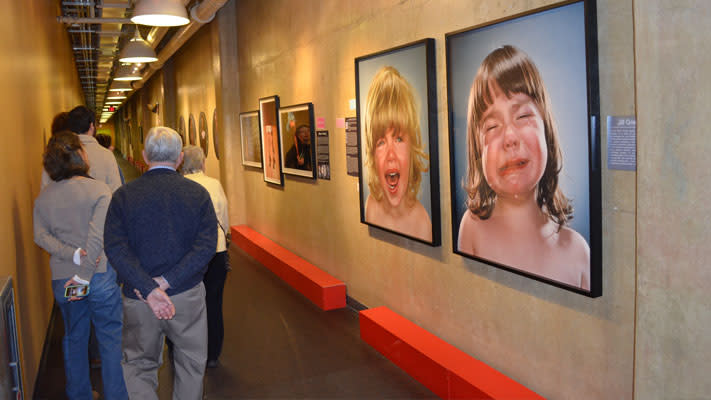 We also viewed "The Hot Hall," a gallery of art that has been rejected by employees. "Instead of mothballing it, SEI has decided to keep it around as a launching point for discussions," Staples explained. Commentaries on the works - some positive, some negative - hung nearby.
The tour began winding up. Before we left, Staples pointed out her favorite piece.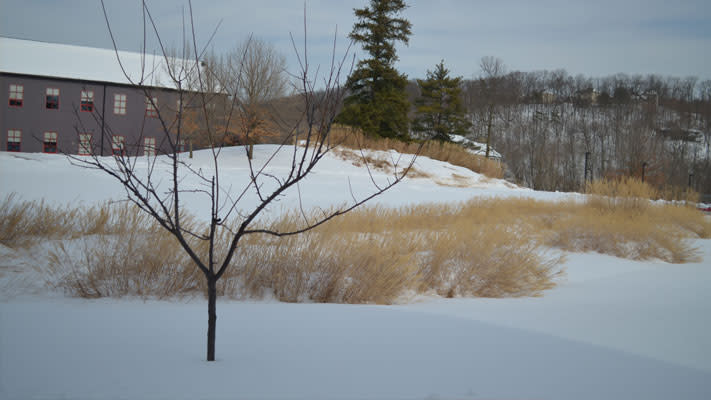 "See that tree outside?" she asked, indicating a leafless sapling in the snow. "That's a work in progress that the artist has entitled 'Fruit Salad.' Every few months, he grafts onto it the limb of a different fruit tree. The goal is that they will all blossom together and produce a variety of fruit - a fruit salad - all from one plant."
Although the majority of attendees tend to be SEI employees (especially newcomers to the organization), the tour is open to the public. Viewing the art requires a reservation, but they are easy to make by calling 610.883.7368.
SEI is located at 1 Freedom Valley Drive, Oaks, PA 19456.