Helen Davis recalls with surprising clarity the June day her mother suggested a walk.
The party of four – Davis, her mother and her two siblings (Francis and Kenneth) – trekked just over a mile to Valley Forge Park. Her father, she remembers, stayed behind at the family farm on Valley Forge Road.
"He had cows to milk," she laughs.
The year was 1917. The occasion was the dedication ceremony of the National Memorial Arch. Davis was a mere four and a half years old.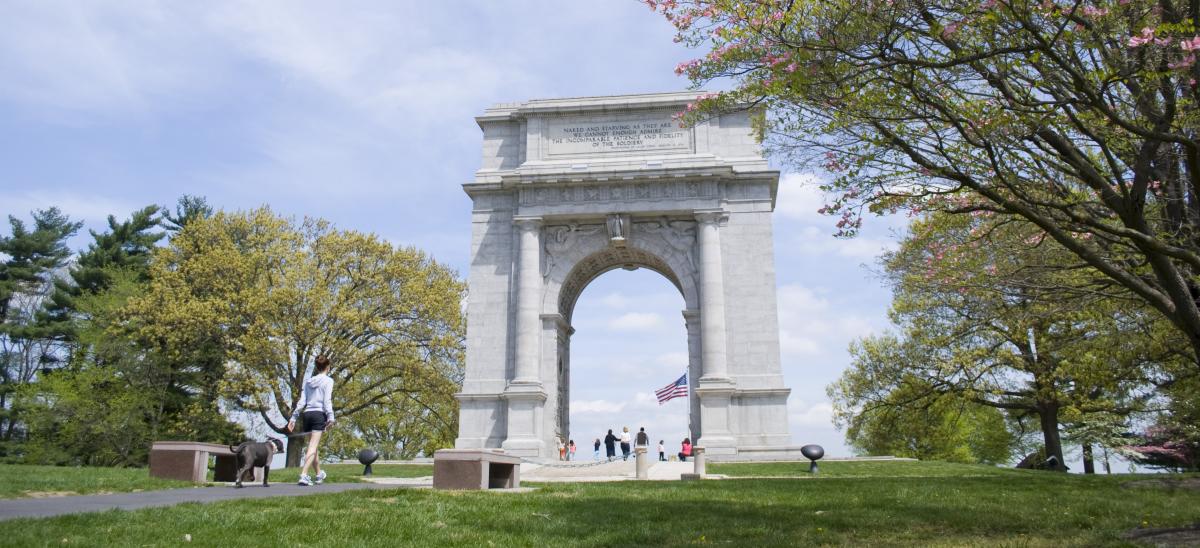 One hundred years hence, as Valley Forge National Historical Park celebrates the centennial of this dedication, Davis can still bring to mind certain aspects of the observance.
As she recalls it, she was unimpressed by the speaking roster, which included Pennsylvania Governor Martin Brumbaugh. She understandably didn't notice the corps of congressmen who rode to Valley Forge on a specially commissioned train from Washington. Not even the music or patriotic decorations stuck in her mind.
What stands out more than a century later is a small toy that was for sale by a local vendor.
"It was a yellow wooden canary," she says. "And it was tied to a stick by a string. When it was spun around, it looked like the bird was flying. And I wanted one! I wanted one so bad."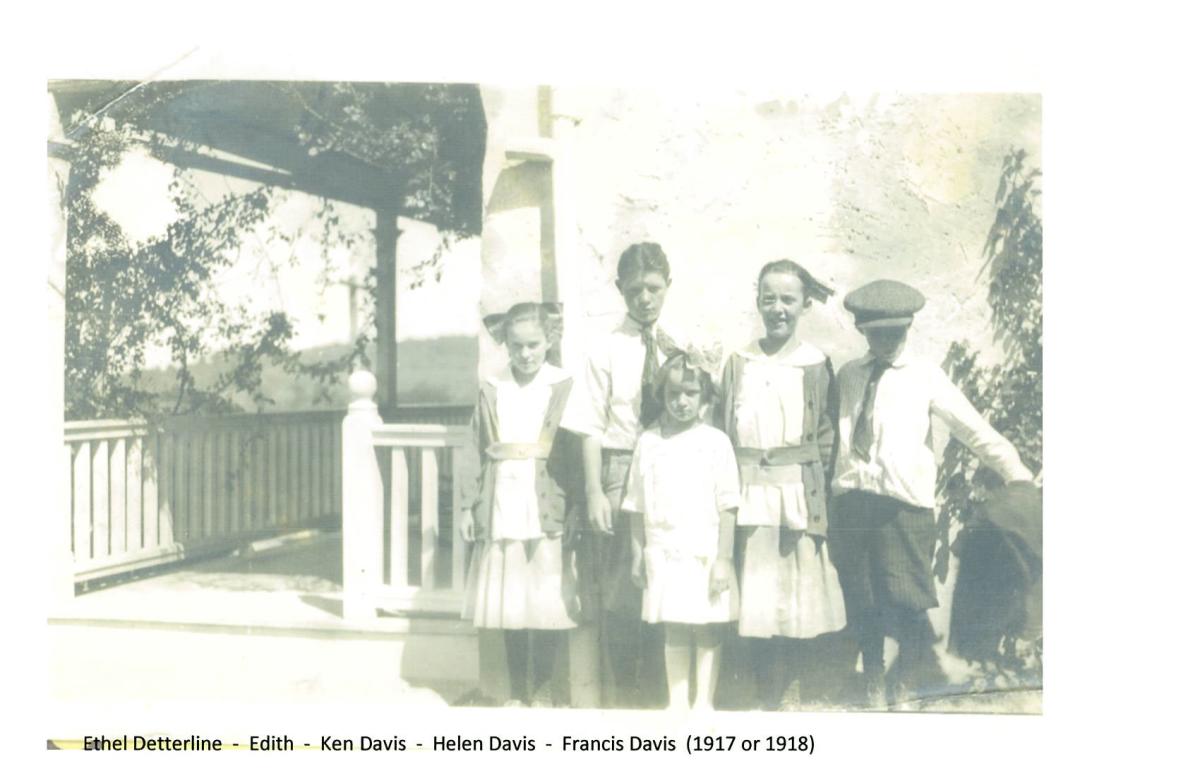 Alas, the expense for the whirligig, a whole dime, was disapproved by her mother, and the trinket went unpurchased.
That episode – although disappointing at the time – failed to dampen Davis' affection for Valley Forge. She continued living there through adulthood.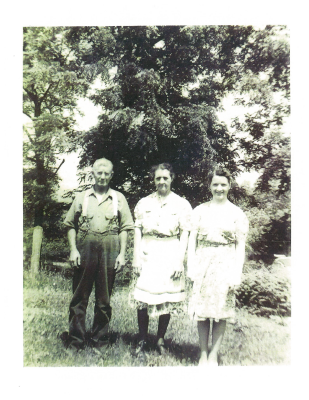 As a 16-year-old in 1929, she graduated Phoenixville High School and the next year, she married, becoming Helen Debus.
Still, she maintained her roots in the area. She worked for the Valley Forge Post Office, eventually becoming Assistant Postmaster. Her commute was easy, a few short steps from the back door, down the driveway, to the adjacent building.
"I liked that job," she says. "I knew everybody. I remember Officer Hildebrandt. He was the first cop in Valley Forge. He was nice."
She also joined the Valley Forge Improvement Association, a civic-minded organization whose goal was to oversee ongoing improvements in the township.
She also raised Airedales a large breed of Terriers from England. "I remember I had one named Silver and one named Dutchess," she explains.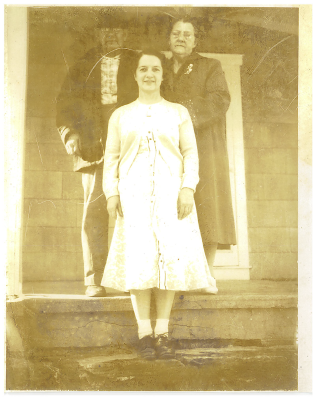 Debus' husband worked for Atlantic Richfield Company in Philadelphia, a job that involved a commute from Valley Forge to the city. He was, at one time, the only passenger boarding from the park to head eastward. When the Reading Railroad threatened to cancel the service, finding it inconvenient to pick up merely one customer, he successfully lobbied to keep the stop.
The rail line in Valley Forge also provided seasonal employment for Helen.
"I worked for Mrs. Blanch Brown," she says. "She ran a refreshment stand about a block away from the train station. We sold sodas and such." Debus then, without hesitation, rattles off the entire menu of soda flavors – from Coca-Cola to birch beer – in one breath.
The family's ties to Valley Forge have remained strong. Son Eugene remembers picnics at Betzwood; climbing the observation tower, where a nickel bought a chance to use a viewer to see for miles; and parking near the arch for romantic encounters at night.
"There were no lights there then," he sheepishly admits.
The landscape has changed significantly over the past 100 years. The original post office – and the soda shop and barber shop that shouldered next to it – are long gone, replaced by a convenience store and a Gulf station.
But vestiges of this family's mark on Valley Forge remain.
That convenience store and gas station sit at the intersection of Valley Forge and Davis Roads.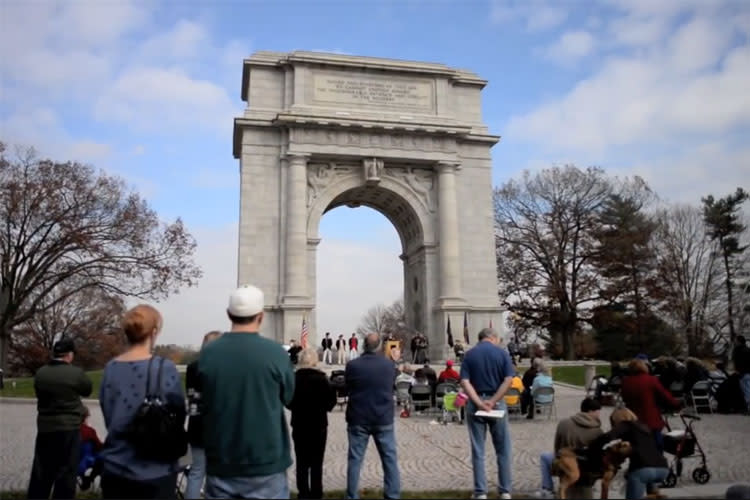 A centennial commemoration of the National Memorial Arch at Valley Forge National Historical Park will take place July 26, 2017, at 11 a.m. The family of Helen Davis-Debus will be there, along with Montgomery County Board of Commissioners, Valley Forge National Historical Park staff (including new superintendent Steven Sims) and members of the Valley Forge Tourism & Convention Board.
The public is welcome.