Confession time: I work for the Valley Forge Tourism & Convention Board and promote golf, including professional tournaments, but I've never actually played a round in my entire life.
That's right. There are more than 50 golf courses in Montgomery County – that's 300,000 yards to play – and I'm embarrassed to admit that I haven't set foot on one of them.
Besides, of course, mini golf, but apparently, I'm told, that doesn't count.
So, I figured it was about time that I tried. Before taking my first attempt at teeing off, I decided to ask for some help from one of the experts.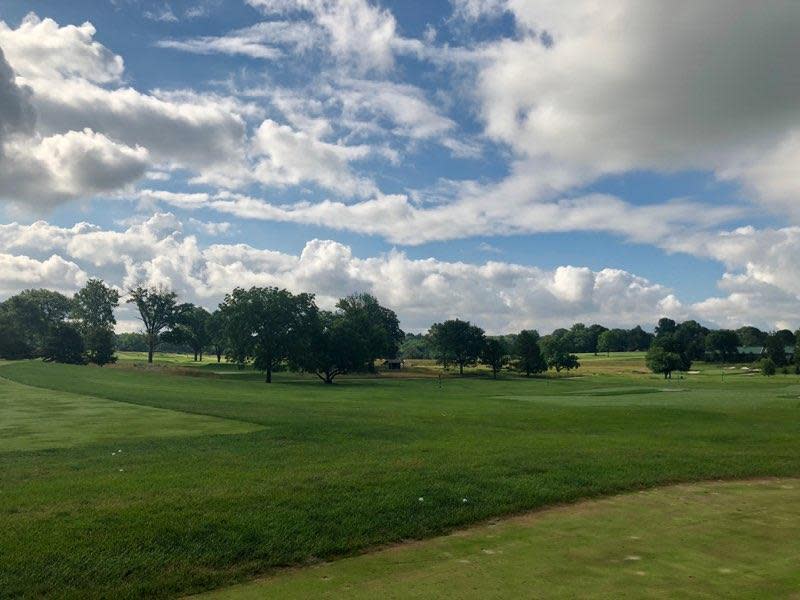 A professional golfer and instructor at Philadelphia Cricket Club's Militia Hill Clubhouse in Plymouth Meeting, Nathalie Filler agreed to give me a lesson…on Facebook Live.
Filler, who's been coaching at Philly Cricket for more than two years, coaches everyone with different abilities from beginner three-year-olds to older amateurs and even those with expert-level experience that just want a refresher.
"I just love introducing people to the game, and showing them what it's all about," said Filler. "You're talking to your friends, and hanging out. It's therapeutic to just hit balls, put your phone away, and actually talk to people, not text them. It's an escape from reality."
Plus, it's great exercise! Filler said walking 18 holes can add up to more than six miles, and 12,000 steps. That can burn anywhere between 1,500-2,000 calories, according to multiple online health reports.
Studies also show playing golf can contribute to getting more vitamin D by being outside, relieving stress, and even living longer.
GRIP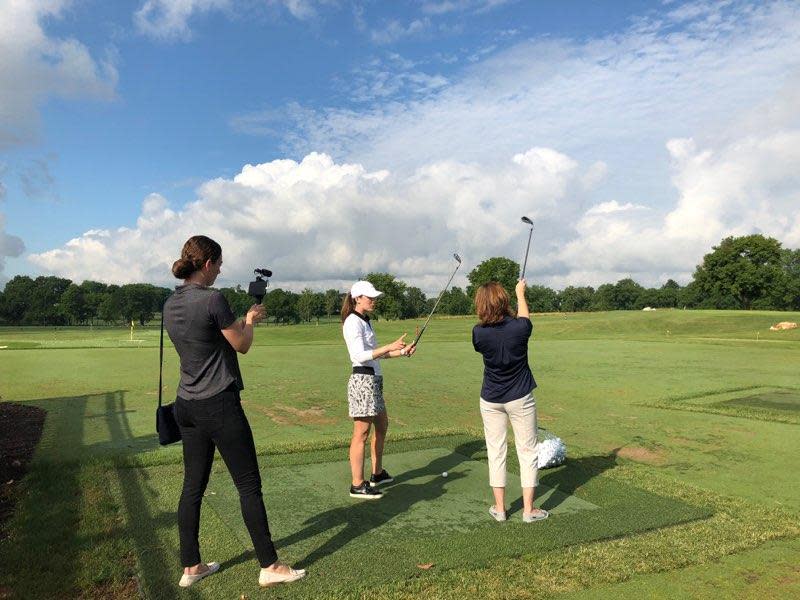 Every great golf game starts with getting a grip that feels right and most comfortable for each individual player, Filler said.
There are three different types of grips:
Baseball – Where your hands are close, but not intertwined (I went with this one)
Interlocking – Your pinky and index fingers interlock (Filler uses this one)
Overlapping – Your pinky sits on top of your fingertips (People with larger hands use this one)
"You want your hands working together because they're the only thing on the golf club, so you have to make sure they're nice and close," said Filler.  
STANCE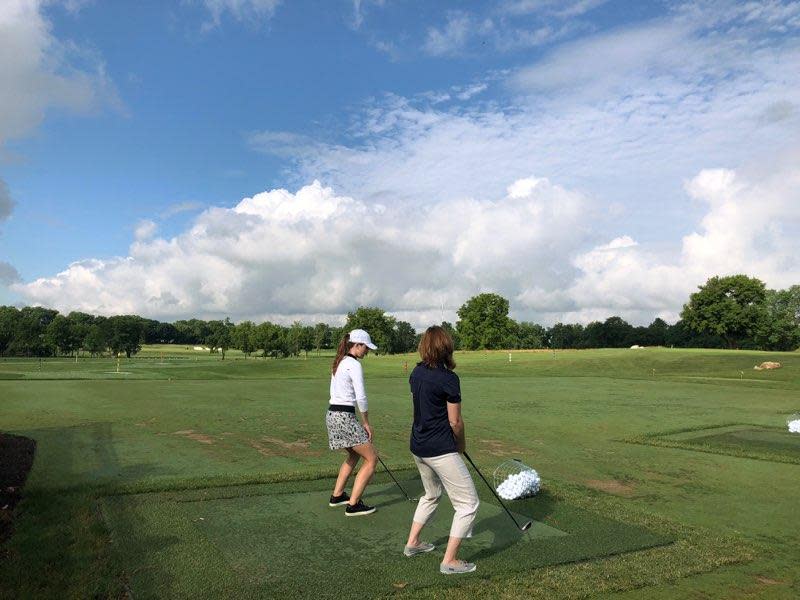 Filler instructed me to stand with my feet shoulder-width apart, and to bend with my hips, not too low, to give myself more room to swing without my knees or body in the way.
Trick: Use your club to help push your hips back, kind of like taking a bow on stage.
And, don't forget to stretch so you don't hurt your back!  
SWING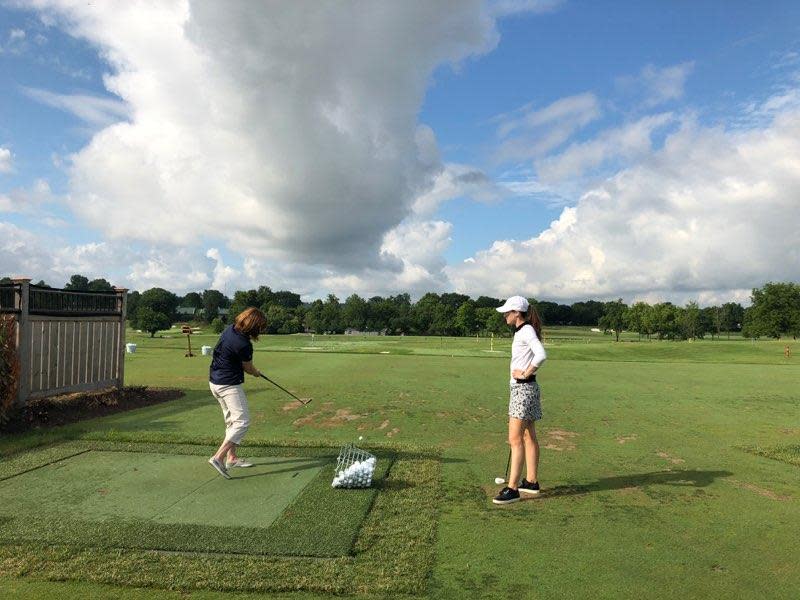 Since we were going for form, not distance, we used a pitching wedge to practice.
Swinging is kind of like throwing a ball as far as weight distribution to your feet, but it's not as smooth as the pros make it look!
"It's a lot to think about when you're first starting, so it can get tricky," said Filler. "But, it does get easier, I promise!"
Trick: Pick a spot on the ball to help you focus. With each swing, you'll become more aware of any mistakes you make so that you can self-correct them.
PUTTING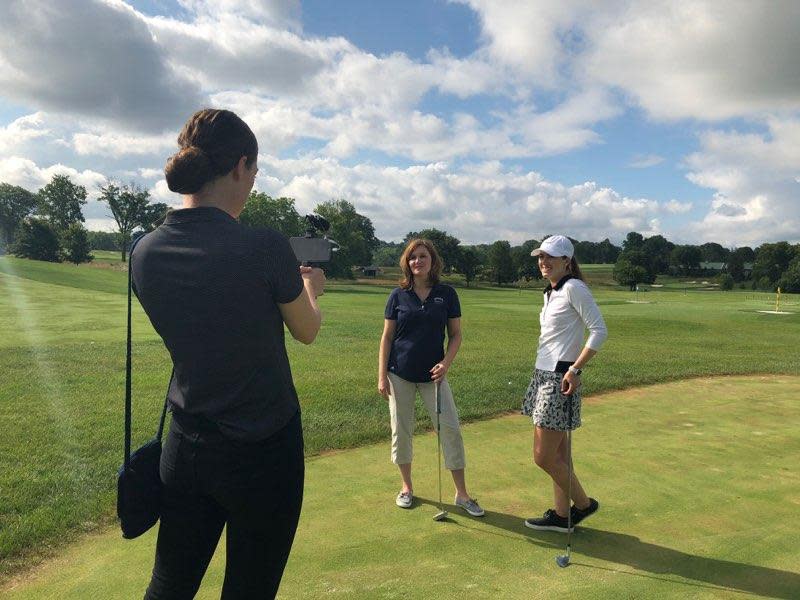 While there are a ton of grip options for putting, it's usually easier for beginners to use the same one.
"Unlike swinging, you're only using your upper body with putting, like a pendulum, with your shoulders, chest, and arms working as one unit," Filler said.
Trick: Make sure the rest of your body stays still, just turn your upper body back and forth, like rocking a baby.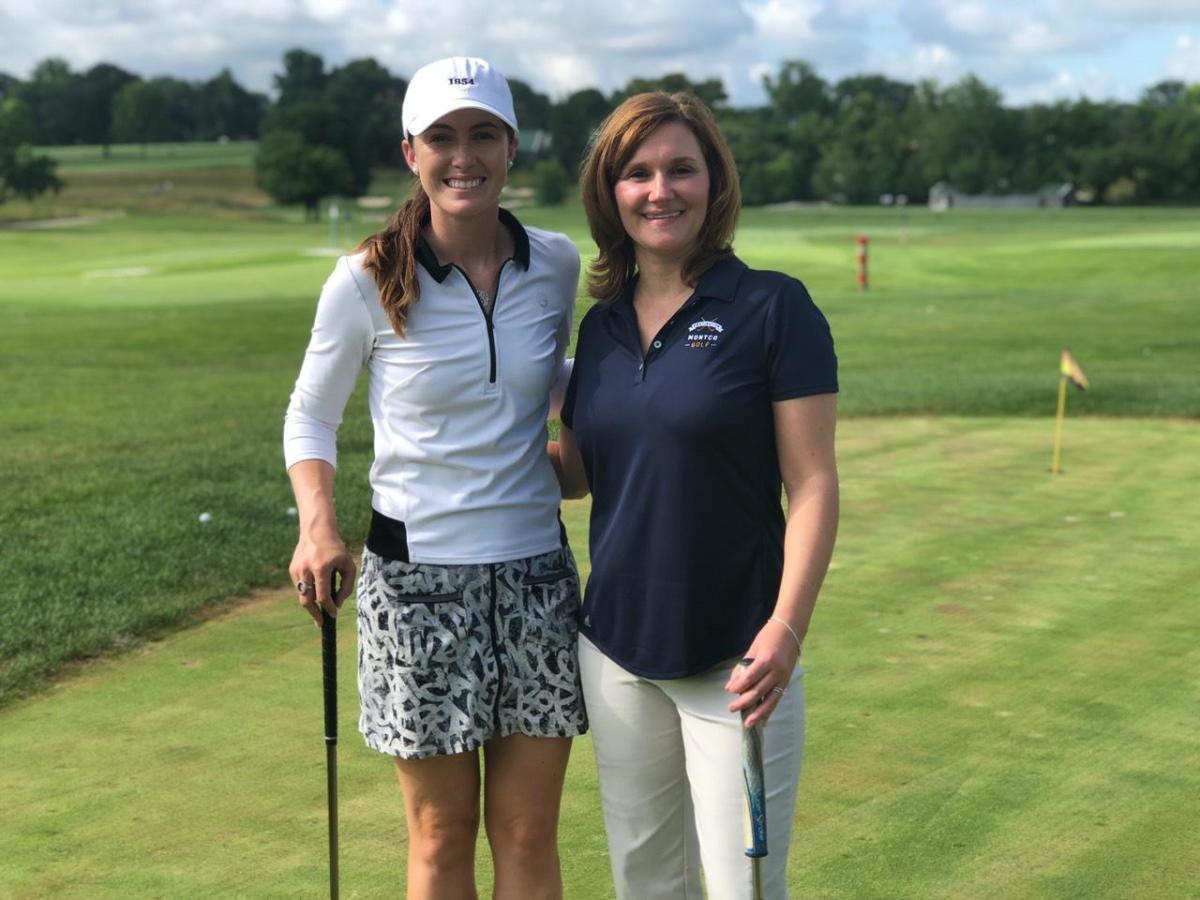 Filler couldn't have been more kind and patient. Besides swinging and putting, she also works with players on pitching, and other smaller swings around the green.
"Golf really is the perfect summer activity for the whole family because you don't have to be a pro," she said. "You can just walk, and have a good time."
Now, instead of feeling intimated, I can't wait to get back on the course! Hope to see you on the fairway!