Touring the Knoll Furniture factory in East Greenville is a little like using a golden ticket for entry into Willy Wonka's confectionary plant.
It's a little tough to do but worth the effort.
The experience is targeted to groups, ideally comprising 8-12 people, and an advance reservation.
Identification is required at the front gate, at the guardhouse.
For safety purposes, all visitors must change into steel-tipped shoes, which the staff happily provides.
Guests must also wear ear protection, which Knoll also supplies.
No onsite photography.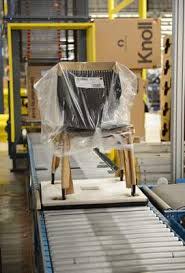 But like a visit to Mr. Wonka's, complying with these requests opens up a world of wonders inside.
The guided walking tour covers the property's massive footprint, including a hallway that itself equals a third of a mile. Three times back and forth easily tallies 2,000 steps on a Fitbit.
The distance is so great that the staff often makes use of a fleet of bicycles to get from one meeting to another.
The star of the show, however, is the production floor. Machines and their operators engage in a carefully choreographed ballet – accessing raw materials of metals, synthetics, fabrics, wheels, and hardware – and creating chic furniture for homes and offices.
My chaperon is a representative from the marketing department; Knoll tour guides are routinely solicited from across the corporate org chart, bringing unique touches of expertise and enthusiasm to each group tour.
We pass one of Knoll's signature pieces, the Barcelona chair. The sophisticated seat consists of basket-woven strips of black leather hung on a brushed aluminum frame.
"This frame has been rejected," the guide says. "Can you guess why?"
I stare at it, looking for imperfections. I can find none.
He points out a small corner.
"This little piece was damaged in the buffing process," he explains. "And that was enough to make it unusable. It's now the world's most expensive paperweight," he says, characterizing the large-sized frame as essentially good for little more than holding down sheets of paper.
That's how exacting the Knoll standards are.
This eye for detail has been handed down from Knoll's patriarch and matriarch, Hans and Florence Knoll.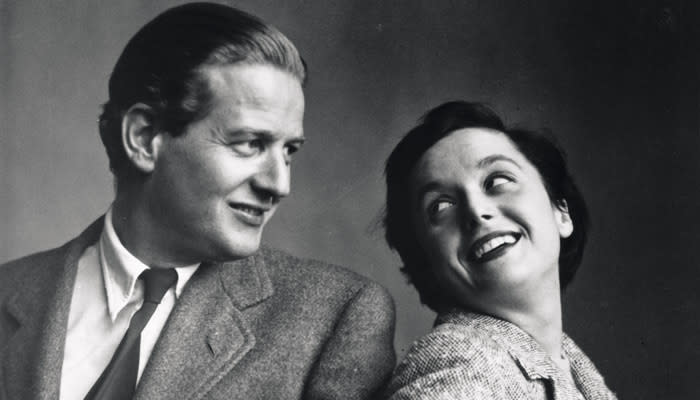 Hans was a second-generation furniture craftsman who moved to New York from his native Germany in the 1930s. Florence's education fused together her talents for architecture and design. The couple married in 1946, when she became full business partner in his furniture company.
They moved production to Montgomery County, attracted by the concentration of German immigrants found there. The site offered not only employees with what the Knolls considered to be an enviable work ethic but also plenty of room for growth.
Hans passed away in the mid-1950s from an unfortunate car accident; Florence pressed on, leading the business.
Her work began to catch national attention. CBS hired Knoll to outfit its headquarters in New York City, attracted by her clean designs, open workspace, uncluttered approach and simple lines. It has since graced restaurants; hotel lobbies; law offices; the executive suites of headquarters of Facebook, Starbucks and eBay; and even movie sets.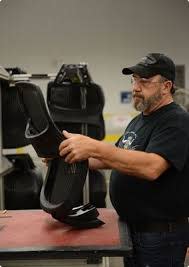 "Directors appreciate how easy it is to move around," my guide states. "It can be flexible, based on the particular needs of a scene."
Knoll furniture retains a sleek look that resembles something out of Mad Men, aligning it with the current trend of retro-cool. In the workplace, its streamlined approach fits well with current preferences for flexible workspace, collaborative interaction and even the option to work sitting or standing.
As the tour unfolds, I am shown where Knoll houses its supply of fabrics. This storeroom is filled with rolls of material, some as thick as the tire to a jet airplane. Each one is nested on shelving that stretches to the ceiling, and the effect in walking through them is something like the final warehouse scene of Raiders of the Lost Ark.
Along the way, we encounter a variety of employees. Universally, they are cheerfully eager to talk about their relationship with the company. Tenure here runs deep – a reflection on the quality of the conditions and the depth of the relationships.
Some workers cited history within the Knoll organization going back three and even four generations.
The Knoll Factory also has a museum, but it is currently shuttered to visitors. Expectations is that it will come online before year-end.
Knoll Inc. is located at 1235 Water Street, East Greenville, PA 18041.
Group tours can be arranged by calling 215.679.7991.