Dog Trainer Gail Mirabella Turned Her Passion for Pooches into Perfect Performances
It's difficult to tell which aspect of Gail Mirabella's life is most like something out of a storybook.
Is it the fact that she was so in love with her family's white German Shepherd as a toddler that her first spoken word was not "dada" or "mama" but "doggie"?
Or is it the portion of her life where this Hatboro native ran away from a corporate job to join the circus?
In either case, she expresses deep satisfaction at her present calling: full-time care and training of her corps of performance dogs.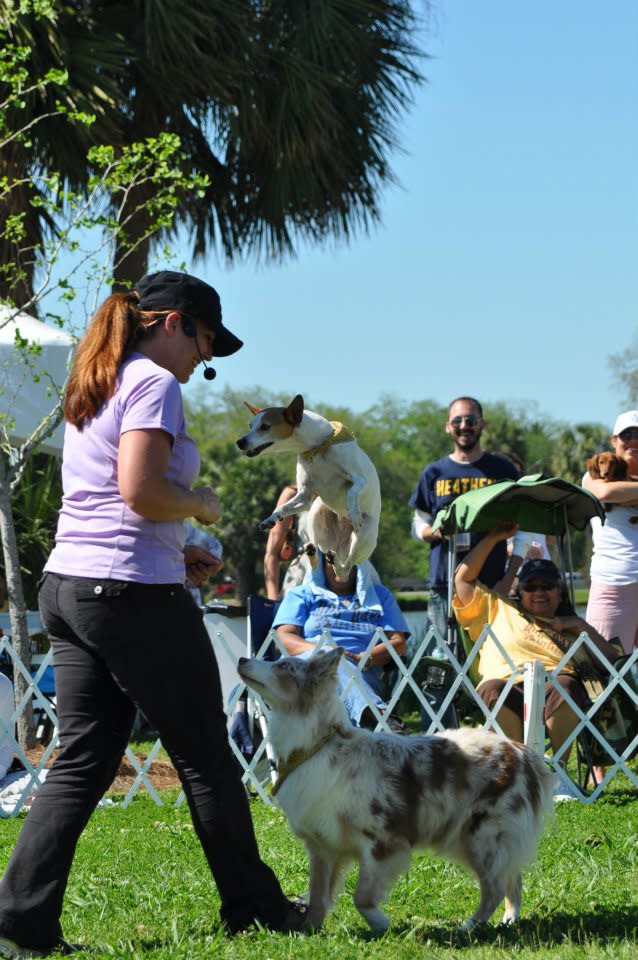 Mirabella and her Dynamo Dog team are bringing a bit of flash and dash to the Kennel Club of Philadelphia National Dog Show Sponsored by Purina this weekend, November 15-16, at the Greater Philadelphia Expo Center. Their exhibitions will have dogs flying through the air while exhibiting feats of animal acrobatics that involve hoops, Frisbees, dock-diving and gymnastic gyrations.
"I got a degree in Animal Science," she says, recalling her path to a career in dog athletics, "and moved around a bit. I was working with a major pharmaceutical company as a Quality Assurance Auditor. But my real love for all my life was dogs; it has been since I was very young. My baby pictures are all of me in a diaper, laying over our dog."
After college, Mirabella moved to Boulder for two years and got her first dog, Austin, an Australian Shepherd. She remembers, "I was playing Frisbee with him in a field, and someone came up to me and said, 'You should compete with that dog.' And I was like, 'There are competitions for this?' And they hooked me up with someone for my first competition. And I actually won."
She worked her way up through the world of competitive performance dog showing, eventually being asked to join the Purina Incredible Dog Team. "That's when I decided I wanted to this full time. I didn't want to do the corporate job anymore. So I quit."
Two months after trading her briefcase for a treat-bag, Mirabella heard of an opportunity with Ringling Brothers Barnum and Bailey Circus. "Ringling was looking for a high-energy dog act. And they picked me up.
"I always say circus work is the greatest job but it's the toughest life. It is not easy. Not everybody can do it. I was on the road for four years. I used a van for me and the dogs and a trailer for our equipment. Other people in the circus - the other performers like the clowns and the trapeze artists - rode the train. But I didn't want to transport my animals on the train because I wanted them to have space," she explains.
Mirabella left circus life and her four-footed family evolved into The Dynamo Dogs, appearing in competitions and television appearances such as Good Morning America and Late Night with David Letterman.
The show coming to the Expo Center is "...a little bit beyond the usual performances of agility and Frisbee. What I'm going to do is raise the bar. I have a standard Poodle that jumps 54 inches in the show. And he's awesome.
"I have a lot of hoop tricks. And double dog jumps; the dogs jump over each other. I don't want to say these are circus-style tricks, but I will say my act has a little circus flair to it."
Most of Mirabella's canine cast come her way through her efforts to rescue at-risk dogs, giving shelter animals a second chance. "My two dock-diving dogs are rescues. And my hoop dog is a rescue," she notes.
Although she loves all dogs, her favorite breed remains the first dog she ever obtained, the Australian Shepherd. "Aussies are always going to have a special place in my heart," she admits. "As performers go, they are phenomenal.
"They're the type of dog that will leap in the air and look at the audience like 'Check this out!'"
Check out Mirabella and her Dynamo Dog show all weekend long at the National Dog Show. With so much to see and do - from stiff competition to kid-friendly activities to exciting performances and one-of-a-kind shopping - it's a great weekend of furry fun. And that's no shaggy dog story.
Post-show, if you would like a comfy kennel to nestle into (in the form of a quaint B&B or luxury hotel room), see our website for suggestions.