On April 18, the doors of North Penn High School become a portal, encouraging attendees at the Lansdale International Spring Festival (ISF) to explore the world. For almost a quarter century, this annual event has celebrated the cultural and ethnic diversity of Montgomery County, bringing it to life in the music, dress, dance, artwork and food of our global neighborhood. Best of all, most of the day (excluding edibles) is free: no charge for entry, parking, entertainment, exhibits, hands-on experiences or presentations.
Alan Gold, Board Co-Chair, has been there since the beginning.
The first ISF was the brainchild of Dr. Francis Jeyaraj, a Lansdale pediatrician who, according to Gold, "...wanted to see all multinational segments of our community get together in a friendly and interactive atmosphere where we would learn things about other cultures through entertainment, exhibits and activities."

Enlisting the help of a dedicated corps of volunteers, the first task was to find a site. North Penn High School offered its facilities, and the festival had a home. The first ISF took up part of the school building, but as it has grown over the years, so has its footprint. "We now have the full run of the school," he says, "except for the main auditorium, which the students use to rehearse their school musical."
The displays, educational opportunities, performance space, interactive elements and food now occupy three sections of the cafeteria; a small gym that houses the health fair; and the large gym that features the main stage and exhibits. Interactive cultural opportunities are even tucked into the school's planetarium, and music performances pop up in hallways.
"We have the Audion, which is immediately to the left as you enter the main concourse," Gold explains. "It is a beautiful small auditorium with perfect acoustics." The ISF uses that sound clarity to its fullest advantage, scheduling the international youth orchestra performances there.
Entertainment is a cornerstone; therefore, Gold and his organizers plan a full day of concerts and shows. "We have the parade of nations," he says. "It comprises students carrying flags and includes different performers, such as the universal African dance and drum ensemble and Chinese lion dancers and drummers. Some of these performances are so good, you'd expect to pay $25 or $50 just to see them separately. And we have them all for free."
Gold is careful to continually refresh the nearly three dozen musical presenters that play all day long, saying: "We vary the entertainment. Even if it's really good, we don't want people to think, Oh yeah, it's the same thing as last year. We get different acts every year, even though some are so good that people just beg for them to come back."
The ISF planning committee works hard to ensure that the experience is different every year. "We encourage volunteers to come up with ideas and then take charge of those and run the programs if they wish. For example, Alexa Sullivan, a member of our PR committee, wanted a student affairs project involving learning about different countries. And she put it all together herself; it's going to be very interesting. And that's new this year."
New sponsorships also help ensure the ISF's vibrancy; this year, AARP and Microsoft are first-time participants, bringing healthcare screenings and software training.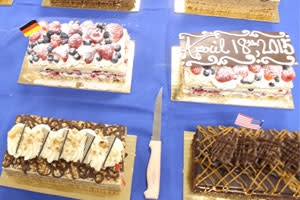 Food is also a large part of the experience, with ethno-centric dishes being presented from Afghanistan, China, Germany, Hungary, India, Italy, Japan, Jamaica, the Philippines, the Ukraine, Vietnam and, of course, the U.S., represented by a good, old-fashioned hot dog.

Given his long-term association with ISF and his involvement throughout the multiple facets of the celebration, it's tough for Gold to cite what he enjoys most. But he eventually settles on an overall view of ISF. "My favorite piece of the International Spring Festival is meeting the people during the course of the day. I see a lot of old friends. I meet new people. And I just enjoy coordinating the whole thing. And it's a reward by itself, just seeing it go off so well."

As part of his own presentation, Gold will be donning historic garb, making him easy to find, should attendees want to stop him and say hello. "I'll be wearing a Thomas Paine uniform," he laughs. "With the wig and the hat. You'll see it."

The ISF is just part of a jam-packed weekend in Montgomery County; it is followed by our own Valley Forge Revolutionary 5-Mile Run® on Sunday morning, April 19. The best way to take part in both events is to stay over in one of our signature hotels, putting you within easy access of Lansdale and Valley Forge. To make it a truly history-themed getaway, put a meal at the nearby Black Powder Tavern on your agenda. And share every memorable moment online using #MakeItMontco.