It is somewhat fitting that Exhibit B Gallery in Souderton, which opened May 19, is housed in the 1901 site of the Pent Brothers Cigar Factory.
The space is ablaze with inspiration.
Harry and Heather Boardman are the owner-operators, and along with their Australian Shepherd, Crusher, they are a colorful and vibrant addition to Main Street.
The Boardmans have completely refurbished the huge four-story building. The main floor comprises selling space for paintings (his) and jewelry (hers), as well as sculptures and small furnishings from 15 other local artists.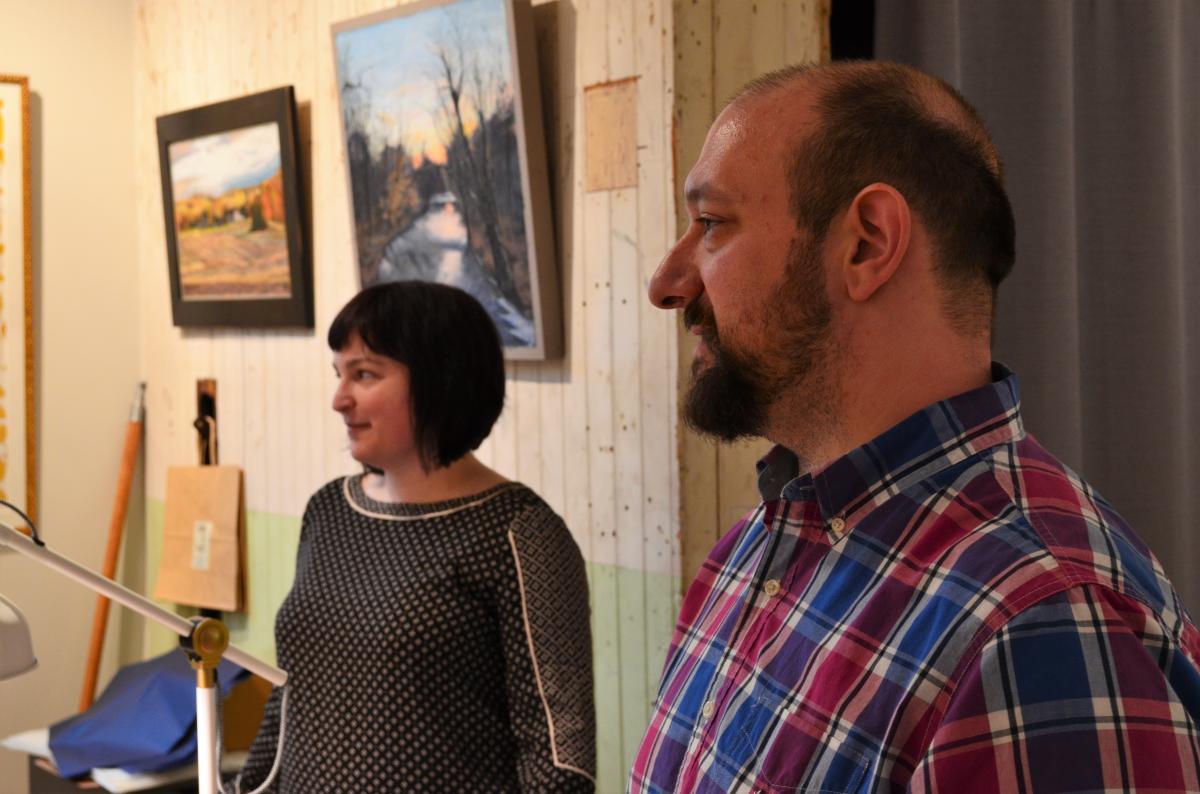 "We ripped everything out," Harry says, describing the extensive renovation. "After the cigar factory closed in 1925, it became a clothing store, a snack bar and eventually the home of North Penn Amusements and Vending.
"When the owner of the video-game business died in the 1980s, his widow winterized the building, locked the doors and walked away.
"The interior sat all those years," he says.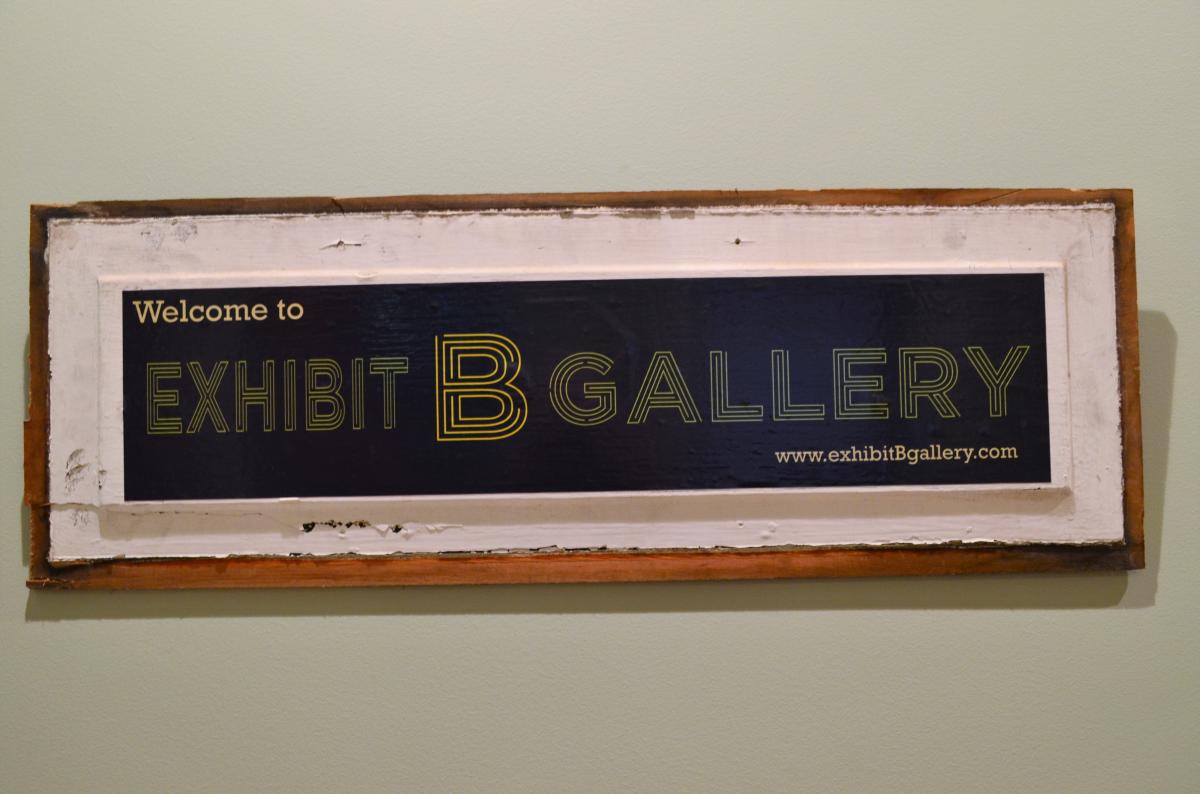 Fast-forward to 2014 when the Boardmans – tired of selling art from their Franconia home – sought more space.
"This popped up as a for-sale in our local search," Harry relates. "The walls were painted black and the video game people had used neon spray paint to 'decorate' with stars and hearts and jacket art from 'Pink Floyd: The Wall.' There were pool tables here with fake Tiffany lamps hung overhead.
"It was kind of unbelievable. Everything had to go.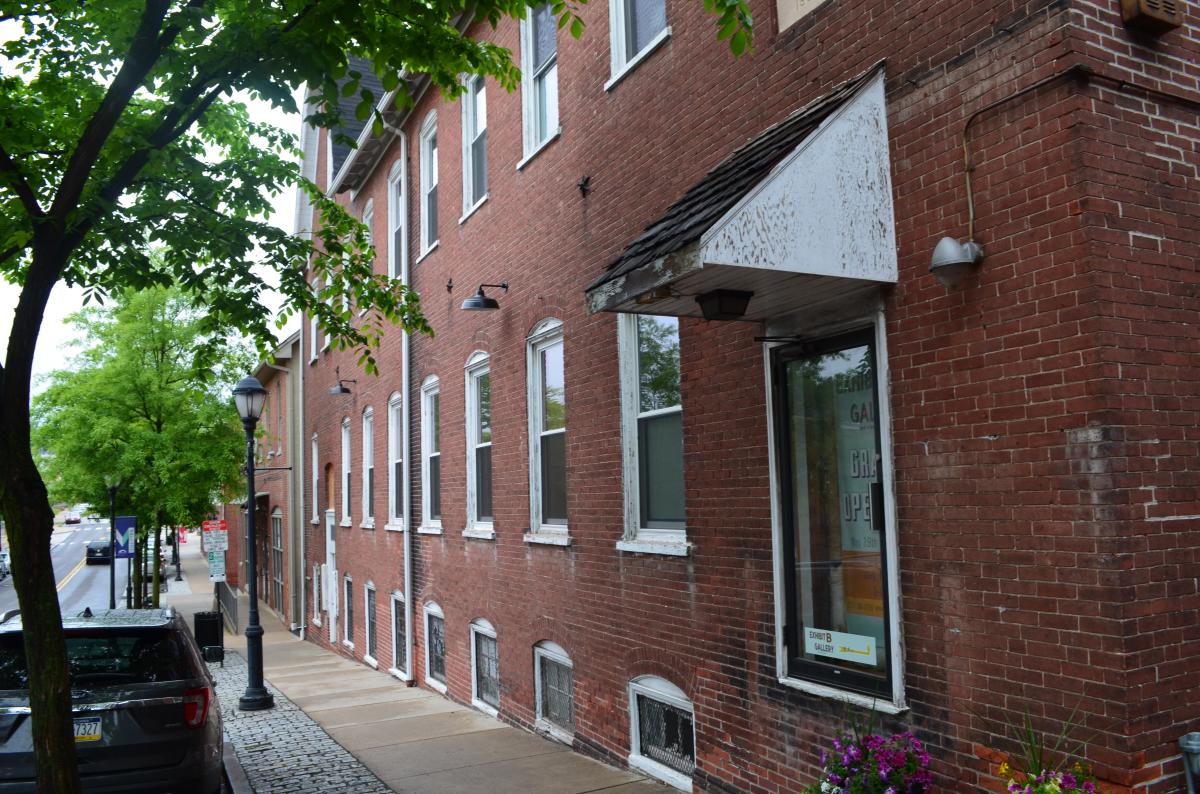 Boardman laughs. "We still hear stories from guys in the neighborhood who say they would come here and play games; they thought they were being sneaky, but said later that their moms knew exactly where they were. We've also heard about some pretty shady poker games in the basement."
That basement now holds a studio where Heather melts glass rods into imaginative earrings and other jewelry. On the main level, Harry has his own workspace, where several in-progress paintings share the room with a bubbling fish tank. And a soft dog bed for Crusher.
The second story has been transformed into the Boardmans' living space.
"The renovation, which is still ongoing, took about two and a half years," Harry states, citing work he and Heather have undertaken themselves. "We wanted to retain the character of the factory, so we kept the wooden floors, stripping away old carpet and years of dirt. We also kept the giant dumbwaiter, with its unique elevator shaft."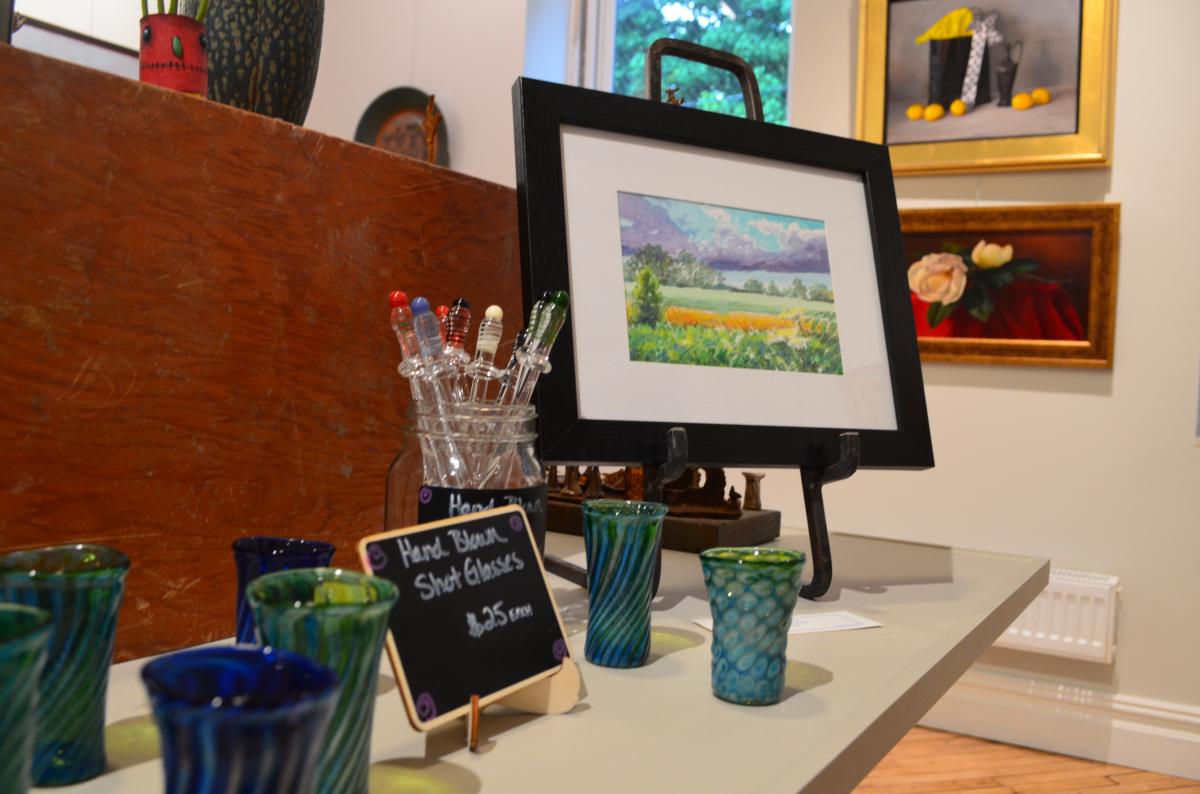 Tongue-and-groove wall paneling has been cleverly repurposed into deep window sills and built-in shelving.
Heather shows where one slat held a dustpan, its former shape outlined in black marker. "Whoever was in charge of these tools could see immediately if one was missing," she theorizes.
Heather's education includes an MBA, but working with glass has always been a fascination. "I did some lampworking and knew this was for me. I like touching glass as much as possible," she says.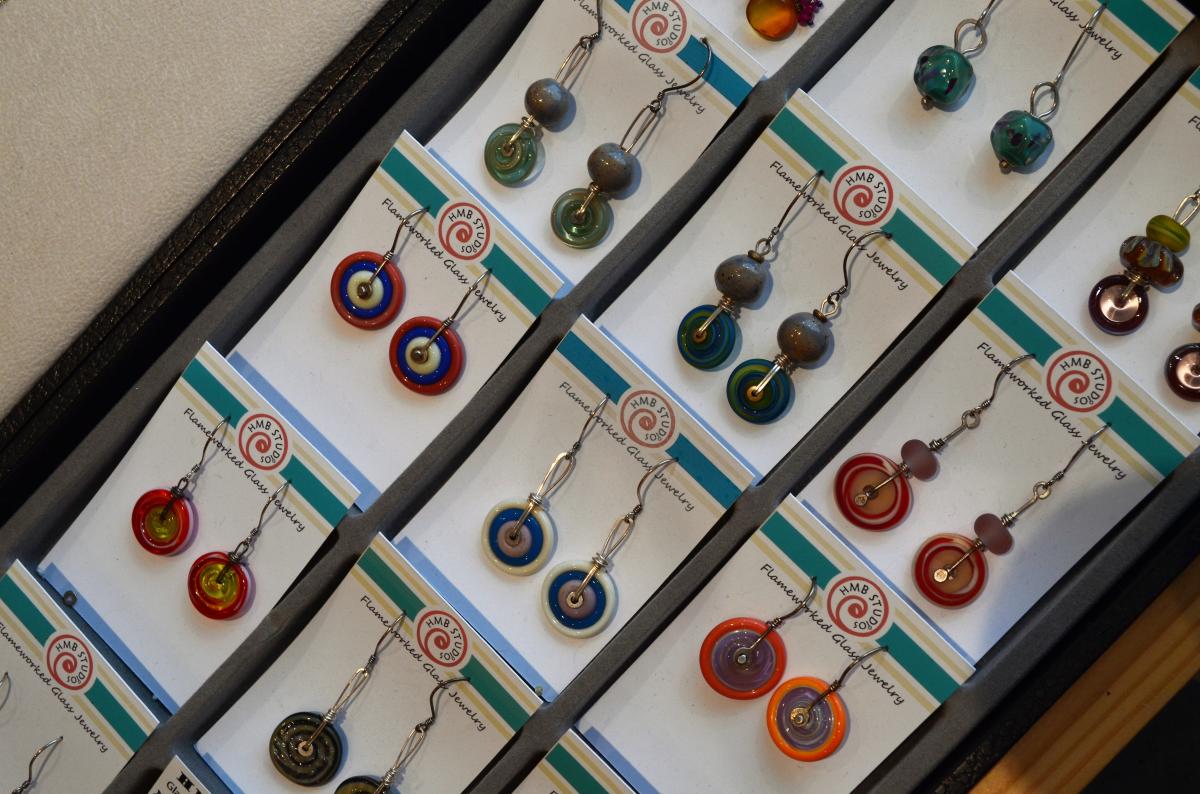 She eventually scaled down her artistic vision to jewelry, where her many-hued earrings and necklaces reveal painstakingly detailed work.
Harry reflects, "I always knew I wanted to be an artist, from the time I was four or five years old. I worked my school schedule so I could get rid of subjects like social studies and study more art." He has a degree in illustration from the Pratt Institute in New York.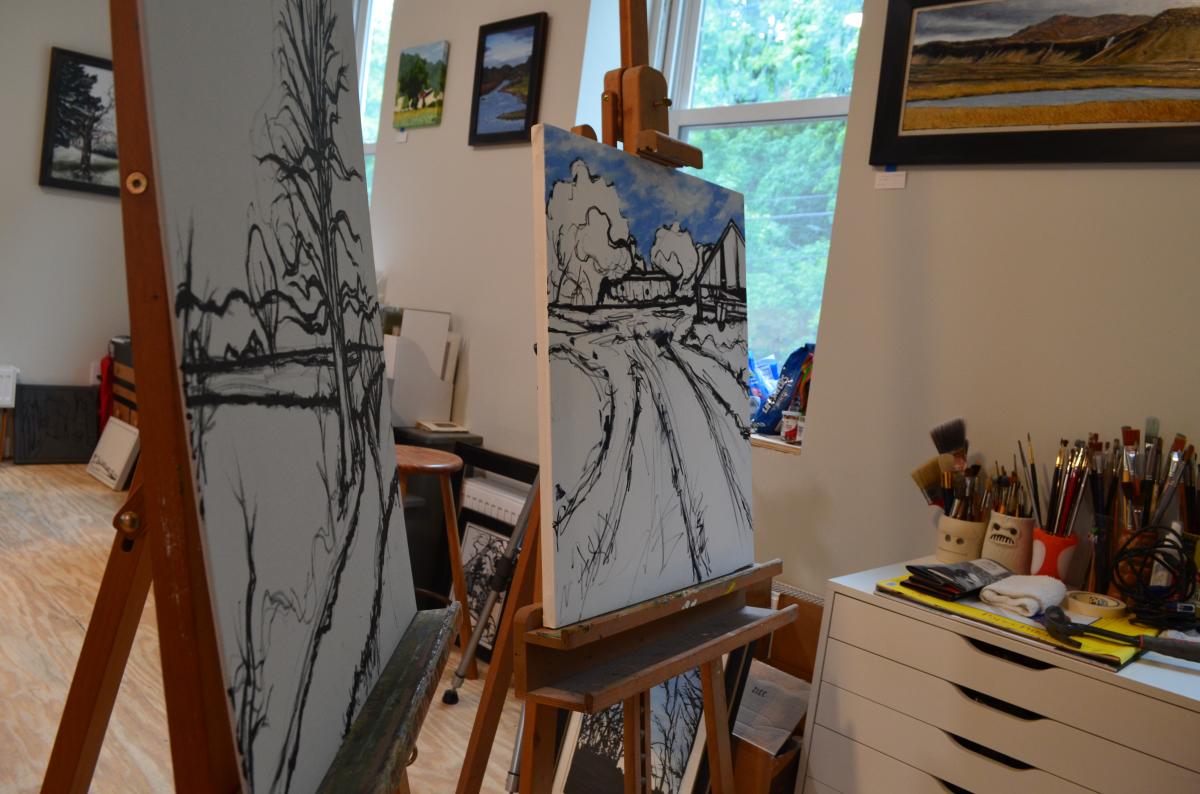 The Exhibit B Gallery has one more claim to fame. It was used as a location shoot for the low-budget 2017 film Bloodrunners, starring Ice-T. The movie is a mashup between a 1930s gangster movie and a traditional vampire story. Awaiting a hanging spot somewhere within Exhibit B is a framed souvenir poster.
For now, it rests on the floor, not far from where Crusher hangs out.
And if Ice-T with fangs is the least bit scary, the Boardmans' dog has found a way of ignoring it. In spite of the visual, he doesn't let it keep him from slipping into a peaceful nap.
Exhibit B Gallery
105 North Main Street b
Souderton, PA 18964
215.799.0266
http://www.exhibitbgallery.com
Free parking is available on North Main and at the corner of West Chestnut and Bank Streets
Note: The gallery's entry is on the side of the building
The current exhibition of 15 artists' work runs through July 15; the gallery is a participant in Souderton Main Street's Third Friday events.
As renovations continue, Exhibit B Gallery will feature classroom space for group events.