Todd Rindfuss admits that he wasn't always a big sweets person.
He confesses to being able to do major damage with a bag of chips, but sugary snacks weren't exactly his go-to indulgence.
That was before he became franchise owner of the new Duck Donuts in the King of Prussia Town Center.
Now, he has developed a palate for sweets, which isn't surprising for a guy who makes his living by covering hot donuts with glazes, icings, cookie crumbles, sprinkles and drizzles of chocolate sauce.
"The maple bacon is a customer favorite, but I like the blueberry, the lemon with coconut and the cinnamon sugar," he confesses.
Duck Donuts may be new to Montgomery County, but it arrives here with a long-standing track record of success.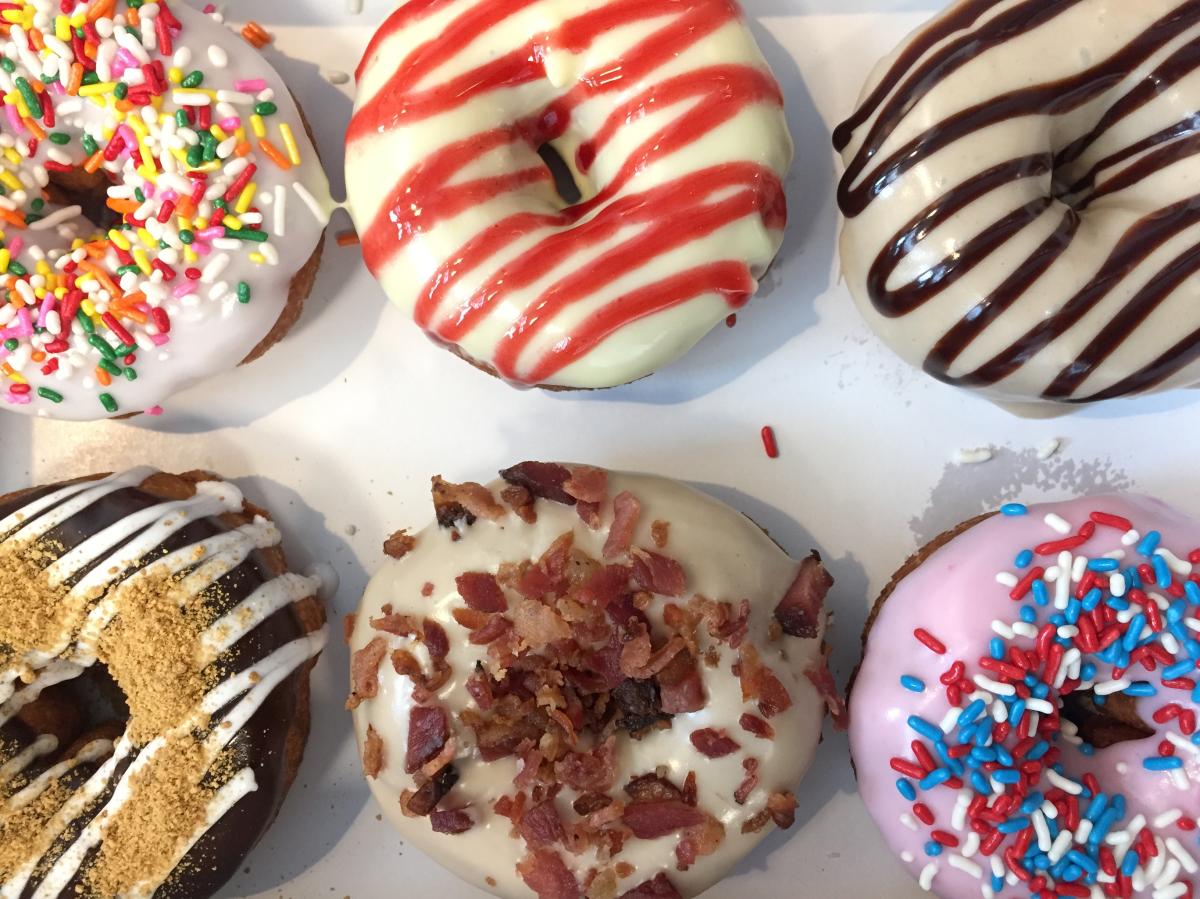 "We are the 46th franchise and the fifth store in Pennsylvania," Rindfuss says. "We looked at other locations in the area, including Ardmore and Radnor, but there was something really appealing about King of Prussia. The Town Center business model – with its combination of retail and residential – fit our customer profile. And this storefront is really convenient for getting in and out; parking here is easy."
Rindfuss also appreciates the neighborhood feel created by his fellow business owners.
"There's a feeling here that everybody is interested in everyone else's success," he says. "For instance, my outdoor tables are on back-order and not here yet. But the restaurant next door said we could borrow theirs, especially since during the day, they're not using them."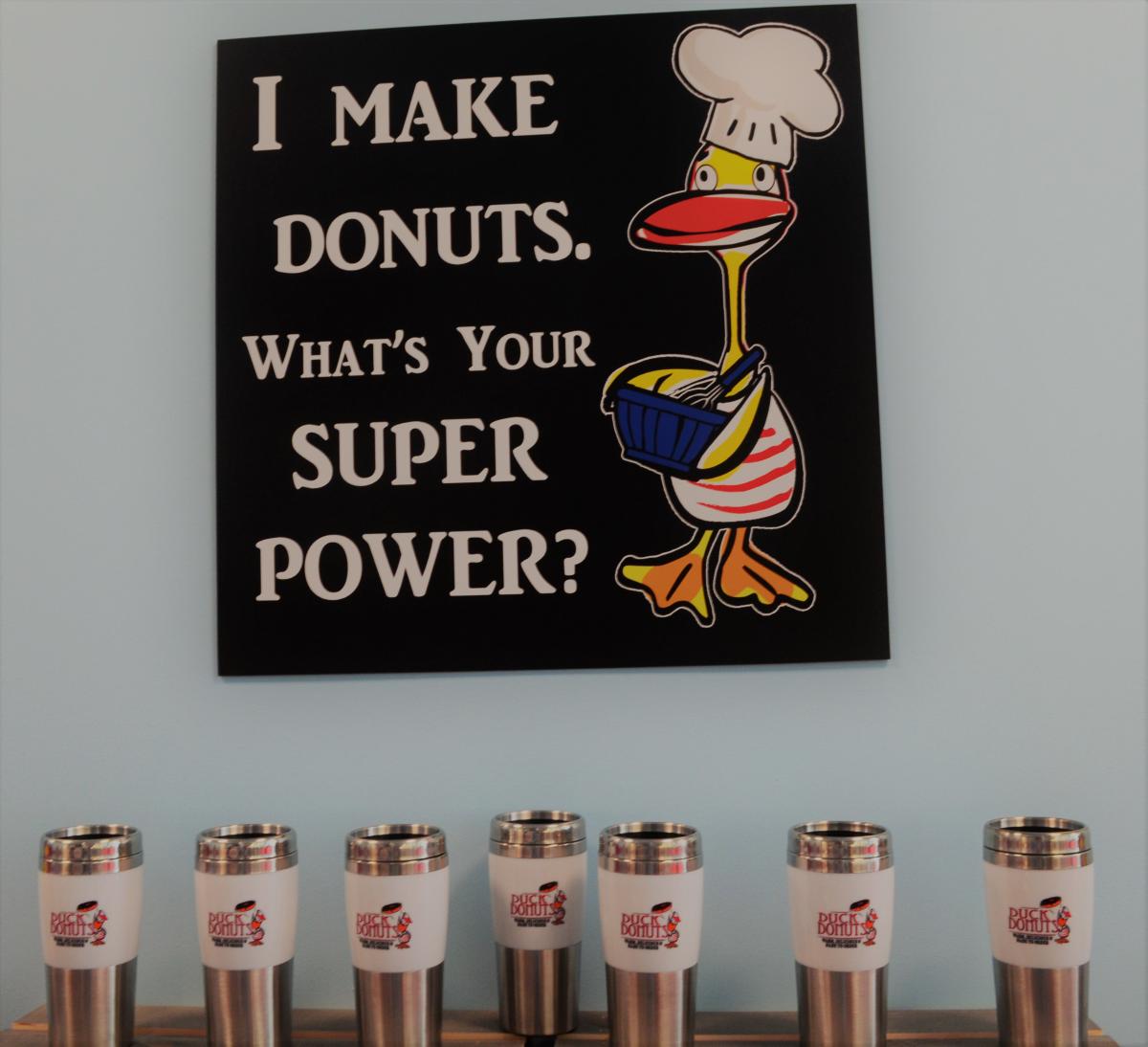 Rindfuss splits his career between making donuts and serving his insurance clients. He and his brother got hooked on Duck Donuts first as clients.
"We were on vacation in the Outer Banks," he remembers. "And the kids wanted donuts in the morning. So we went to the Kitty Hawk location. And although it was somewhere between 6:30 and 6:45 in the morning, there was a huge line.
"And I said, 'I am not waiting for donuts.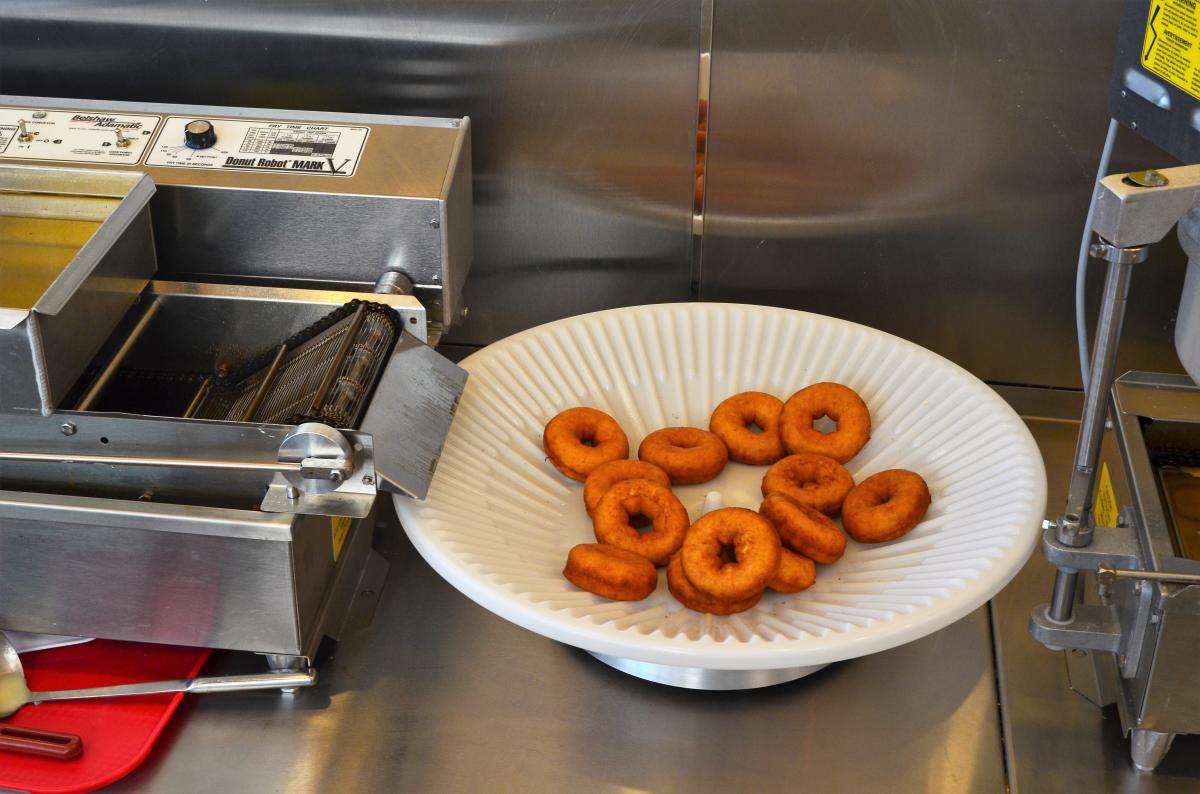 "But the staff was really efficient and the scent of the donuts was something that wouldn't let go. So we waited. And we were in and out in less than 15 minutes with a box of hot donuts.
"The best thing was later that night, when I wanted a snack, there were one or two left. And the directions said to microwave them for 8-10 seconds. So I did that, and it was as fresh as it had been when we brought them home that morning."
The idea of franchising tapped Rindfuss' entrepreneurial spirit. The Pottstown native applied for the opportunity to bring the donuts to the area, met with corporate leaders in Harrisburg and got his approval. He now oversees a crew of 47 employees who can turn out 1,500 to 2,000 donuts a day.
Customers choose their own coatings, toppings and drizzles, and options include peanut butter icing, shredded coconut, Oreos, hot fudge and salted caramel. For something truly decadent, a warm donut can be topped with ice cream. The store also sells breakfast sandwiches and five varieties of coffee.
"Quality control is key to this business," Rindfuss explains. "The batter is premeasured and the instructions are clear. The oil must be at a certain temperature, and the process of dropping the batter to cook is automated, so everything is uniform."
That consistency is key, Rindfuss says, to avoid undercooked or overcooked donuts. Temperature is so important, he says, it was even a consideration in Duck Donuts' boxes.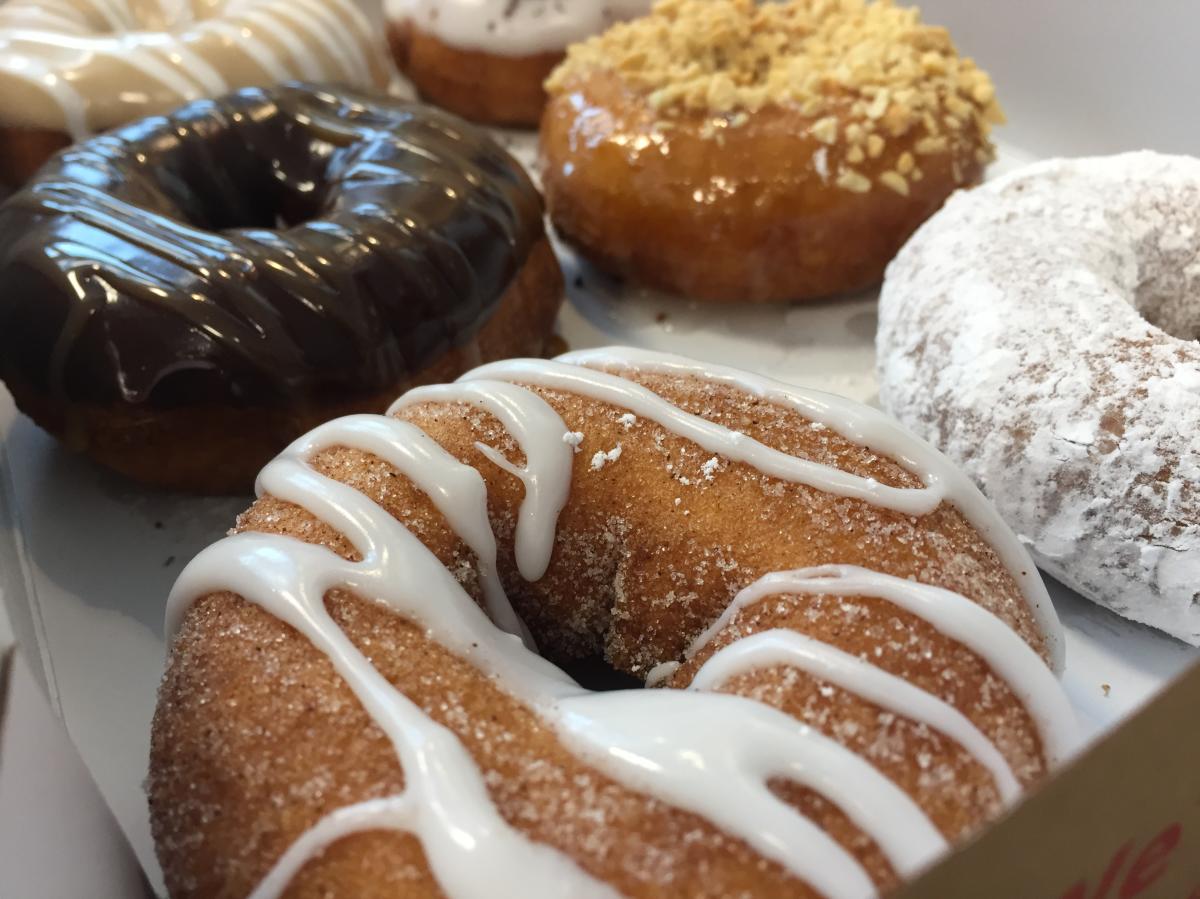 "The donuts will continue to cook just a little bit in the box, after they come out of the oil," he says. "So our boxes are vented."
Without that method for the heat to escape, the signature toppings would merely slide off. The air holes enable the hand-applied glazes, frostings and toppings to remain not only delicious but also eye appealing.
Rindfuss and his co-owners, which include his wife and his brother, are already eying other locations in the county. A store in Collegeville is in discussion for a November opening.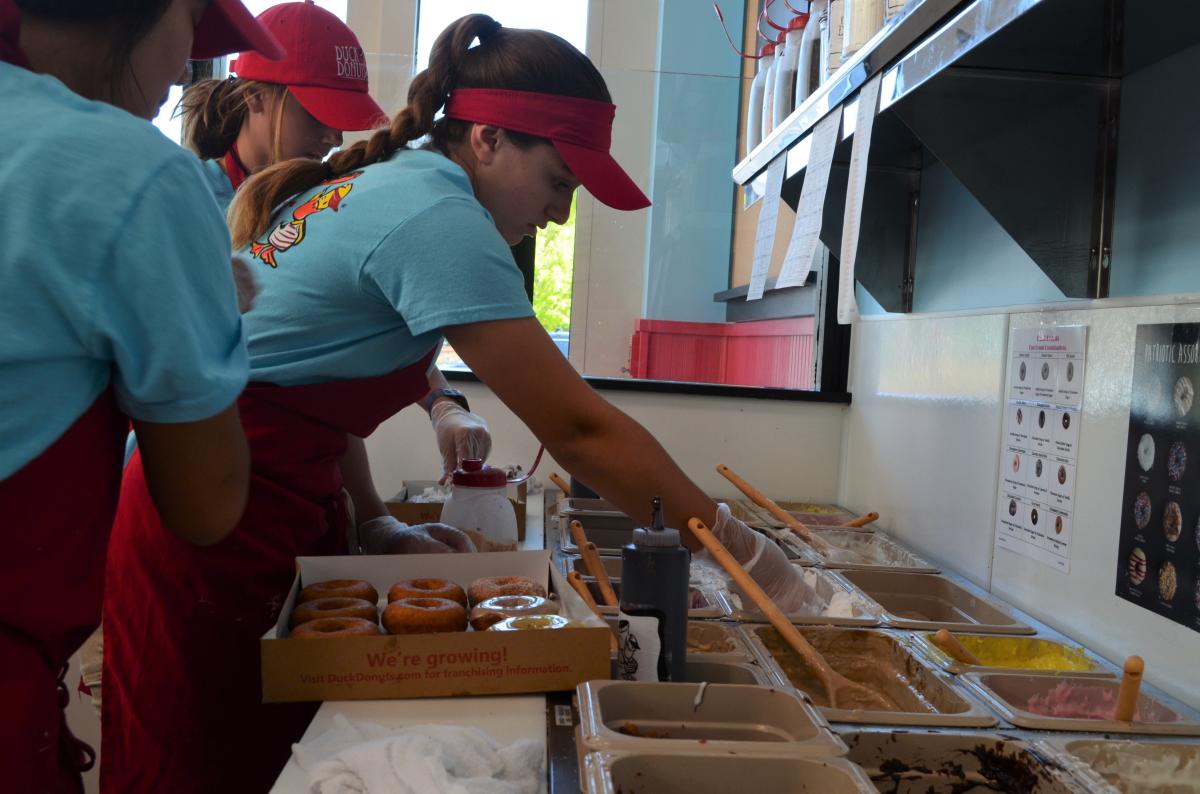 The design of each Duck Donuts store includes glass panels and a step, ensuring that even the youngest customers can watch the assembly of their orders.
The joy brought by that step is a favorite part of Rindfuss' day.
"This really is a happy business," he concludes. "There's nothing that beats the sight of a kid hanging on that glass, watching donuts being made."
If You Go
Duck Donuts
King of Prussia Town Center
201 Main Street, Suite 160
King of Prussia, PA 19406
Ribbon cutting: July 17 at 10 a.m.
General store hours: 8:00 a.m. to 5:00 p.m.
Extended hours: coinciding with King of Prussia Town Center special events