Travel writers from six countries, in the area to visit the Museum
of the American Revolution, tour Valley Forge
Contact:                                    
Dan Weckerly
Communications Manager
Valley Forge Tourism & Convention Board
610. 834.7990 (office); 610.574.1605 (cell)
KING OF PRUSSIA, PA – Travel writers from Spain, Italy, Germany, France, Scotland and Denmark got a preview look at the Museum of the American Revolution, scheduled to open April 19.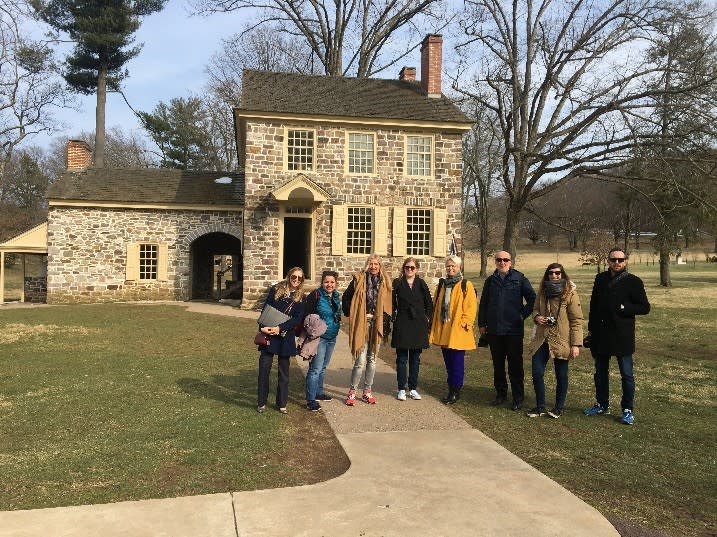 The museum presents iconic moments from the Revolutionary War, including the winter encampment of 1777-1778. Valley Forge came to life for the global museum goers through a dramatic reveal of the headquarters tent used by General George Washington.
Connecting the dots between the artifact and the original site of its usage meant taking the writers 18 miles west of the museum to Valley Forge National Historical Park, showing them where history was made.
The seven travel writers toured the park by trolley, taking in the Muhlenberg hut brigade, the National Memorial Arch, Washington's Headquarters and Washington Memorial Chapel. The VFTCB has gathered local Revolutionary War-centric locations – including the new Museum of the American Revolution – into a group of online tours that it markets under the banner Patriot Trails.
When the international guests finished touring the park, they received a welcome by leadership from the VFTCB, a representative from the Chester County Convention & Visitors Bureau and staff of Valley Forge National Historical Park. The greeting took place in the Philander Chase Knox Estate, prime among the VFTCB's wedding and event locations.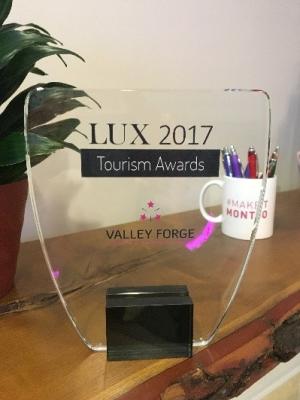 From there, the group departed for a shopping excursion at King of Prussia Mall, the largest retail destination in the U.S. Owing to its well-known reputation and the purchasing power it represents (both from favorable exchange rates and the absence of sales tax on clothing and shoes), King of Prussia Mall is a favored destination for travelers from abroad.
The hosting of an international delegation of travel writers syncs well with the VFTCB's overall strategic efforts to cultivate more business from overseas. IN July, the tourism board will next host representatives from the Netherlands who will visit Montgomery County.
That VFTCB focus on international tourism has already been recognized. The VFTCB was awarded by LUX Magazine, a UK publication, for 2017 Best Cultural Heritage Tourism Initiatives.
# # #
The Valley Forge Tourism & Convention Board (VFTCB) is a nonprofit, membership-based sales and marketing organization that actively promotes Valley Forge and Montgomery County, Pa., as a convention site and leisure visitor destination by encouraging patronage of its 500-plus member hotels, restaurants, attractions and services. The Board's award-winning website, valleyforge.org, serves visitors, meeting planners, tour operators and residents, as well as hosts The Pursuit, a nationally recognized blog. The VFTCB oversees a portfolio of brands that include Valley Forge Sports, Montco 360, Destination Montco Weddings, Patriot Trails and Destination Montco Golf. It is also the publisher of the new dining magazine Crave, issued twice yearly.