Valley Forge Tourism and Convention Board's Second Annual Montco Jazz Festival kicked off at Montgomery County Community College's new Science Center Theater on Wednesday, September 20th with live music from The Lao Tizer Band Featuring Karen Briggs, Eric Marienthal, and Chieli Minucci.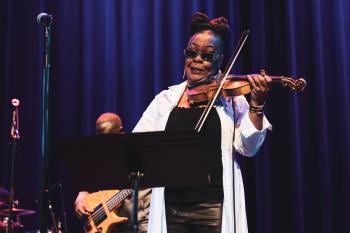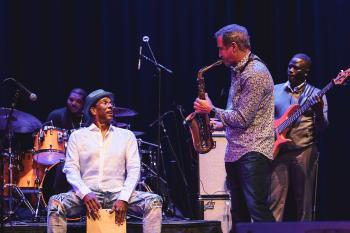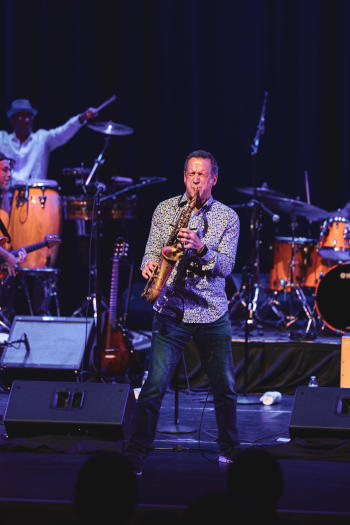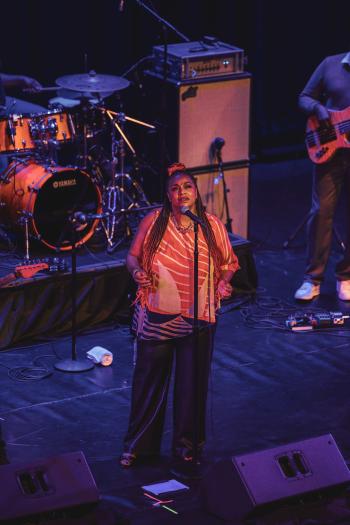 The Lao Tizer Band

Montco Jazz Festival, is an industry-leading entertainment offering that, for 2023, celebrates female-identifying jazz artists across a variety of genres and styles. Curated by internationally-acclaimed jazz vocalist Joanna Pascale, Women in Jazz features dozens of concerts, brunches, and other community-focused events that honor the contribution of women to jazz music.  The festival is also a part of the third annual Arts Montco Week promotion for the tourism board, which amplifies the over 200 Montgomery County art and entertainment venues which provide $100 million of positive economic impact to the region.  Arts Montco Week will also celebrate the return of Cirque du Soleil's Big Top to Montgomery County.

Montco Jazz Fest runs until September 24th. See below for remaining events.
 
An Evening with Michelle Lordi
Friday, September 22
Abington Arts Center
515 Meetinghouse Road, Jenkintown, PA
Free
6:00PM cocktail hour; 7:00PM show
https://abingtonartcenter.org
A native Philadelphian, vocalist/songwriter/artist Michelle Lordi performs in concerts and festivals across the US. Like a Victorian "Cabinet of Wonder", Lordi collects extraordinary musicians together regardless of genre to create her unique sound: a blend of Jazz, Folk, and Americana with an alt rock sensibility.
 
The Laura Orzehoski Quintet
Friday, September 22
Troubles End Brewery
9:00PM
Laura Orzehoski is a Philadelphia-based trombonist enrolled in Jazz Studies at Temple University. She studies under trombonist Mark Patterson and is under the direction of Terell Stafford in the Temple University Jazz Band. Laura has had the pleasure to study with well-known trombonists Chris Crenshaw and Vincent Gardner of the Jazz at the Lincoln Center Jazz Orchestra along with local Philadelphia trombonists Randy Kapralick and Jarred Antonacci. Laura, at the age of nineteen, was featured on the Grace Fox Big Band's debut album "Eleven O' Seven". The band took the stage at Birdland Jazz in March 2022 and Dizzy's Club in Jazz at the Lincoln Center in September 2022 to perform the original music of trumpeter Grace Fox. Laura has performed at multiple venues across the East Coast including Dizzy's Club, Birdland Jazz Club, and National Sawdust. Laura is the former lead trombonist in the New York Youth Symphony Big Band and a current member of the all-female big band, The Grace Fox Big Band. Laura has played alongside saxophonist Melissa Aldana, vocalist Shenel Johns, vibraphonist Stefon Harris, saxophonists Dick Oatts and Tim Warfield, pianist Bruce Barth, and trumpeter Terell Stafford. Laura is currently featured in Jazz Philadelphia's "Philadelphia's Rising Women in Jazz" along with debuting her original music and arrangements at the Temple University "Rite of Swing" series in November 2022 along with Chris' Jazz Cafe on July 5th, 2023. 
 
A Jazz Brunch Starring Elle.Morris
Saturday, September 23
Theatre Horizon
11:00AM
Accomplished vocalist Elle.Morris, who previously appeared on Theatre Horizon's stage, will headline a one-day only jazz brunch. Join Elle. and featured performers from the Norristown community in this one-of-a-kind musical event. 
 
Hearing Your Way Through a Song: A Jazz Performance Workshop with Lauren Lark
Saturday, September 23
Community Music School
775 West Main Street, Trappe, PA
Free
7:00 PM
https://www.cmsmusic.org
This performance workshop focuses on what we do naturally as we listen to music. Listening sounds easy enough, but have you really heard the form of a song? Do you know when to start singing/playing? Audience members will participate in singing their way through a song while having fun clapping and along with Lauren. Lark will demonstrate the three ways of identifying your place in a song. As a native to Philadelphia, Lark began singing and playing the violin at the early age seven. This exposure pushed Lauren to attend the acclaimed Philadelphia High School for the Creative and Performing Arts. There she began to cultivate her knowledge of Gospel, Hip-Hop, Blues, Classical and Jazz music. Pursuing this extensive study of all these genres of music enabled Lark's overall sense of versatility as a vocalist. Her personal preference and style, though, is heavily jazz-influenced. She went on to complete her B.M. and Masters in Music Performance at the University of the Arts and received the coveted Best Jazz Vocalist Award upon graduation. Having had the opportunity to work with the percussionist Doc Gibbs, Lark has extended her musical vocabulary into the rhythmic genre of Afro-Cuban music as well. As a sought- after musician in the Tri-State area and having performed regularly in various jazz and  classical ensembles, Lauren's voice has graced the stages of The Cape May Jazz Festival, Welcome America Parade, Coltrane Jazz Festival, Philadelphia's Clef Club for Performing Arts, Barnes Museum and The Kimmel Cultural Campus. She has been a featured soloist for the Philly Pops as well as a member of The Voices of the Pops. Lark continues to direct and perform with her own groups such as The Lauren Lark Big Band and Quartet. Recently she has had the opportunity to show her comedic side while acting in the Musical Theater production of 3 Divas 3. Lauren also has co-founded Lark Music Studio, a private music studio for voice, piano, and harp; as well as Tyke Quest, an infant and toddler music, movement, and exploration program.
 
Corrine Kite-Dean and the Estrogen Avengers
Saturday, September 23
Troubles End Brewery
9:00PM
The Estrogen Avengers assemble once per millennium to save the universe from big egos and bad vibes. Each member was brought to this Earth to do one thing, and one thing only: make people dance at breweries. The group is led by the heroine of the hang, Corinne Kite-Dean (she/her). The belle of the bass frequencies is the effervescent Bella Amada (she/her). On drums is the debutante of downbeats, Kyah McCall (she/her). Taking up keys and vocals is none other than the matriarch of musicality, Shan Chua (she/they). Individually, they all bring monstrous energy and wicked chops to the bandstand, and when brought together, it will culminate in a fusion-style jam that makes audiences say, "Wow, girls do just wanna have fun!"
 
Hailey Brinnel Quartet featuring Leigh Pilzer
Sunday, September 24
Nordstrom Court
11AM
Trombonist and vocalist, Hailey Brinnel, along with her always energetic quartet, breathes new life into jazz standards of the 1920s through the 40s. Their swingin' music honors Jazz tradition while incorporating original compositions and new interpretations of familiar songs. They will be joined by acclaimed Baritone Saxophonist and arranger Leigh Pilzer (Smithsonian Jazz Masterworks Orchestra, DIVA Jazz Orchestra, National Symphony Orchestra).
 
Additional Details
Patrons can visit valleyforge.org or artsmontcoweek.com for more details on the Montco Jazz Festival and Arts Montco Week.
The Valley Forge Tourism & Convention Board (VFTCB) is a nonprofit, membership-based sales and marketing organization that actively promotes Valley Forge and Montgomery County, PA as a convention site and leisure visitor destination by encouraging patronage of its 500+ member hotels, restaurants, attractions, and services. The award-winning website links visitors, meeting planners, tour operators, and residents to a diverse portfolio of brands focused on reasons to visit the region.