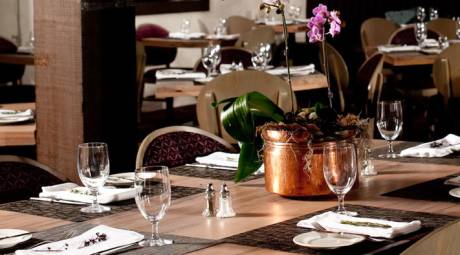 THE FARMER'S DAUGHTER RESTAURANT
1401 Morris Rd
Normandy Farm Hotel & Conference Center
Blue Bell, PA 19422
The beautiful setting at The Farmer's Daughter Restaurant will be daisy fresh and as colorful as a decorated Easter bonnet for a full day of menu presentations. Brunch is from 10 a.m. to 4 p.m., where delicious options include freshly made buttermilk pancakes and waffles, eggs benedict, and a carving station. On the more formal side, dinner takes over from 1-6 p.m., where the chefs' three course, prix fixe dining experience is perfect for a more intimate gathering.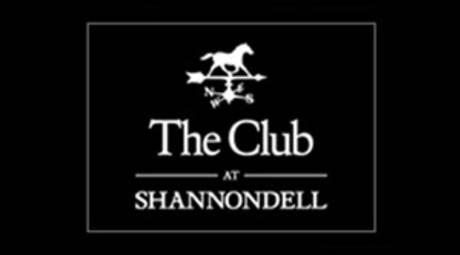 THE CLUB AT SHANNONDELL
2750 Egypt Rd
Audubon, PA 19403
The Club at Shannondell starts the Easter festivities with an egg hunt at its March 20 Sunday Brunch. The following week, for Easter Sunday itself, a sumptuous brunch lasts all day (10 a.m. to 6 p.m.), where stations satisfy those who are hungry for breakfast, lunch and dinner.
DESMOND GREAT VALLEY HOTEL & CONFERENCE CENTER
One Liberty Blvd
Malvern, PA 19355
The special guest at The Desmond Hotel's 9 a.m. to 5:30 p.m. gala is - of course! - the Easter Bunny. Once your fill of photos have been taken, it's time to drift by the extensive buffet and have your fill there as well. A more traditional ordered menu is also available.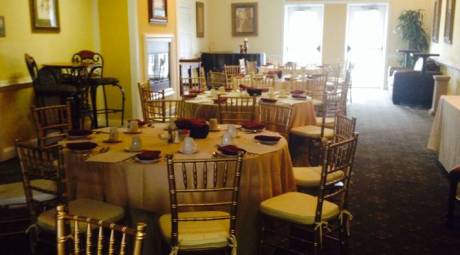 COPPERFIELD INN AT LAKESIDE
594 West Ridge Pike
Royersford, PA 19468
If it's breakfast or dinner you and your peeps seek, Copperfield Inn at Lakeside has you covered. Brunch runs 10 a.m. to 2 p.m.; dinner is 4-7 p.m. The former features multiple stations, including a whole henhouse of fluffy, stuffed omelets. Dinner options consist of prime rib, ham, peel-and-eat shrimp, sides and dessert.
WILLIAM PENN INN
1017 Dekalb Pike
Gwynedd, PA 19436
William Penn Inn offers an elegant Easter buffet (11 a.m. to 8 p.m.) and an à la carte sit-down dinner (11:30 a.m. to 7:30 p.m.). Nestled in its beautiful dining rooms - bedecked with springtime flowers - guests can sample crab claws, salads, lobster mac and cheese, sugar-cured country ham and jumbo lump crab cakes.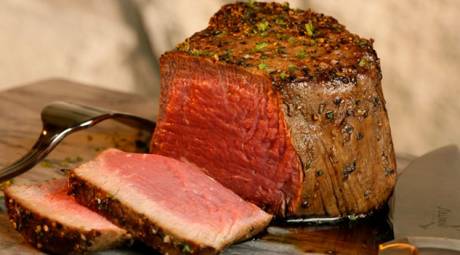 SULLIVAN'S STEAKHOUSE
700 W. DeKalb Pk
King of Prussia, PA 19406
The 10:30 a.m. to 3 p.m. Easter feast at Sullivan's Steakhouse can begin with shrimp-and-lobster bisque, move onto a lump crab cake Benedict (or a cooked-to-perfection filet mignon) and end with bananas foster bread pudding.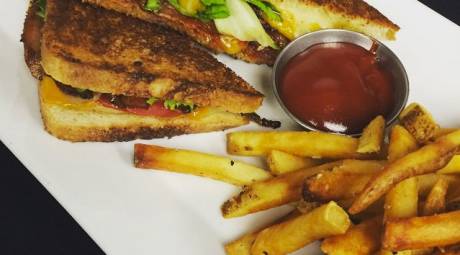 TAPHOUSE 23
266 E. 4th St.
Bridgeport, PA 19405
The Taphouse 23 brunch (10 a.m. to 3 p.m.) has appetizers that include a selection of tangy and creamy cheeses (domestic and imported) and breakfast items of cheese blintzes with seasonal fruits. As the afternoon unfolds, Easter celebrators can move onto dishes like penne pasta with eggplant and fresh mozzarella.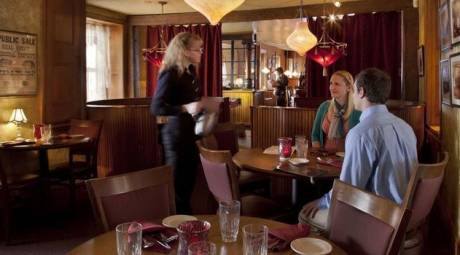 THE WASHINGTON HOUSE
136 North Main Street
Sellersville, PA 18960
The Washington House has segmented its menu by age to offer maximum appeal. For grownups can choose from a four-course dining adventure that runs the gamut from appetizers to soup (including split pea with ham) to entrees (such as corn and goat cheese soufflé) to dessert. Little bunnies can nibble fresh fruit salad, ham, pizza, chicken fingers and ice cream.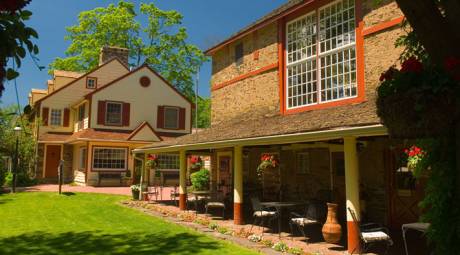 JOSEPH AMBLER INN
1005 Horsham Rd
North Wales, PA 19454
Joseph Ambler Inn is serving Easter brunch from 10 a.m. to 1:30 p.m. in the springtime setting of its outdoor terrace. The mouth-watering choices include parmesan-crusted chicken, herb-roasted salmon, asparagus vinaigrette and roasted vegetables with lemon aioli.
CROWNE PLAZA
260 Mall Blvd
King of Prussia, PA 19406
If your little ones have somehow missed a picture with the Easter Bunny, fear not. He'll be in attendance, looking his finest, at the Crowne Plaza from 10 a.m. to 2 p.m. Diners can expect some unexpected dishes, which is not surprising, considering the culinary talent on hand. These include a Farro Salad (Farro, green olives, walnuts, green onions, golden raisins and a light Roasted Garlic and Herb vinaigrette) and roasted leg of lamb (with caramelized onion and demi-glace/mint jelly on the side).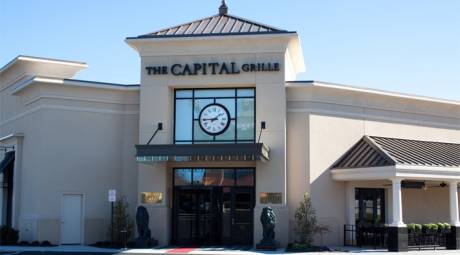 CAPITAL GRILLE
236 Mall Blvd
King of Prussia, PA 19406
Toast spring's most festive holiday with a pre-brunch cocktail at the Capital Grille, sipping, perhaps, a grapefruit buck or a classic mimosa. Entrée choices feature the unusual (and delicious sounding) bone-in dry aged New York strip with fried egg, served with white cheddar grits, crispy onions and red eye jus. On the kids' menu, the miniature cheeseburgers should prove very popular.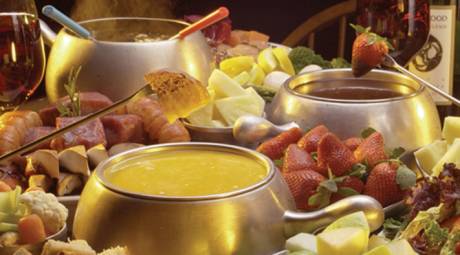 MELTING POT
150 Allendale Rd
Ste 2100
King of Prussia, PA 19406
Not all Easter chocolate is bunny shaped. Concluding The Melting Pot's brunch (12:30- 7:30 p.m.) is a dessert of caramel toffee crunch chocolate fondue. The entrée is a mac and cheese serving where the "cheese" part is actually a five-cheese fondue. Dip in to the decadence.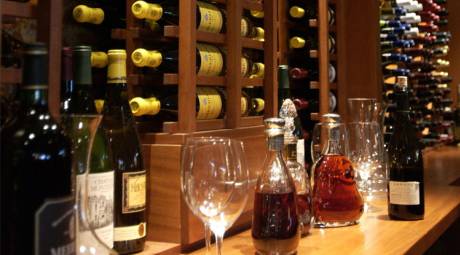 SEASONS 52
160 N. Gulph Rd
Ste 101
King of Prussia, PA 19406
In celebrating the seasons of the year, Seasons 52 is especially eager to welcome spring with its Easter brunch. On the sweet side is brick-oven brioche French toast, with blueberry-infused maple syrup and whiskey-smoked brown sugar pecans. For a savory flavor, try the smoked salmon flatbread featuring cold-smoked Kendall Brook salmon, capers, red onion and horseradish crema.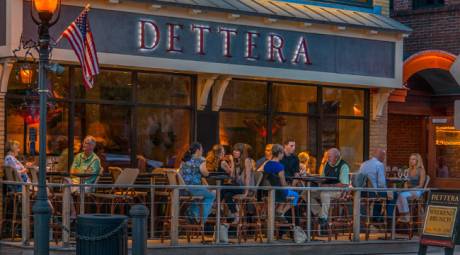 DETTERA
129 E Butler Ave
Ambler, PA 19002
Ambler's Dettera is offering both a grand buffet and an à la carte menu. Salad choices include spring beets with goat cheese; main course options feature a home-made spicy lamb sausage. And those who want to sample an explosively decadent dessert can nibble the strawberry and white chocolate bombes.