It didn't take long for Ambler Mayor Jeanne Sorg - who seemingly has an unending reservoir of energy in support of her borough - to agree to show me the route for the second-annual Ambler Bike Race.
In fact, she accepted my offer to ride the 1.08-mile course together on our bikes.
We met on a beautiful summer afternoon on Butler Avenue.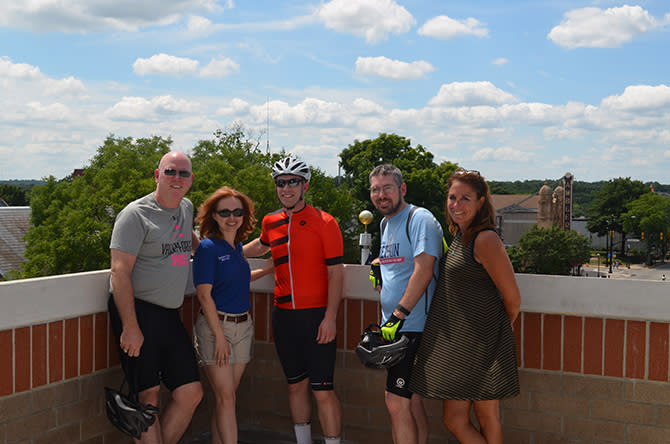 The Ambler Bike Race was originally the brainstorm of a Philadelphia riding team (Zen Masters) and its leaders Chris Cumo and Jason Mangler. They took their idea to Upper Dublin Parks and Recreation Director Derek Dureka, who found that it had legs. Ambler Borough Council approved and the 2015 race was off and running... er, pedaling.
This year, the number of registrants are up, as are sponsorships, which include the participation of the Valley Forge Tourism & Convention Board (VFTCB). Proceeds benefit the Ambler fire department and Ambler Main Street, the business association comprising the shops, restaurants, theaters and service-providers that drive the local economy.
In providing a full day of engagement for spectators, the Ambler Bike Race begins at 7:30 a.m. with a 5k run. It then opens the race course to beginners, giving them a taste of a big-time cycling competition.
From there, the day takes a more serious turn, as male and female racers separately vie for purses worth as much as $2,000. Segmented competitions will also test the mettle of kids and those over age 55, specified as "masters."
Spectators can expect the whoosh of air as riders fly by in a blur. A 25-meter race will take 23 laps around the 1.08-mile course, but according to Mangler, the pack zips by at speeds that are almost too quick to identify individual riders. Speeds typically exceed 30 miles per hour, more than the limit for everyday traffic flow.
Ramping up the excitement further are primes, a French word pronounced "preems." The crowd can identify when a prime is being added to a lap by the excited ringing of a bell. This signifies to the riders that an added bonus - perhaps some extra cash, perhaps a gift item - is being added to the winner of that lap. In response, the cyclists will dig deeper and push to even greater speeds.
Should the crowds want more than just the chance to see cyclists, the day's event also includes plenty of food, music and VFTCB tourism information and giveaways.
We wrap up our discussion on the sidewalk and mount our cycles.
A group of boys on bikes zips by, and Sorg invites them to ride along with us. They decline and zoom off, intent on other adventures.
After pushing off from in front of the Ambler Theater, we head north on Butler and take a slight right onto Lindenwold Avenue. From there, it's a relatively quick right on East Park Avenue for a long stretch southward.
Sorg points out the houses that line the quiet street. "These people will be out on their porches most of the day," she says. "They have a great time. They ring bells and cheer on the competitors and turn the race into an all-day party."
We take one more right onto Highland Avenue. We pass a family, and they wave to the mayor as she glides by, returning a friendly hello.
We are three-quarters the way through the five-corner ride. We ease onto South Spring Garden Street and then another right back onto Butler Avenue.
"This is the toughest turn," Sorg says. "It's tight. And the racers are often jockeying for position here. We put hay bales on the far side of the intersection just in case."
We drift to a stop back in front of the theater, bringing our casual tour to an end.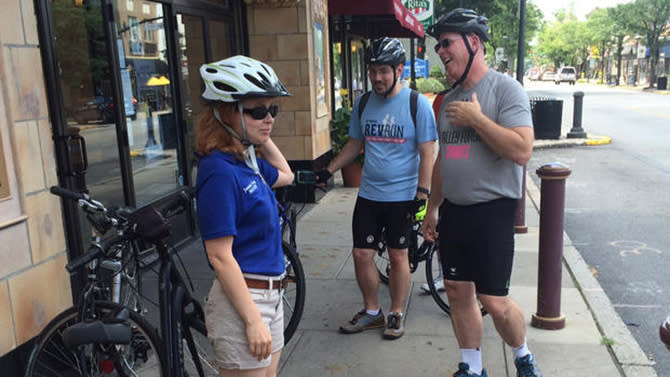 All told, the loop took approximately eight minutes.
The pros would have lapped us nearly four times during that span. Meaning that it's time for us to step aside and let them fly.
The Ambler Bike Race, August 13, begins on Butler Avenue at 7:30 a.m. with a 5k run. A full-day of competitions follow, segmented into categories by ability and ranking. Category 1 females take off at 1:45 p.m.; category 1 men at 3:15 p.m. Throughout the day, music, food and shopping will keep the crowd energized. Parking is recommended at the nearby SEPTA Regional Rail lot, and drivers should be prepared for road closures.
Out-of-towners who may need accommodations can find information on our website.