Photos: www.dropbox.com/scl/fo/whxa8x6ani2uvkxpe7sz5/h?dl=0&rlkey=eerik5ci4y3c7wy5s5lqz8wze
2024 Race Date: April 21, 2024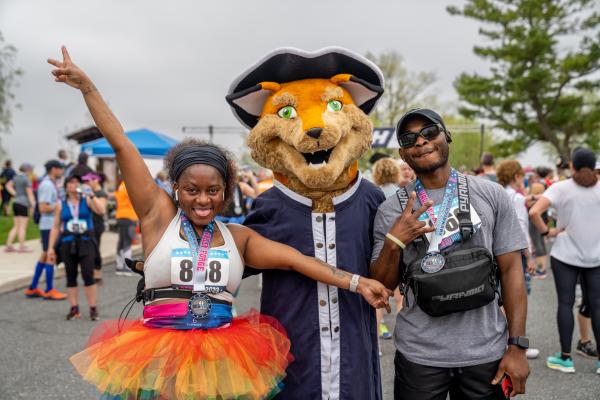 KING OF PRUSSIA, PA – The Valley Forge Tourism & Convention Board (VFTCB) raised a record $70,000 for Valley Forge National Historical Park through funds from this year's 17th annual Valley Forge Revolutionary 5-Mile Run (Rev Run) held in person and virtually in April.
The $70,000 donation is the largest contribution to date by at least 20% and is double the total amount raised from last year's event. Since its inception in 2006, Rev Run has raised over $600,000 for Park infrastructure improvement projects and programming to enhance visitor experience.
More than 1,200  runners and walkers from 22 different U.S. states and two countries competed in this year's hybrid race and contributed to the record-breaking race registration, donation, and sponsorship totals.
"The Rev Run embodies a personal mission to continue the community spirit and perseverance of Valley Forge," said Race Director Kirsten Tallman. "What a great feeling to have Park supporters coming out with an appreciation of Valley Forge and its significant history of determination."
Projects funded by this year's race proceeds include sign and park furnishings to improve wayfinding signs and navigation throughout the Park and Once Upon a Nation storyteller programming. Previous projects have included bottle-filling stations, new wayside interpretation panels for the Patriots of African Descent Monument, design of informational midway kiosks, Once Upon a Nation programming, storytelling benches, bike repair stations, the newly renovated Grand Parade Trail Steuben Plaza area, and other trail connections.
The VFTCB also announced the official date of next year's event which will be held both in-person at the Park and virtually on April 21, 2024. Registration and sponsorship information will be coming soon.
Returning in 2024 will be finisher medals and a Revolutionary Run commemorative t-shirt for all participants. Cash prizes with a purse totaling $1,400 will be awarded to the top three male and female finishers of the in-person portion of the race. Sponsorships will also be available starting at $250, with upgraded digital sponsorship opportunites via the tourism board's social media, website, and public relations efforts.
A record-high 49 sponsors partnered with the VFTCB to support this year's event. Sponsors of the 2023 race included Oliver Construction, Run 610, KOP BID, Montgomery County Community College, PECO, Inn at Villanova, Wegmans, JC Pool & Spa, SEI, Arkema, Ecovyst, Elmwood Park Zoo, Cunningham Architecture, KOP Tavern, TD Bank, KOP Family Eye, Encompass Health, Rutter Roofing, Montessori Children's House VF, StayBridge Suites, Yoga 6, Nolan in the Neighborhood, REI, Salus University, SPENGA, Sheraton, Delta Sigma Theta, Valley Forge Chapter, Amazing Escape Room, Wawa, Logo Wearhouse, Pro Plus Services, Lazer Limo, We Venture, Private sponsor, Valley Forge Park Alliance, John J Audubon Society, Podium Performance, SSN Hotels, The Encampment Store, Mission BBQ, Shake Shack, Brothers Kershner, True Food Kitchen, Orange Theory, Mattioni Plumbing and Heating.
The Park also has a significant economic impact on the region, generally contributing $36 million and several hundred jobs to the local economy.
More information regarding the Valley Forge Revolutionary 5-Mile Run, including upcoming registration information, can be found at www.revolutionaryrun.org or by following along on social media: @ValleyForgeRevolutionaryRun, @VisitValleyForge (Facebook), @VisitVF (Twitter), and @VisitValleyForge (Instagram).
The Valley Forge Tourism & Convention Board (VFTCB) is a nonprofit, membership-based sales and marketing organization that actively promotes Valley Forge and Montgomery County, PA as a convention site and leisure visitor destination by encouraging patronage of its 500+ member hotels, restaurants, attractions, and services. The award-winning website links visitors, meeting planners, tour operators, and residents to a diverse portfolio of brands focused on reasons to visit the region.