MONTGOMERY COUNTY, PA –The Valley Forge Tourism & Convention Board (VFTCB), Valley Forge Sports, and Eastern Youth Soccer announced Thursday one of the largest youth sporting events to ever be brought to the county, the 2023 US Youth Soccer Eastern Presidents Cup.
Representatives from Valley Forge Sports and Montgomery County, PA shared details on the June 16-20, 2023 tournament set to be hosted at both Plymouth Whitemarsh High School in Plymouth Meeting and The Proving Grounds in Conshohocken.
The event will benefit half of Montgomery County hotels, contributing roughly 4,000 room nights and $4.8 million in economic impact. This five-day tournament is part of a national competition, and one of four regional events with winners advancing to the U.S. Youth Soccer National Presidents Cup. Approximately 140 teams with more than 2,500 players and 60 referees will participate from 15 state associations, including Maine, Vermont, New Hampshire, Connecticut, Rhode Island, Eastern New York, New York West, PA West, Eastern Pennsylvania, Delaware, Maryland, West Virginia, and Virginia. The teams will compete in group play for the first three days, one game per day across 16 different fields. Group stage winners will advance to the semi-finals on the fourth day, and the finals on the fifth day.
"Our Sports team continues to be a driving force within our tourism board, producing over $75 million dollars in economic impact last year, and this year, we are pacing ahead of that, and 20% ahead of 2019 levels!" said VFTCB Sports Director Jon Scheuren. "This positive momentum is something to celebrate as it benefits our hospitality community; meaning all of these soccer teams, and their families will be staying in our hotels, dining in our restaurants and shopping in our stores."
Valley Forge and Montco are no stranger to hosting national tournaments. Most recently, the area has hosted: 2019 & 2022 USA Climbing Sport & Speed Youth National Championships, 2019 LPGA Symetra Tour, 2018 USA Weightlifting American Open Series 2, USA BMX Quaker State National Championship Series in 2012, 2014, 2016, 2018, and returning fall 2022, and dozens of other annual events. 
Montgomery County Commissioner Ken Lawrence in attendance of today's event said, "Having such incredible sports facilities in the county helps attract big events like this and put us on the map as a sports destination!"
Celebrating 50 years, Eastern Pennsylvania Youth Soccer is the governing body for soccer ages 19 and below in the eastern part of the state, and is the sixth largest State Soccer Association in the country with 375 member leagues and clubs, and 120,000 players. The group is a member of US Soccer, the national governing body, and US Youth Soccer.
In a collaborated effort, Eastern Pennsylvania Youth Soccer and Valley Forge Sports presented a formal proposal to US Youth Soccer to host the Presidents Cup event. Eastern Pennsylvania Youth Soccer CEO Chris Branscome will serve as chair of the local organizing committee, which also includes the VFTCB/Valley Forge Sports, Colonial School District, and The Proving Grounds.
"Eastern Pennsylvania Youth Soccer is excited and honored to bring a championship event to Montgomery County to showcase the great youth soccer teams of our region, as well as the first-class facilities and accommodations in the Valley Forge area," said Branscome, "We're thrilled to have collaborated with Valley Forge Sports, Colonial School District, the Proving Grounds, and elected officials to bring this event home to our very own backyard."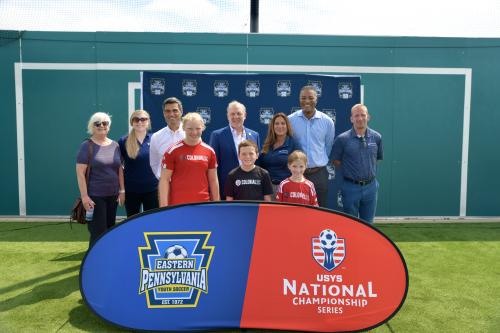 For more information, please visit www.valleyforge.org/sports, download the VFTCB's free mobile Visit Valley Forge application, and follow along on social media at @visitvalleyforge.
The Valley Forge Tourism & Convention Board (VFTCB) is a nonprofit, membership-based sales and marketing organization that actively promotes Valley Forge and Montgomery County, PA as a convention site and leisure visitor destination by encouraging patronage of its 500+ member hotels, restaurants, attractions, and services. The award-winning website links visitors, meeting planners, tour operators, and residents to a diverse portfolio of brands focused on reasons to visit the region.