Introducing the Hotel Heroes of Montgomery County
The Valley Forge Tourism & Convention Board (VFTCB) is pleased to announce a brand-new initiative to recognize hospitality employees, specifically during the COVID-19 pandemic. To honor the travel industry, the VFTCB is putting a particular spotlight on Montgomery County's 80 hotels by honoring different "Hotel Heroes" each week on the organization's social media channels.
Those nominating the Hotel Heroes will be asked to answer three questions: background on the nominee, what they've done to go above and beyond during COVID, and why they love what they do. Check out our list of Hotel Heroes below!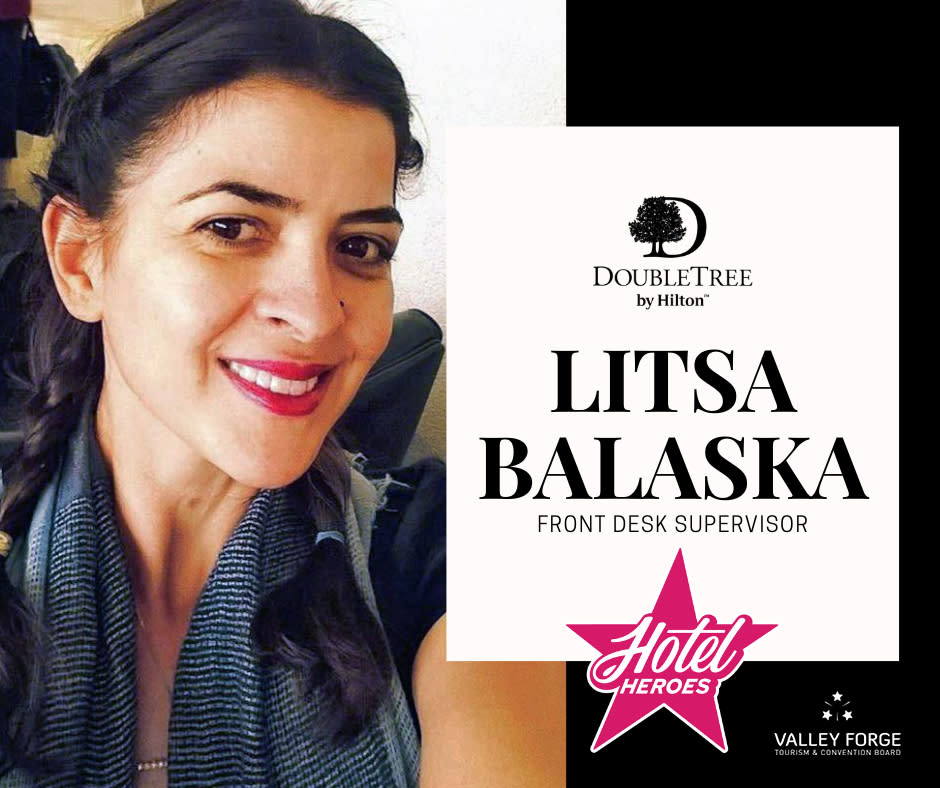 Litsa Balaska | Front Desk Supervisor, DoubleTree Philadelphia West Plymouth Meeting
---
Litsa Balaska moved to the United States from Greece three years ago. Married and expecting her first child in December, she has worked tirelessly while in her 2nd trimester, is always on call whenever her co-workers need anything, and goes above and beyond for all guests, including making sure one guest in for medical treatment had everything his doctor ordered for him to be able to travel for necessary treatment.
"Litsa fully embodies the meaning of hospitality, and everything our industry stands for," said Ashley Ridolfi, Director of Sales and Marketing at the DoubleTree Philadelphia West. "She loves being around people, helping people, and making sure everyone is well-taken care of."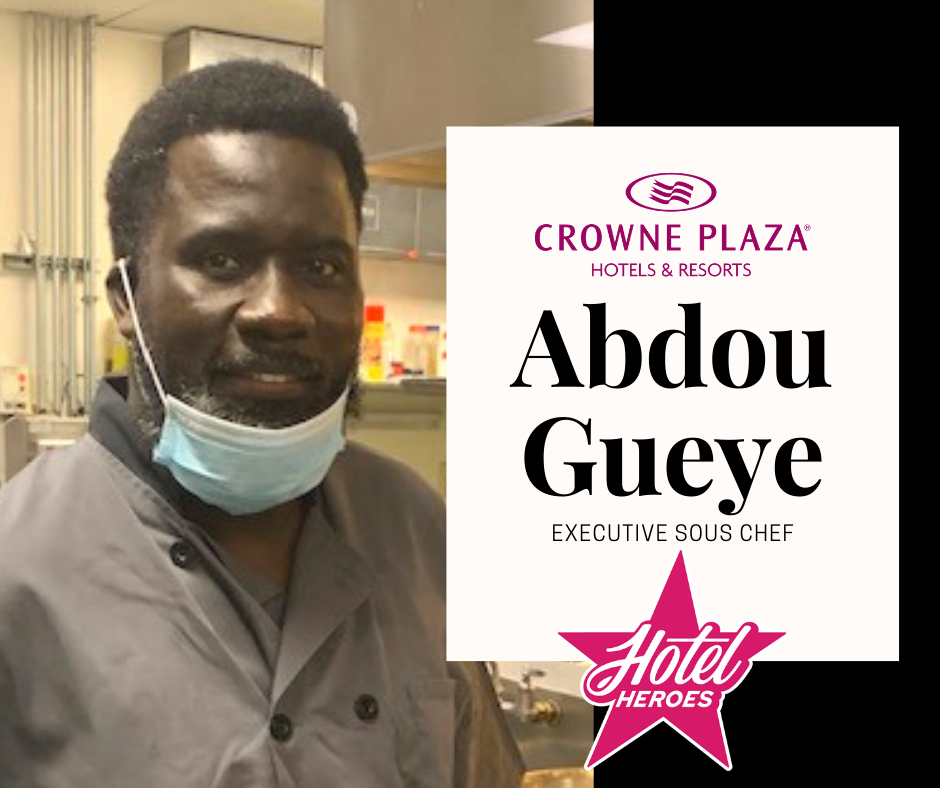 Abdou Gueye | Executive Sous Chef, Crowne Plaza King of Prussia
---
Abdou Gueye graduated high school in Dakar, Senegal in West Africa in 1992. After attending two years of college in a professional training program he came to the United States to continue his education.
Once he arrived in the states in 1998, Abdou began working as an apprentice for Jeffrey Miller Catering during their infancy stage in Lansdowne, PA. During his tenure there he learned and excelled at the art of creating delicious, high quality food and beverages "from scratch", which has always been Jeffrey's moniker. Throughout the years he has assisted Jeffrey Miller with numerous events which include weddings, corporate parties, meetings, and other social gatherings,
As Abdou's familial responsibilities changed, he required a more stable schedule, so he began working for a company called Food Source located in Bryn Mawr, PA. Initially he was hired as a supervisor and but ended his tenure there approximately four years later as Executive Sous Chef.
During that time, Abdou naturalized as a U.S. citizen and began working part-time at Crowne Plaza King of Prussia as a Sous Chef. In 2008 he decided to commit to full time hours and was promoted to Executive Sous Chef. Since then, he has been awarded Manager of the Quarter four times and Manager of the Year twice, most recently in 2018.
Abdou's commitment to quality and excellence is unmatched. His creativity and ability to inspire other around him is truly a gift!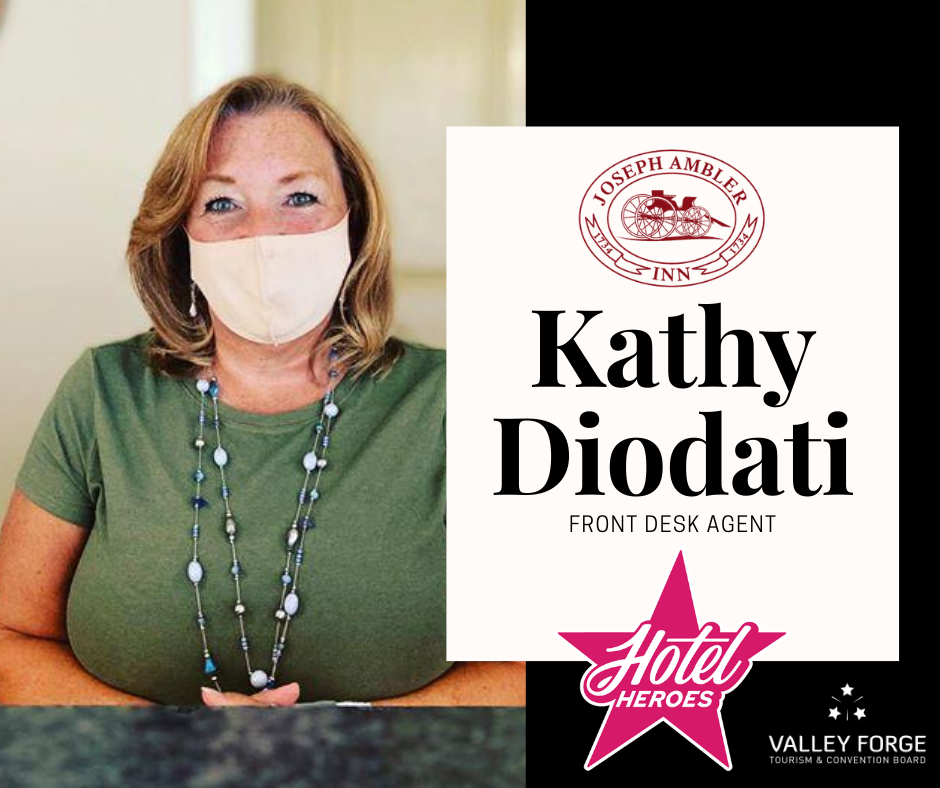 Kathy Diodati | Front Desk Agent, Joseph Ambler Inn
---
Kathy Diodati is the Front Desk Agent at the Joseph Ambler Inn. She says, "When I first came to JAI I was just looking for a part time job to help my children with their college expenses. I found so much more than that here. The staff at the Inn is truly a family unit and as I came to know everyone it became more than just a job. After working here, I have met so many people from all walks of life and have come to treasure all their stories from couples just escaping their everyday lives to young couples sharing their day with family and friends."
"During the pandemic Kathy attends to each call and every check-in like a true mother hen. Assuring each potential guest of the Covid-19 cleaning and sanitizing procedures. When the guest arrives, She will make sure that the guests are aware of all precautions regarding the guest rooms, common areas and restaurant/pub. Past guests have returned numerous times since the onset of the pandemic due to the fact that Kathy is reassuring and truly nurturing. She is the "heart" of the Joseph Ambler Inn." - David Arena, Hotel Director at Joseph Ambler Inn.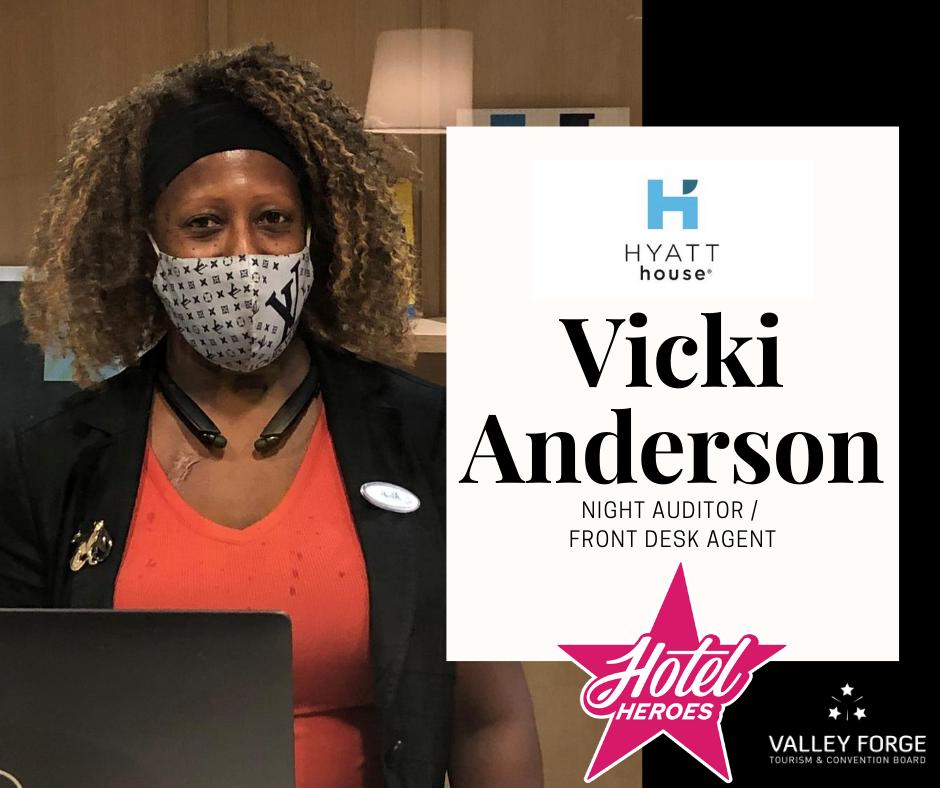 Vicki Anderson | Front Desk and Night Audit, Hyatt House Philadelphia/Plymouth Meeting
---
Vicki started with the Hyatt House in December of 2019 as a part-time Night Auditor. Vicki has grown from part-time to stepping up and working full-time as both Front Desk and Night Audit. During the decrease in staffing levels, Vicki has been willing to step up and take on additional responsibilities such as helping with breakfast, working in laundry, and being kind and caring with all of our guests. Vicki has worked additional shifts (even doubles) to give other associates an extra day of rest while the Hyatt House has been a limited team. She has brought great ides to her leadership team and is actively trying to do better every day she is on property. Vicki loves interacting with guests and sharing laughs with everyone that comes through our doors. She truly cares and wants to make everyone feel comfortable during these difficult times. Vicki was nominated by Devin Jarvis, General Manager Hyatt House Philadelphia/ Plymouth Meeting.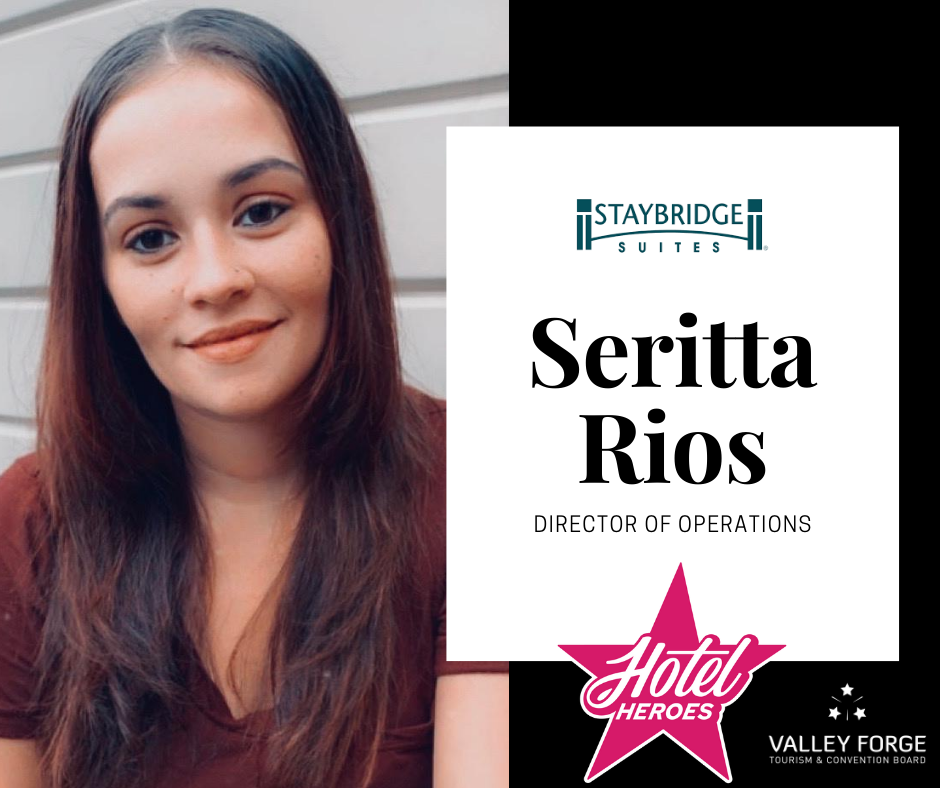 Seritta Rios | Director of Operations, Staybridge Suites
---
"Seritta Rios has gone above and beyond during the past few months. From covering the front desk, housekeeping, ordering, laundry and any and all other tasks needed to keep to hotel up and running. Seritta has worked non-stop and has never once complained or said no to any task she has been asked to do. She certainly deserves to be recognized for her outstanding attitude and work ethic." - Eileen McCutcheon, Director of Sales Staybridge Suites Philadelphia Valley Forge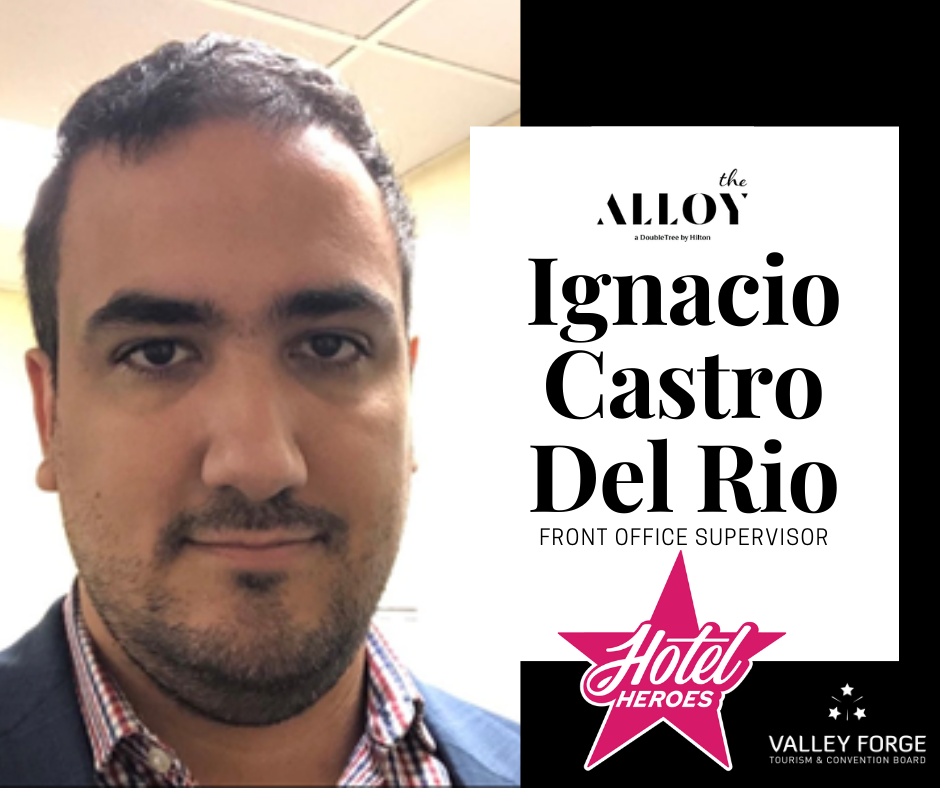 Ignacio Castro Del Rio | Front Office Supervisor
---
Over the past 6 months, Ignacio Castro Del Rio has had a tremendous amount of responsibilities thrust upon him and has handled everything thrown his way head on with a positive attitude. Ignacio is a pure example of what "get the job done" looks like. From the guest experience to his concern for his team members, his sense of urgency has been a driving force even before the pandemic.
Ignacio has surpassed every expectation of his Front Office Supervisor position. He has created solutions when there were opportunities. He stepped in as a Banquet Captain and arranged the ballroom on multiple occasions even at 1:00 in the morning, including on a holiday when he should have been home celebrating with his family. He has taken on hotel maintenance, security, housekeeping and even took it upon himself to be a food runner for our team members.
Amongst everything mentioned, during the pandemic months, Ignacio also arranged for his wife and child (Vanina & Francisco) to move from Argentina to Philadelphia. ignacio has a true passion for his job and it shows. He has been a pillar for each department at the Alloy King of Prussia and certainly a Hotel Hero.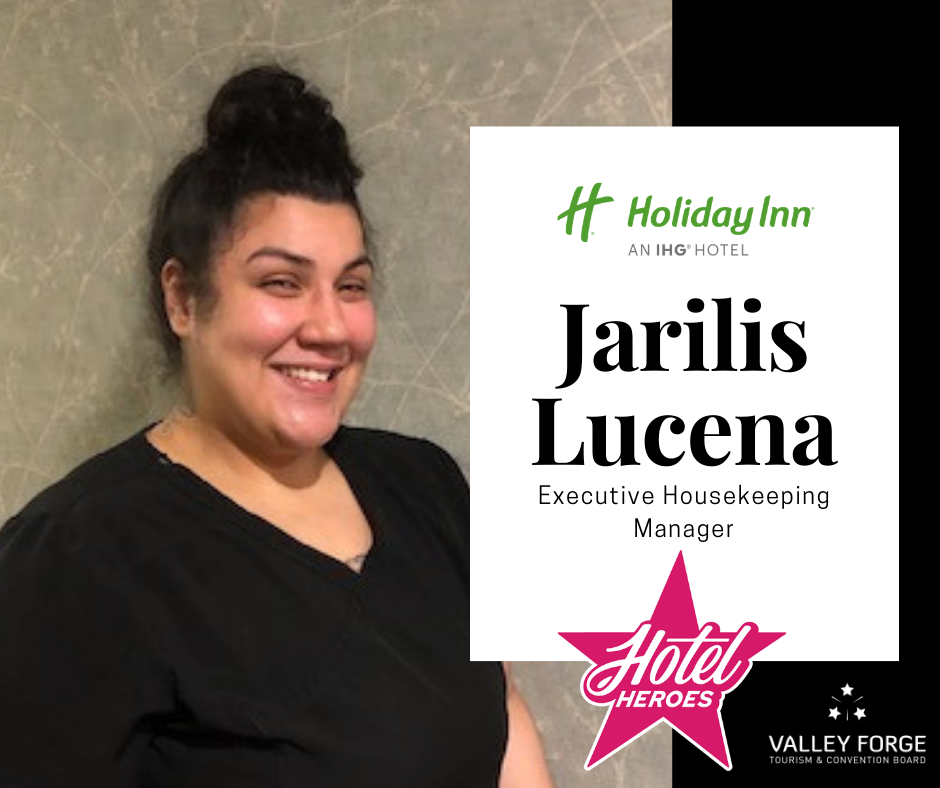 "The Holiday Inn Lansdale – Hatfield is nominating our Executive Housekeeper, Jarilis Lucena. Jarilis has worked for the hotel for 5 years, and have received multiple promotions: originally hired as a room attendant progressing on to Room Supervisor and into her current position as Executive Housekeeping Manager, due to her hard work and dedication to the hotel.
The impacts of Covid-19 have been especially hard to hotels, most notably to our housekeeping department. Through it all Jarilis has stuck with the hotel. Most days she has been subject to having to clean rooms, as staffing in the department has been an issue. She has been adaptive to brand changes that impact the Housekeeping department.
Over the years, Jaralis has seen it all and no matter the challenge the hotel is facing, we can count on Jarilis to lead her team and help with the success of the hotel.
We routinely pass our Holiday Inn audits because of how clean the guest rooms are. She holds her room attendants to high standards. Without the "Heart of the Hotel" operating smoothly, the hotel cannot have satisfied guests.
If you have never worked in housekeeping position, you cannot understand how grueling, sometimes thankless, job it can be. We are forever thankful for Jarilis and everything she does for the hotel." - Cassandra Giblin, Director of Sales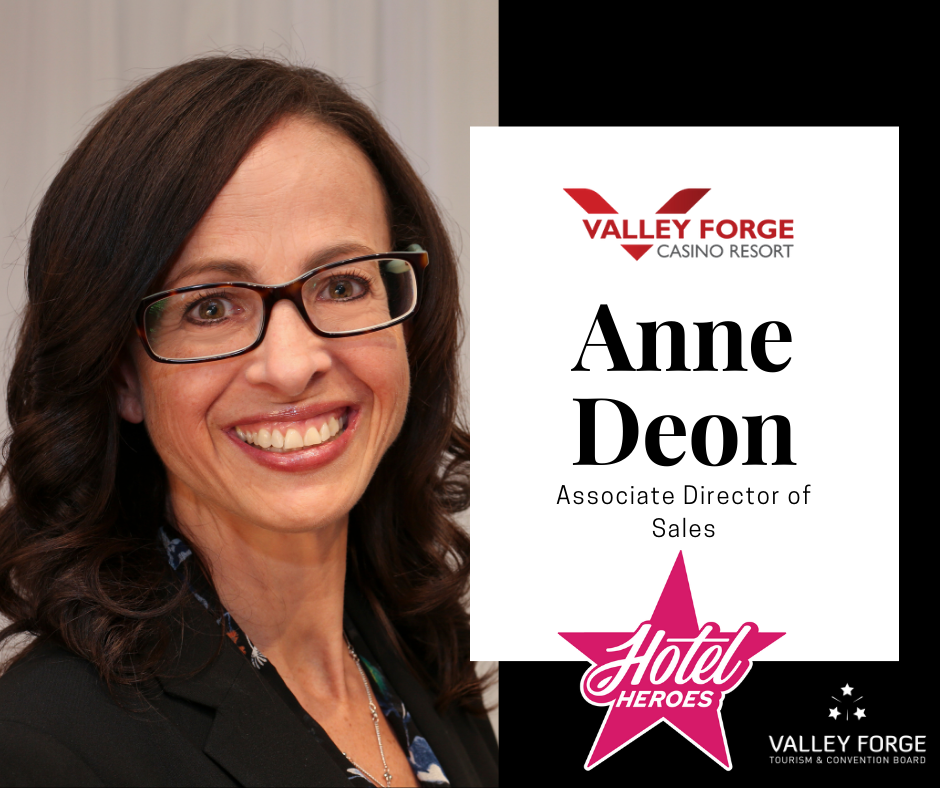 Anne Deon has been with Valley Forge Casino Resort for 15 years in that time she has working in the Sales office as a Catering Manager, Sales Manager, Senior Sales Manager and Associate Director of Sales.
"I believe Anne is the epitome of a hotel hero. Her dedication to Valley Forge Casino Resort and our Sales Team is beyond compare. She works hard every day, but through the quarantine while our team was furloughed, and she and I were the only ones holding our team together, she worked even harder. She knew she had to, to get our team back! I saw this firsthand.
During quarantine, Anne, as the Associate Director of Sales, took on the job of Director of Sales, Senior Sales Manager, Social Sales Manager and Executive Meeting Manager. Answering and finding the answers to everyone's client questions. Postponing groups, creating new contract and entertaining client conference calls. She became a zoom expert, learning everything she could about new meetings/events standards so she could teach the team on their return.
On the day our team returned, Anne was thrilled. She couldn't wait to see everyone in person and lead the Valley Forge Sales Team once again. Since June, she has been giving her all to motivate, teach and support! We would not be the boundless sales team we are without her!" – Terri Hughes, Director of Catering, Valley Forge Casino Resort