Wild Lights at Elmwood Park Zoo |  Norristown
 
The Elmwood Park Zoo celebrates the season with its Wild Lights winter holiday festival, featuring over one million lights — including animated light installations — that cover the entire zoo (November 22, 2019 – January 5, 2020, select dates). All-new installations join some of last year's favorites, and guests can also expect holiday music, photos with Santa, chances to meet animals and more.
Colebrookdale Railroad |  Boyertown
 
All aboard Santa's Polar Bear Express, Colebrookdale Railroad's annual holiday tradition. Guests on this scenic, two-hour round-trip train journey can enjoy complimentary hot cocoa and delicious Christmas cookies and, on some trains, sing Christmas carols (November 16 – December 12, 2019, select dates). Santa comes along for the ride to hand out gifts and collect wish lists from children.
Happy Place | King of Prussia Mall

 
Founded by Jared Paul and opened originally on November 20, 2017, this massive pop-up experience is filled with larger than life size installations, multi-sensory immersive rooms, and dozens of moments curated to Capture Your Happy. Highlights include: dancing in the middle of world's largest indoor Confetti Dome, jumping off of a larger than life rainbow into a pot of happiness, and posing inside HAPPY PLACE's signature rubber ducky bathtub of fun! And let's not forget 7-foot stilettos made of a million candies and 6-foot-tall X and O letters made out of thousands of tiny mirrors, surrounded by a wall of one thousand red lips. Happy Place will #MakeItMontco at the King of Prussia Mall is open now through Sunday, January 5th 2020. What better way to complete your Montco holiday shopping experience at the largest mall in the country than by grabbing tickets to Happy Place?
King of Prussia Mall | King of Prussia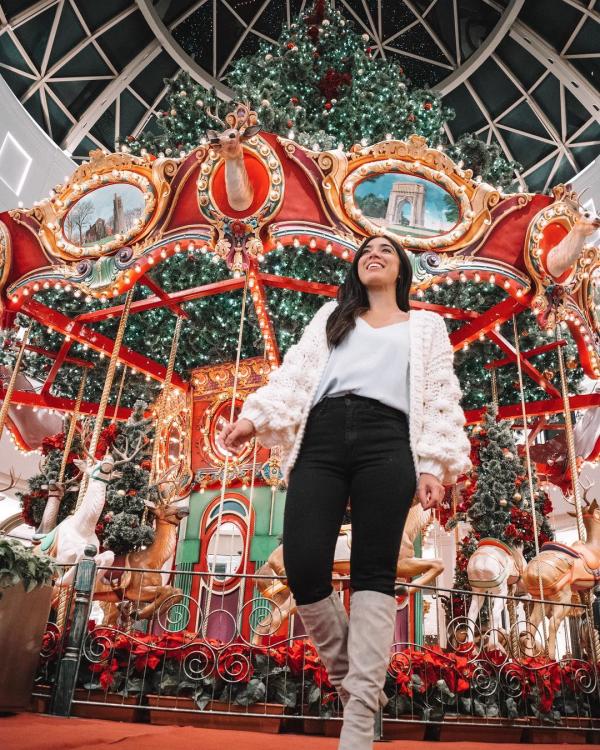 Love to shop? Stop at King of Prussia Mall, the East Coast's largest shopping mall featuring upscale items and trendsetting fashion at Bloomingdale's, Nordstrom, Neiman Marcus and more. Plus, there's no sales tax on clothing! Snap a photo with Santa Claus or take a picture in front the malls perfectly decorated carousels.
Valley Forge National Historical Park | Valley Forge

 
On December 19, 1777, General George Washington led the Continental Army into Valley Forge for what would become a six-month encampment. This "march in" marked what ultimately became the turning point of the Revolutionary War. Valley Forge National Historical Park commemorates this date each year with candle-lit tours, musical performances, and an appearance by the Commander-in-Chief himself. Learn more about this year's celebration here. On December 19, grab your camera on your phone and take part in this historic celebration.
Pottsgrove Manor | Pottstown


 
On December 15, Tour the mansion by candlelight as costumed interpreters portray its colonial residents as they celebrate Twelfth Night. For some English colonists, the final day of the Twelve Days of Christmas was the time to attend parties, balls, and dinners. From music and dancing in the parlor to hearth cooking in the kitchen, take in the sights and sounds of the season. The self-guided tour includes rooms on all three floors of the manor house (those with mobility issues can opt to take a tour of the first floor only).  Afterward, enjoy free refreshments while the kids make seasonal crafts to take home.
Pennypacker Mills | Schwenksville

 
How did the Christmas holiday we celebrate today begin? Find out when you tour the Mills this Christmas season. From the ideas of a Christmas tree, to mantles covered with greens, plainly wrapped presents, and Santa himself...it all makes for a wonderful experience and time of year. Plan your visit today! The Museum Shop is stocked with unique, vintage ornaments, gift items, sweets, and toys. Groups of 10 or more should contact the site to arrange for a group reservation.
Chrismas in the Castle at Glencairn Museum | Bryn Athyn

 
From 1940 to 1970, Raymond and Mildred Pitcairn and their family celebrated Christmas at Glencairn — their 20th-century castle in Bryn Athyn, Pennsylvania — with a concert, a massive decorated tree that reached beyond the second-floor balcony and a Christmas day meal. This 45-minute guided tour stops on five different floors and highlights the Pitcairn family's holiday traditions, along with significant examples of nativity art from the Museum's collections (November 29, 2019 – January 5, 2020, select dates). At the end of the tour, visitors are invited to freely explore the World Nativities exhibition on the first floor.
Legoland Discovery Center | Plymouth Meeting

 
Celebrate the most wonderful time of the year with their Holiday Bricktacular Weekends, taking place every weekend this holiday season! Get in the spirit with seasonal build activities, holiday theming and meet & greets with our LEGO Santa. 
American Treasure Tour | Oaks



The American Treasure Tour is a unique museum experience that takes visitors on a tram ride through a collection of Americana artifacts. During the holiday season, tours highlight the hundreds of Santa's on display and the collection of nickelodeons and organs will play holiday favorites like "Jingle Bells" and "Frosty the Snowman."
Illuminaire Nights | Skippack



These magical Wednesday and Friday evenings find the Village of Skippack aglow with the warm light of candles, hospitality and the sounds of the season. Luminaries line the sidewalks outside the stores and restaurants to light the way for shoppers and diners and to warmly welcome the start of the holiday season.  Many of the shops and restaurants throughout the Village will be offering special treats and refreshment, activities, in store sales and other surprises for shoppers.  The vibe is festive and there are great gifts for the choosing so stop by and make a night of it! Capture the lights every Friday from November 29, 2019 to December 20, 2019, 5:00 PM - 9:00 PM and every Wednesday from December 4, 2019 to December 18, 2019, 5:00 PM - 9:00 PM.
 
Holiday Garden Railway Nights | Philadelphia



Set against the darkening winter sky, Holiday Garden Railway Nights features the model trains in action, decorated for the holidays with thousands of twinkling lights as they zip around an outdoor quarter-mile track. Famous Philadelphia historic buildings adorned in winter finery surround the tracks to create a magical miniature holiday village. Pack a flashlight and have your children help lead the way through the garden as night falls. The Compton Café will be open during each Holiday Garden Railway Nights event with hot cocoa or coffee to warm-up your walk along with various tasty snacks for purchase.
 
How to Support Tourism & Hospitality in Montgomery County, Pa