We're in High Spirits for the Holidays with these Montco Special Drinks
In the light of Hanukkah candles, the Christmas yule log, and Diwali fireworks, make your winter holidays shine even brighter with seasonal drinks from Montco. Our endlessly inventive breweries, wineries, and distilleries are bringing back old favorites and releasing new ones, all while offering cocktail workshops, food truck festivals, music, and much more. Keep them in mind for your next holiday event!
Whether you're in need of a Holiday cocktail, a Christmas ale or a nice glass of cider, any of these holiday drinks and events are sure to brighten your spirits this holiday season in Montgomery County.
'Tis the season to try a Poinsettia – Five Saints' handcrafted vodka, Manatawny Creek Winery's white sparkling wine, cranberry juice, and triple sec. Make your friends choose the next round, among the Candy Cane Martini, North Pole Nog, and the Mistletoe Kiss. Five Saints makes their alcohol from corn and rye grown in Elverson, PA, and they're happy to show you how in their virtual tasting tours.
In mid-November, Manatawny Still Works is releasing three small-batch powerhouses – Six Grain American Whiskey, Batch Rum 9, and cask strength Four Grain American Whiskey. "We expect the range of products to work well at holiday tables everywhere and in wintertime cocktails—hot and cold," MSW distillery expeditor Jay Kosek said via email. For Six Grain, the distillery added rice and flaked corn to carefully dial up the sweetness of their usual four-grain mash bill, which is barley, wheat, oats, and rye. See if you can detect the influence of vanilla extract barrels on Batch Rum 9 and savor the undiluted depth of cask strength Four Grain.
Santa is done with milk. This year he's only drinking hot chocolate spiked with Boardroom Spirits' Nocino, a black walnut liqueur from the owners' Hungarian family recipe. (Santa's drinking habits couldn't be verified at the time of publication, but we can confirm that Boardroom also offers 4-packs of Moscow mules and flavorful cranberry vodka.) If you'd like to taste the Nocino and their other spirits for yourself, check out their cocktail workshops at the distillery.
Like the family recipe for latkes or sugar cookies, you don't mess with success at Conshohocken Brewing Company, which features consistent winter holiday beers. The first returning hero is You Can't Catch Me gingerbread ale, brewed with sugar, spice, everything nice, and gingersnap cookies. You can also sample 2 Hour Delay Hazy Winter IPA, with hints of citrus, coconut, and pine. Order 4-packs online once the winter packs release, or visit their taproom, which has sister properties in King of Prussia, Bridgeport, Phoenixville, and Havertown.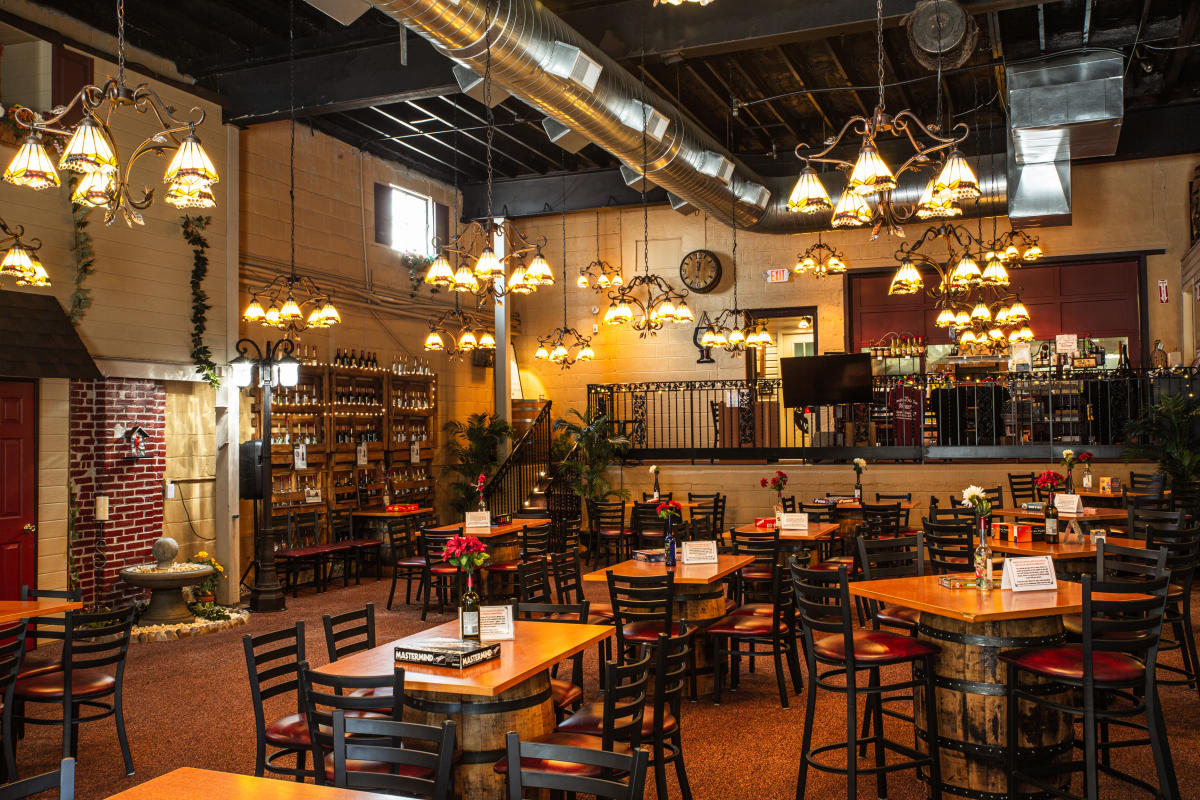 Cranberry wine, raspberry mead, and roasted red pepper/garlic wine could each flow into your glass this winter. Yes, you read all of those right. The cranberry wine contains over a pound of berries per bottle with no additives. Owner Christopher Boyd used it to craft turkey sausage with cranberries (only available at the main winery). They also just released a line of ciders including a pumpkin flavor. With tastings only $1 each, Cardinal Hollow can be your new Saturday tradition. 

Celebrate with Boardroom's cranberry vodka. Photo by Matt Seaver
Struggling to find a new conversational topic at the dinner table? Just look at your can and start reading the label aloud. Ambler Beer Co. releases a beer every 7 to 10 days for plenty of winter options, eventually available at local supermarkets. Watch out for Love to Hate You Belgian Tripel, coming out near Dec. 13. You can point out the thickness of the foam and spicy aroma if you've run out of fun facts from the label. And whenever you're ready to get out of the house, this brewery hosts food trucks every Friday and Sunday.
Well, Crafted Beer tries to live up to their name, with new releases each week on tap and to go. Savor the remainder of fall with an imperial pumpkin ale called Punch in the Pumpkin or get ready for a trek through the snowy woods with Gone Squatchin', a sweet and invigorating brew made with alder-smoked malt. Their menu changes daily and features an array of cocktails, wines, ciders, and non-alcoholic drinks to please the whole crowd.