KING OF PRUSSIA, PA – To meet the increasing pent-up demand for smaller hybrid meetings, many Montgomery County hotels are prepared with upgraded technology, enhanced cleaning procedures, and redesigned event spaces.
"Hybrid events allow organizations to expand their reach, yet still provide the in-person experience for those that are looking for it," said Scott Higgins, Associate Director of Sales & Business Development. "Many of our Montco hotels have already gained valuable experience in hosting successful hybrid events. Plus, Montgomery County, PA is also an ideal location to host the in-person portion of hybrid meetings with convenient drivable access for attendees, and plenty of space to spread out at our 300-plus venues."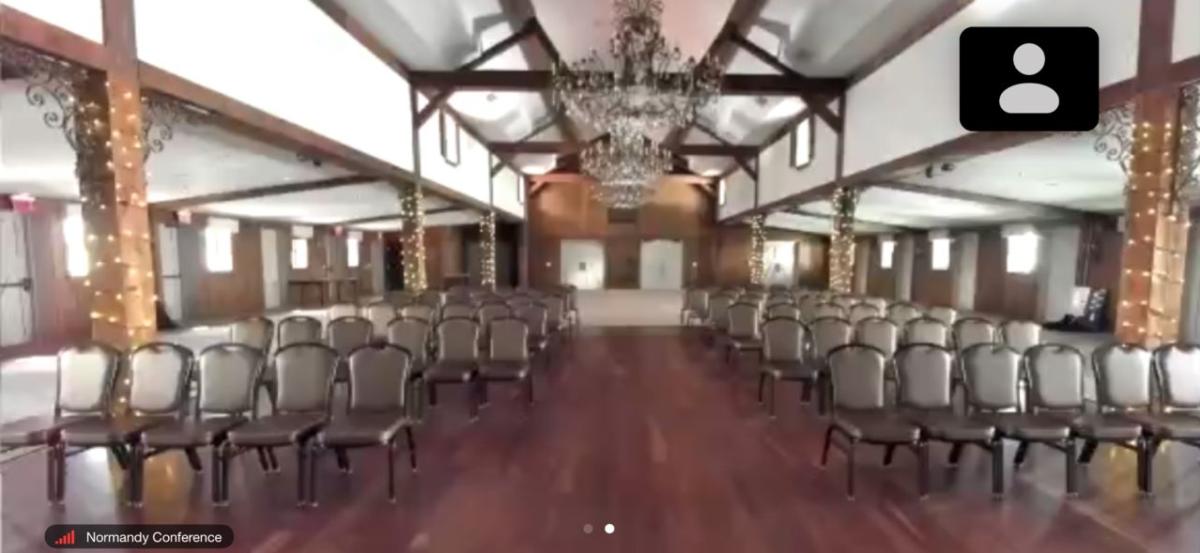 The trend, plus hotels' flexibility in providing shorter booking time frames, has proven effective for several regional segments including area corporate, government associations, Life Sciences, and training programs.
At Normandy Farm Hotel & Conference Center in Blue Bell, innovative tools and added safety amenities have made hosting hybrid events successful, according to Suzanne Gildea, Director of Corporate Sales.
Those include:
A brand-new livestreaming rig built by internal IT/AV team that allows streaming events of various scopes to virtual audiences
Brand-new complimentary Cisco Meraki Wi-Fi that provides up to 1GB/second of uninterrupted internet
Complimentary hard-wired internet for direct connection
Large meeting space set up for social distancing configuration with sanitation stations
Heated tents for outdoor environment options
Virtual teambuilding
"The possibilities start with a virtual tour allowing the opportunity for prospective clients to see our space from the comfort of their own home," Gildea said.
Visitors can take an immersive 360-degree virtual tour of some Montco hotels with the VFTCB's Montco 360 and use an interactive mapping feature to show what's nearby.
Smaller in-person meetings that are broadcasting to a larger audience have almost doubled attendance for several meetings hosted at the Sheraton Valley Forge in King of Prussia that would have originally been for 300 people, said Kiara Greenidge, Director of Sales and Marketing.
"The only people who are in-person are the presenters, organizers, and executive teams," Greenidge said.
To pull off a successful hybrid meeting, the Sheraton Valley Forge performs these takes to prepare:
Proper signage outside of the door to alert guests and other attendees that they must be quiet during sessions, as outside noises are picked up by the live feeds
Many small breakout spaces for AV, technology, guest speakers, contact offices, etc. Less people in the room is preferred if not needed
Periodical room sanitation with electrostatic sprayers
Meal/breaks in private rooms with individually wrapped items
Individual workspace for all attendees
Dedicated/upgraded high speed internet
Upgraded and new AV technology such as lighting, screen, etc.
Hilton recently launched Hilton EventReady Hybrid Solutions for Meetings and Events that includes a new suite of offerings directing event planners to hybrid-ready hotels, and providing them with planning resources such as IT readiness, multi-site options, express agreements, broadcast technology, and stage equipment.
Director of Sales and Marketing, Katie Schultz, said similar updates have been made at the Chubb Hotel and Conference Center in Lafayette Hill:
Upgraded Wi-Fi to 1 gig of internet connectivity
Upgraded guest room Wi-Fi with individual APs installed
Meraki units installed into each meeting room allowing for faster connections, greater usage capacity, and more coverage
Each collaboration studio upgraded with 55-inch monitors and Cisco Spark Units built in allowing for quick access to Webex meetings, internet browser for other virtual meeting platforms, and laptop connection to share screens
Five portable Cisco Spark Units available with 90-inch monitors, wide-angle camera, direct connection to Webex, internet for other virtual platforms, and laptop connection for screen sharing
Ability to use hotel Webex account to host virtual/hybrid meetings
Invested in webcams available with 90-degree turning motion and push to talk microphones
Cvent Hybrid Meetings Certification
To ensure an even cleaner and safer overnight stay, information on cleanliness programs for all Montco hotels can be found on the Valley Forge Tourism & Convention Board's Montco Wellness for Events page.
The Valley Forge Tourism & Convention Board (VFTCB) is a nonprofit, membership-based sales and marketing organization that actively promotes Valley Forge and Montgomery County, PA as a convention site and leisure visitor destination by encouraging patronage of its 500+ member hotels, restaurants, attractions, and services. The award-winning website links visitors, meeting planners, tour operators, and residents to a diverse portfolio of brands focused on reasons to visit the region.