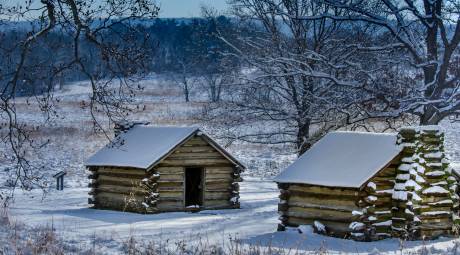 Muhlenberg Brigade Huts
To stave off the cold during the harsh winter, Washington's men erected crude huts to serve as temporary barracks. Twelve men were assigned to each hut.
The reconstructed huts are on the site of General Peter Muhlenberg's encampment. The huts are the center for historical interpretation at the park, staffed with interpreters through the summer months, and help show what daily life was like in the Valley Forge camp.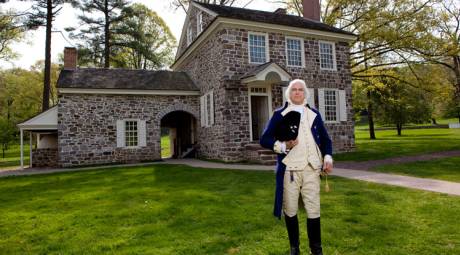 Washington's Headquarters
During his time in Valley Forge, George Washington set up his headquarters in a small two-story stone building. The building could be considered the "Pentagon" of its time, as it is was the place where Washington and his highest-ranking officers worked and lived during the encampment.
Washington's Headquarters is now one of the most-visited areas of the park, open weekends from January through April 15, and daily through the spring, summer, and fall.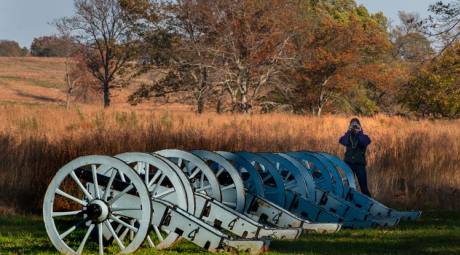 Artillery Park
Rows of cannons line artillery park, the site where Henry Knox and his artillery unit trained during the winter encampment.
The area is one of the most picturesque in the park, a great photo opportunity year-round.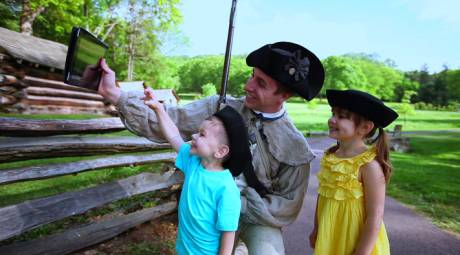 Patriot Trails
For more information on the history of Valley Forge, please visit Patriot Trails, our interactive Revolutionary War History Tours. Here you can dig deeper into the history of the Park and Revolutionary War-era sites throughout Montgomery County, including battlefields, historic homes where George Washington made his headquarters, and encampments sites.
Explore Valley Forge Park