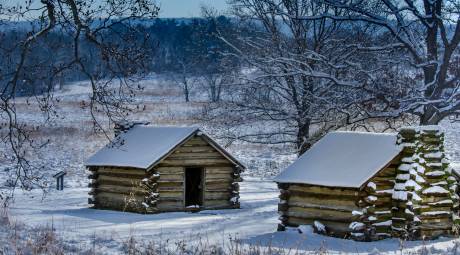 Muhlenberg Brigade Huts
To stave off the cold during the harsh winter, Washington's men erected crude huts to serve as temporary barracks. Twelve men were assigned to each hut.
The reconstructed huts are on the site of General Peter Muhlenberg's encampment. The huts are the center for historical interpretation at the park, staffed with interpreters through the summer months, and help show what daily life was like in the Valley Forge camp.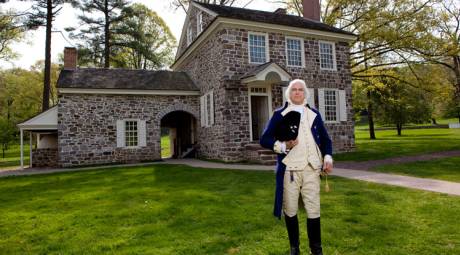 Washington's Headquarters
*Washington HQ is currently closed due to CO-VID 19.
During his time in Valley Forge, George Washington set up his headquarters in a small two-story stone building. The building could be considered the "Pentagon" of its time, as it is was the place where Washington and his highest-ranking officers worked and lived during the encampment.
Washington's Headquarters is now one of the most-visited areas of the park.
January and February: Open on weekends only from 10AM-4PM (Exceptions in Jan and Feb: HQ is open on Martin Luther King Jr. Day and President's Day from 10AM-4PM)
Mid-March through Mid-June: Open daily from 10AM-5PM (Note: HQ will begin opening daily on March 16th in 2020)
Mid-June through Mid-August: Open daily from 10AM-6PM (Extended summer hours)
Mid-August through November (before Daylight Savings Time ends/the first Sunday in Nov): Open daily from 10AM-5PM
November (once Daylight Savings Time ends/the first Sunday in Nov) through the end of December: Open daily from 10AM-4:30PM
Note: Washington's HQ may be closed due to inclement weather, particularly snow/ice, or river flooding. When snow, ice, or flooding conditions are present, please call the Visitor Center at (610) 783-1099 to confirm the status of Washington's Headquarters.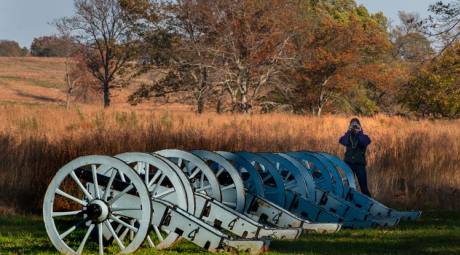 Artillery Park
Rows of cannons line artillery park, the site where Henry Knox and his artillery unit trained during the winter encampment.
The area is one of the most picturesque in the park, a great photo opportunity year-round.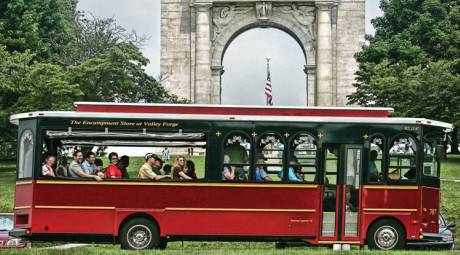 Trolley Tours
A 90-minute trolley tour is a great way to experience the park in the short amount of time. Run by the Encampment Store, these guided tours take you from the Visitor Center to all points of the park, with extended stops at the Muhlenberg Brigade Huts and Washington's Headquarters. Tour times vary by season so be sure to check the Encampment Store's website before planning your visit.
*Trolley Tours are not currently operating*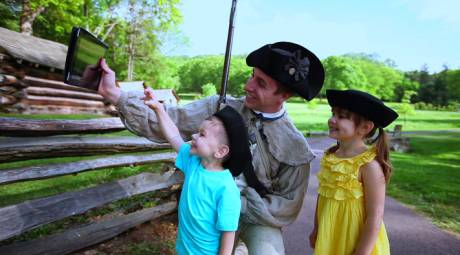 Patriot Trails
For more information on the history of Valley Forge, please visit Patriot Trails, our interactive Revolutionary War History Tours. Here you can dig deeper into the history of the Park and Revolutionary War-era sites throughout Montgomery County, including battlefields, historic homes where George Washington made his headquarters, and encampments sites.
Explore Valley Forge Park