With 2020 being the year it has been, we are all looking for a bit of an escape. This kind of escape, though, you need some help to get by! An escape room is a real-life adventure game in a themed room with your team, assembled to find clues and solve challenging puzzles located throughout the room within 60 minutes. Once you complete the mission, you will be given the key so you can 'escape the room.'
The Play It Out, LLC company is located in downtown Souderton, and have been open since 2017. They currently have two great live games, where bookings are safe and private, following careful procedures to keep all participants safe. They also feature an online puzzle game, and they offer customized virtual trivia for team building, happy hours, training, or other online parties. "Our new game contains lots of local and American history and is family friendly." Customers love their clever games and great staff.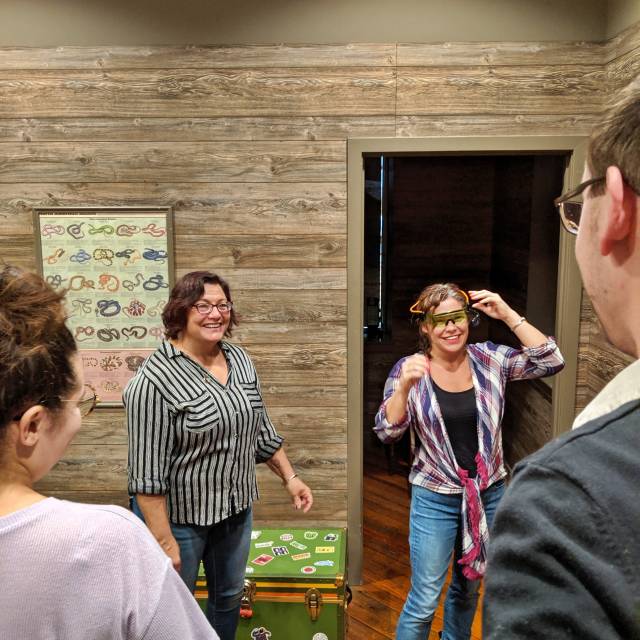 If you can't get together with your team, Play it Out offers online teambuilding. "Come together online with our Livestream Puzzle Games! Work as teams or individuals to solve puzzles while having fun. Online team building is a great way to strengthen connections and communication. We can also create a customized game for your company," owner Leah O'Leary explains.
To stay safe under COVID guidelines, Leah made all bookings private and staggered the time slots to make sure no two groups are in their lobby at the same time. "We always did a great job with cleaning, but now using a sanitizing mister that applies a food safe and EPA-recommended agent throughout the room and on all surfaces. We had UV scrubbers added to our HVAC system. And of course—masks!" she explains. "Our biggest challenge is simply that social behavior has drastically changed. When it takes more planning to go out, people go out less."
Leah loves meeting people and watching them work together in their games. "We get a kick out of seeing how different groups interact, and our number one priority is making sure they have fun," Leah notes. "We also participate in community events and donate to local fundraisers. Our local Souderton organizations do a great job of promoting local businesses."
Play It Out is so excited to have families and friends try to 'escape!' "We have recently added Wednesday and Thursday hours, and we are running a Grow Local promotion to keep our business growing in Souderton. Use growlocal at checkout to save 15% on your game.
Play It Out, LLC is located at 117 E. Broad Street, Suite 2, in Souderton, PA.
Contact them at 267-203-8929 or info@playitoutgames.com
*Please check with Play It Out, LLC regarding availability, hours, mask requirements, social distancing, and other COVID-19 protocols. Please respect the establishments that you visit.