SEARCH FOR HOTEL DEALS HERE
PHILADELPHIA FOLK FESTIVAL
August 13-16, 2020 | OLD POOL FARM
 
The annual Philadelphia Folk Festival, put on by the Philadelphia Folksong Society, is the longest continuously running outdoor music fest in North America. Fest brings some of the leading names in folk music to Montgomery County for three days each August.
 

The 2019 Folk Festival Lineup: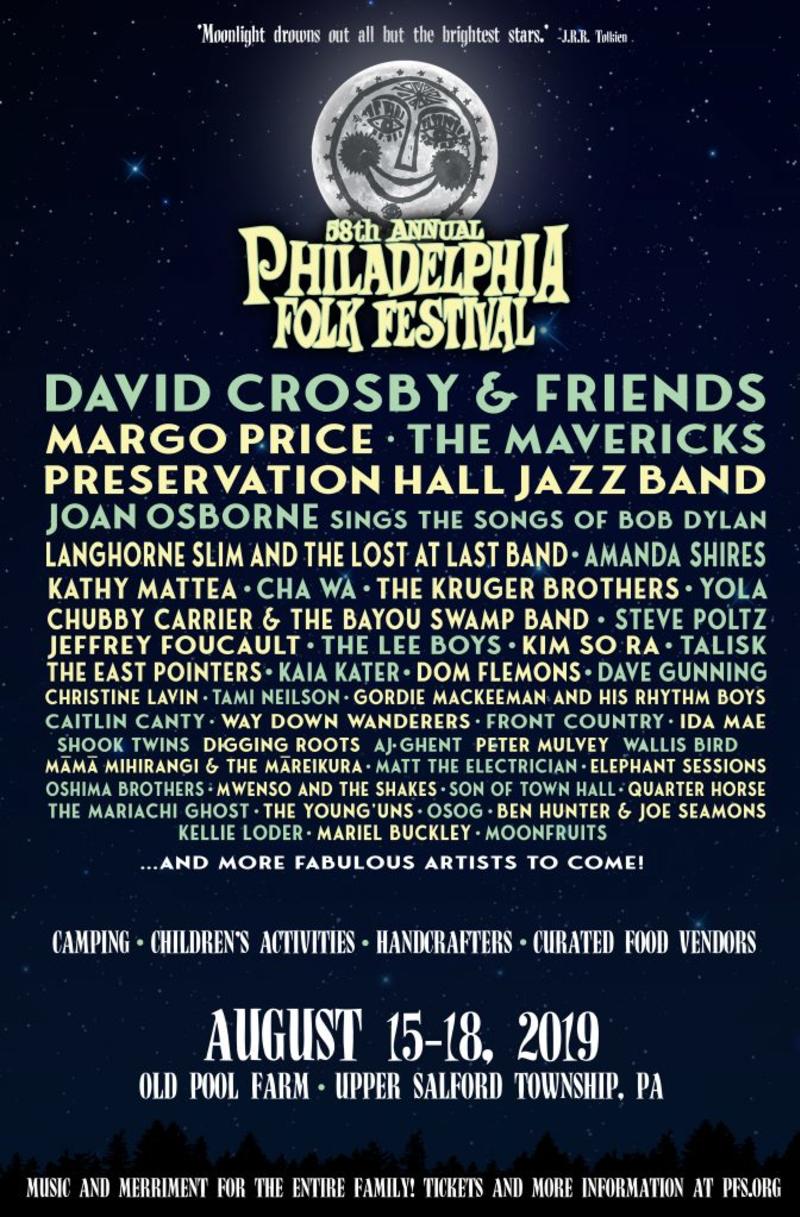 FOLK FACTS AND NEW THIS YEAR
*Over 1/3 of the performers, including David Crosby, are performing for the first time.
*Global Festival PFF organizers have literally scoured the globe to bring the best and brightest to patrons- artists performing are from, New Zealand , South Korea, Newfoundland, UK, Scotland, Canada (Newfoundland), and more
*Multi generational festival, families have been attending for decades. 
*Philadelphia Folk School, opened within the last year. One of our instructors is offering *FREE Music classes to attendees. Miss Rachel, (of Rachel Andie & the Fifth Element,) will offer classes for the kids as a way to support local music. 
*NEW THIS YEAR  - for the first time EVER! Our new partner City Winery Philadelphia will be providing wine samples to patrons before their grand opening this Fall. New CBDelight Soda, (tonic water, ginger beer and more) will also be on site sampling.
*NEW THIS YEAR, in addition to the multitude of food and beverages available. The Happy Hour Dive Cart (Philly based), Green Lane Naturals (Vegan yumminess from down the road in Green Lane, PA), Ebru Coffee (all day long) local coffee roaster (Audubon, PA), Chai Yo Grill (Thai Street Food). 
*PFF was the first festival in North America to sign the international KEYCHANGE pledge.
Explore Outside the Festival
NEARBY ATTRACTIONS