Images: https://bit.ly/3Fp7aZV
Annual Report: https://issuu.com/valleyforgetourism/docs/vf_annualreport-fnl_2022
KING OF PRUSSIA, PA – The Valley Forge Tourism & Convention Board (VFTCB) shared an optimistic outlook for tourism in Montgomery County, PA to 450 attendees at the organization's first in-person Annual Luncheon event in three years at the Sheraton Valley Forge in King of Prussia.
With a theme of Forge Ahead, the VFTCB released its 2022 Annual Report highlighting the positive economic impact of the hospitality industry in Montco, reporting levels close to pre-pandemic. Tourism continues to be a key driver of the economy in the third largest county in Pennsylvania. In 2021, visitor spending in Montco generated $1.4 billion in positive economic impact. That's up 46%, or $443 million from 2020, and also within $200 million of 2019 levels, according to Tourism Economics.
"We're gaining back ground in the right direction, and seeing positive momentum!" said VFTCB President & CEO, Mike Bowman. "I'm so proud of how the VFTCB staff has overcome obstacles to support our hoteliers and our entire tourism industry in Montco. Their commitment to creativity is amazing, and that's one of the many reasons why Montgomery County continues to lead and outperform the region."
Booked room nights were also back up to 1.9 million last year, and room revenue recovered to $206 million, which outpaced the Philadelphia region, and periodically surpassed monthly 2019 figures. Visitors also supported more than 17,000 jobs in Montco, according to Tourism Economics.
So far this year, Montgomery County is leading the suburban counties with an average daily rate of $126.76. Montco's year-end forecasted revenue - $250.7 million – is just 1% shy of 2019 levels - $253.8 million. Next year's hotel demand and economic impact for the county are expected to grow, forecasted to exceed 2019 levels by mid-year with record highs anticipated in 2023 and beyond, according to Smith Travel Research.
The VFTCB's award-winning sports team also announced that 2022 will be another record-breaking year with 100 events producing more than 85,000 total room nights generating $65 million in positive economic impact. That's up 14% year-over-year, and 20% higher than pre-pandemic levels, according to Lisa Karl, VFTCB VP of Sales & Strategic Partnerships.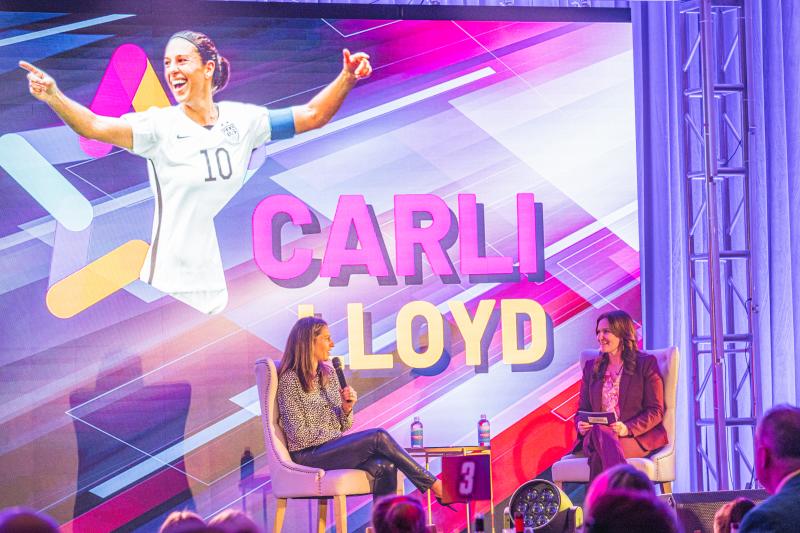 USWNT & Olympic Gold Medalist Carli Lloyd and VFTCB's Associate Vice President of Communications, Rachel Riley on stage at the VFTCB's Annual Luncheon
Guest speaker and two-time Olympic gold medalist, Carli Lloyd, talked about forging ahead by overcoming obstacles on and off the field, being a woman in the world of sports, giving advice to youth, and more.
VFTCB Vice President of Operations, Jake Markezin, and former VFTCB President & CEO, Paul Decker, also announced the Paul Decker & Valley Forge Tourism & Convention Board Hospitality Scholarship Fund through the Montgomery County Community College's Foundation – a $20,000 endowed scholarship to go to a Montgomery County resident in financial need with good academic standing to pursue a degree in tourism hospitality management or culinary arts starting in 2023.
The Sixers STIXERS Marching Band and the Amped String Quartet performed for the crowd which cheered for the World Series-bound Philadelphia Phillies and included female youth soccer players, VFTCB members and partners, key stakeholders, and county and town officials. The host hotel – the Sheraton – will complete a guest room renovation by end of this year with public areas, meeting space, a new restaurant, bar concept, and club lounge being built and renovated in 2023 – a $4 million project. An after party at the property was sponsored by the hotel and the Elmwood Park Zoo in celebration of its upcoming centennial.
The VFTCB's marketing and communications team announced a brand-new way to enjoy the county's breweries, wineries, and distilleries through the Montco Makers Passport – a gamified check-in process for visitors to win prizes as they sip their way across the county. So far, more than a hundred people have participated in the soft launch.
The organization also shared data-driven marketing plans, such as flying banners over 12 million people from A.C. to Cape May, and sponsoring weather cameras on both NBC 10 and FOX 29.
The VFTCB also redesigned valleyforge.org to speak to travelers in a whole new way by providing easy-to-find inspirational content, interactive maps, easy booking options, and prioritized video and things to do to help raise awareness and increase visitation to the county's attractions, hotels, restaurants, and events.
The organization also vowed continued support for restaurants with Crave Montco Month in July – which drove 23,000 visits to the website, a 485% increase – for arts and culture with Arts Montco Week & Jazz Fest in September, as well as for dozens of local, diverse artists at the three Arts Montco Walls at the King of Prussia Mall, Philadelphia Premium Outlets, and the brand-new Charles Blockson Black History Exhibit at Centre Theater in Norristown.
One of the first DMOs in the region to start a TikTok channel, Visit Valley Forge's social following has grown to more than 180,000 with 2.5 million video views, and 22 million impressions (5 million from influencers). The VFTCB has also seen 670 editorial mentions – no. 1 in the region – with a reach of 847 million to date.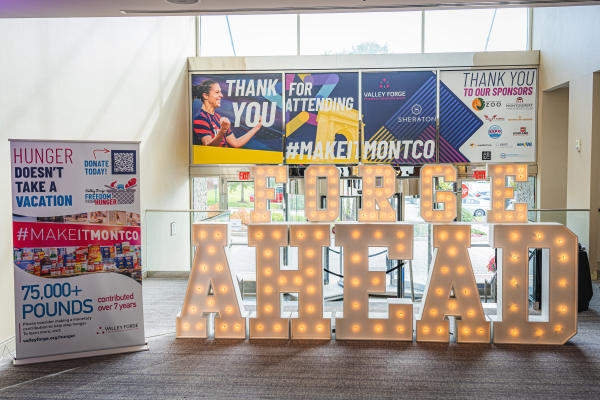 Sponsors for the event included: Elmwood Park Zoo, Montgomery County Community College, The Proving Grounds, Valley Forge Casino Resort, the Greater Philadelphia Expo Center at Oaks, LEGOLAND Discovery Center Philadelphia in Plymouth Meeting, BeMarketing, Pottstown Area Economic Development, Aloysius Butler & Clark, IBEW, and PECO.
The Valley Forge Tourism & Convention Board (VFTCB) is a nonprofit, membership-based sales and marketing organization that actively promotes Valley Forge and Montgomery County, PA as a convention site and leisure visitor destination by encouraging patronage of its 500+ member hotels, restaurants, attractions, and services. The award-winning website links visitors, meeting planners, tour operators, and residents to a diverse portfolio of brands focused on reasons to visit the region.