KING OF PRUSSIA, PA – The results are in, and the Valley Forge Tourism & Convention Board just wrapped up a banner year for awards!
The organization and its staff collected a record 25 awards and recognition in 2017. The accolades add to a growing list of accomplishments for the VFTCB, said CEO and President, Mike Bowman.
"These honors just speak to what a great place our organization is to work," he said. "We always take things to the next level, and that type of environment is attracting the kind of talented people who get recognized for their hard work, leadership, and innovative use of new technology."
Among the notable awards were honorable mention in two PR News Digital Awards categories: Best Blog, and Location-Based Digital Marketing Campaign of the Year.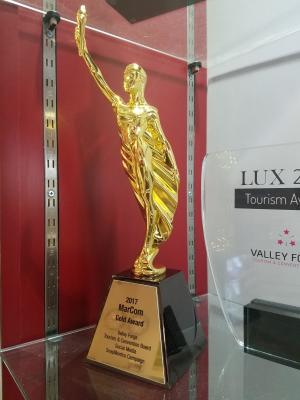 VFTCB was recognized for writing on the Valley Forge and Montgomery County Blog, The Pursuit – Stories Made in Montco on valleyforge.org, and technology initiatives used in the NFL Draft Campaign.
The organization was the only nonprofit honored in both categories. To market the NFL Draft, VFTCB partnered with the Philadelphia Convention and Visitors Bureau, and promoted the event on billboards, at a draft party, on social media and by using dynamic targeting on its web site, valleyforge.org/draft.
Two staff members were also honored at the 2017 PR People Awards Luncheon. Recognized as a leader of the future, Taylor Tropea, VFTCB Social Media and Brand Development Manager, was named one of PR News' Rising Stars 30 & Under for 2017. A PR People Finalist, VFTCB Chief Marketing Officer Edward Harris received honorable mention for Marketer of the Year.
Destinations International, formerly Destination Marketing Association International (DMAI), inducted VFTCB Creative Director Joe Tacynec into its 2017 "30 Under 30" class at the Association's Annual Convention in Montreal, Canada last summer. The world's largest resource for official Destination Marketing Organizations selected the top candidates who show remarkable leadership potential in the tourism industry.
VFTCB Sales Manager, Lindsay Ancarrow, was also recently awarded the Young Professional Group (YPG) of Montgomery County Development Corporation's (MCDC) "2017 Young Professional of the Year" award for her work to help grow the weddings and corporate market. MCDC is Montgomery County, Pennsylvania's Certified Economic Development Organization accredited by the PA Department of Community and Economic Development.
Staff members said that the recognitions were all a team effort of everyone working together to make Montgomery County even better.  
Full List of Awards:
2017 Tourism Award Lux
2017 Nonprofit Organization of the Year Tri-County Area Chamber of Commerce
2017 Community Achievement Award Eastern Montgomery Chamber of Commerce
2017 Hospitality Award King of Prussia District
"Honorable Mention" 2017 Marketing Team of the Year Award PR News Awards
2017 Excellence in Community Outreach Montgomery County Chamber of Commerce
Online Video: Destination Shop Montco Vega Digital Awards
Promotions/Contests: Montco's Best Pizza Tournament Vega Digital Awards
"Gold" Social Media Campaign, Montco's Best Pizza Tournament AVA Digital Awards
"Platinum" Marketing Campaign: Travel, Destination Shop Montco AVA Digital Awards
"Platinum" Social Media Campaign: PokeMontco AVA Digital Awards
"Platinum" Marketing Campaign: Experience Valley Forge AVA Digital Awards
"Bronze" Game/Contest & Online Content Muse Creative Awards
"Gold" Marketing/PR Campaign, Video, Web & Content Muse Creative Awards
"30 Under 30" Destination Marketing Association International
"40 Under 40" Edward Harris Philadelphia Business Journal
"Member of the Year" Lindsay Ancarrow Montgomery County Development Corporation Young Professionals Group
"Rising Star" Taylor Tropea Movers & Shakers Awards
Simpleview W3 Silver for website
2017 Gold Award Social Media, SnapMontco Campaign MarCom
Honorable Mention Best Blog PR News Digital Awards
Honorable Mention NFL Draft Campaign, Location-Based Digital Marketing Campaign of the Year PR News Digital Awards
Centauri (2nd Place) Vega Digital Award, National Dog Show Contest & Promotion
Best Cultural Tourism Advocacy - Pennsylvania & LUX Excellence Award for Cultural Heritage Tourism