Program aims to collect record 6,000 pounds of canned food donations by September 30, accumulating 20,000 pounds total in five years which supports food insecure Montco residents
KING OF PRUSSIA, Pa. (Sept. 4, 2019) – On September 9, the Valley Forge Tourism & Convention Board (VFTCB) will kick off its fifth annual Valley Forge Freedom from Hunger Food Drive, a month-long campaign to build awareness about Montgomery County's neediest community members.
The Valley Forge Freedom from Hunger Food Drive will collect donated canned goods at various drop-off locations throughout the county from September 9-30. All donations will benefit VFTCB's partner organization, the MontCo Anti-Hunger Network (MAHN), a coalition of hunger relief organizations working together to make healthy foods available to all communities in Montgomery County.
This year's canned food goal is a record 6,000 pounds which will bring VFTCB's overall total to 20,000 pounds. Also being accepted this year are online monetary donations which will be converted into pounds to be added to the campaign's goal.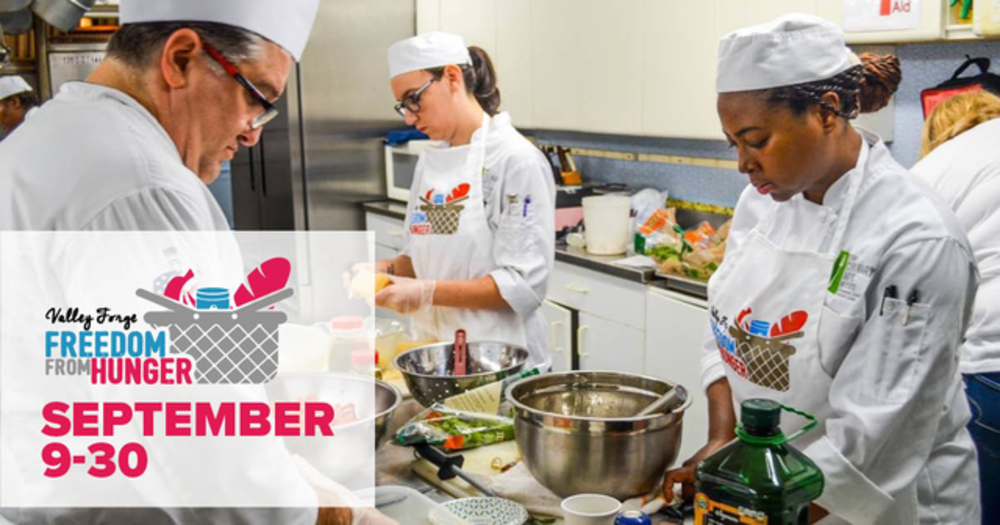 "The Valley Forge Tourism & Convention Board is invested in our community," said VFTCB President & CEO Mike Bowman. "Our Freedom from Hunger Food Drive is a real, tangible way we can make an impact on a personal level for those in need in Montgomery County."
Food insecurity in Montgomery County is part of the reason why the VFTCB established the food drive in 2015 as a farewell "gift" to Pope Francis, who stayed in Montco at the St. Charles Borromeo Seminary during the World Meeting of Families in Philadelphia.
In 2018, the VFTCB collected more than 5,000 pounds of food donations and has increased its goal for donations every year since the drive began in 2015. To date, the drive has collected more than 14,000 pounds of food to feed the hungry in Montgomery County.
"Food pantries are a vital community resource that depend on donated food and dollars to operate," said MAHN Administrator Paula Schafer. "We cannot be effective in our work without the help of our broad reaching out to organizations like VFTCB. The Freedom from Hunger Food Drive increases MAHN's donation base and raises awareness about hunger in Montgomery County. It's an essential partnership that amplifies our impact."
MAHN helps feed more than 15,000 hungry households a year. Most needed canned items include: tomatoes, sauce, fruit, and chunky soups. The food generated by the Valley Forge Freedom from Hunger Food Drive is going to help nourish just some of the 80,000 people who are food insecure across Montgomery County.
To learn more about the Valley Forge Freedom from Hunger Food Drive, find drop-off locations or make a monetary donation, please visit www.valleyforge.org/hunger.
The Valley Forge Tourism & Convention Board (VFTCB) is a nonprofit, membership-based sales and marketing organization that actively promotes Valley Forge and Montgomery County, PA as a convention site and leisure visitor destination by encouraging patronage of its 500+ member hotels, restaurants, attractions, and services. The award-winning website links visitors, meeting planners, tour operators, and residents to a diverse portfolio of brands focused on reasons to visit the region.