In honor of Black History Month, the VFTCB is promoting its Patriot Trails content, which highlights Montgomery County, Pa., locations that reflect the importance of African Americans. Visitors are also offered a Winter Escape Package for savings on overnight stays and family-friendly attractions. 
Contact: Dan Weckerly
Communications Manager
Valley Forge Tourism & Convention Board
610. 834.7990 (office); 610.574.1605 (cell)
KING OF PRUSSIA, PA – Patriot Trails, an online celebration of history presented by the Valley Forge Tourism & Convention Board (VFTCB), debuted in February 2015 and has been continually refreshed since then.
For Black History Month, the VFTCB is spotlighting the stories of sacrifice and steadfastness of the African American community of Montgomery County, Pa.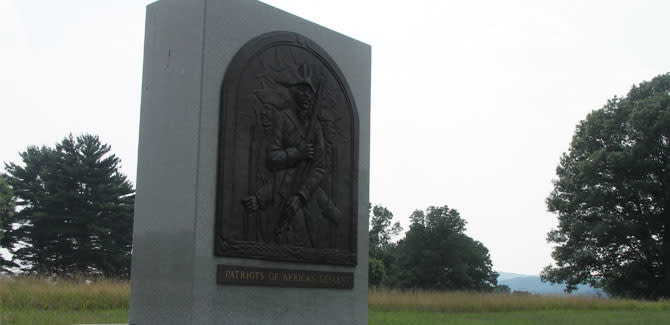 Patriot Trails' content covers Revolutionary War information native to Montgomery County, Pa., including details about the contributions of black soldiers during the war. Its focus goes beyond the revolution to tell stories of local connections to the Underground Railroad movement of the mid-1800s.
Patriot Trails is a set of online itineraries with which users can plan self-guided tours lasting from a half day to a long weekend.
The content related to Black History Month includes two locations within Valley Forge National Historical Park: the Tribute to the Patriots of African Descent, which honors the 5,000 African patriots who fought both for and against the British, and Pawling's Farm, which, a century after the Revolutionary War, was a critical access point for slaves moving northward to freedom.
 "A visit to Montgomery County, Pa., especially during February, is a must-do for people who love American history," says Mike Bowman, President and CEO of the VFTCB. "Those visitors looking for a unique way to celebrate Black History Month will find it here, especially given the manner in which we have preserved many of the locations integral to African Americans' ongoing struggle to be free."
Bowman continues, "And fans of presidential history will find no better place to spend Presidents' Day weekend than in Valley Forge, site of the first official celebration of Washington's Birthday. This family-friendly party, with appropriate pomp and circumstance (and cake!) is huge. It's the biggest party honoring General Washington that we know of, and our 74 hotels are primed for a three-day weekend."
To make a February visit to Montgomery County, Pa., even more appealing, the VFTCB is offering a Winter Escape Package. Its components include discounted hotel rates, plus discounts on admission to Elmwood Park Zoo, Norristown, and skiing at Spring Mountain Adventures, Schwenksville.
Details on Patriot Trails and the Winter Escape Package are available at valleyforge.org.
# # #
The Valley Forge Tourism & Convention Board (VFTCB) is a nonprofit, membership-based sales and marketing organization that actively promotes Valley Forge and Montgomery County, Pa., as a convention site and leisure visitor destination by encouraging patronage of its 400-plus member hotels, restaurants, attractions and services. The Board's award-winning website, valleyforge.org, serves visitors, meeting planners, tour operators and residents, as well as hosts The Pursuit, a nationally recognized blog. The VFTCB oversees a portfolio of brands that include Valley Forge Sports, Montco 360, Destination Montco Weddings, Patriot Trails and Destination Montco Golf. It is also the publisher of the new dining magazine Crave, issued twice yearly.