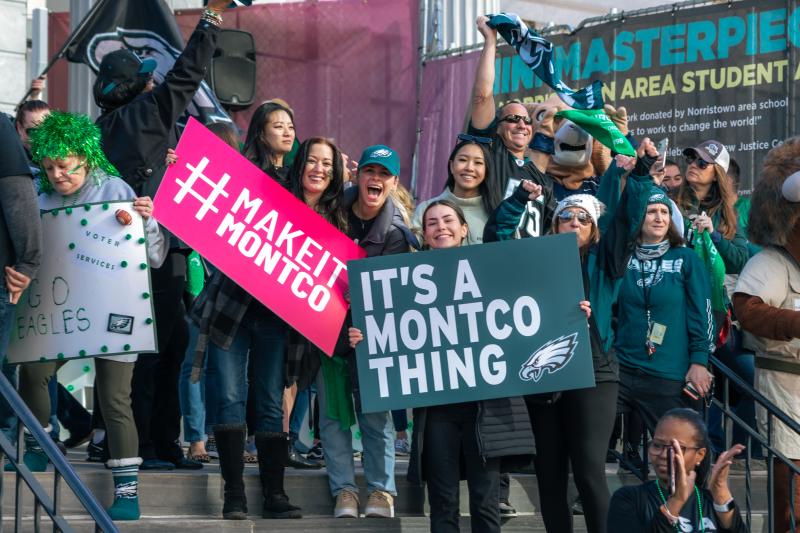 More than 200 people including Montgomery County employees, area residents and students, and local high school and college mascots gathered on the county courthouse steps Friday morning to sing the Eagles fight song ahead of Sunday's big game.
Just as they did in 2018, the Valley Forge Tourism & Convention Board (VFTCB) and Montgomery County staff welcomed folks to Norristown to cheer on the Birds for the second time in five seasons. The crowd included: VFTCB and county staff, area residents, DeeJay Shelly of Michelle Lee Entertainment & Sounds by Shelly, the Norristown Area High School Drumline, and the following mascots: Noah the Bald Eagle and Bubby the Bison from Elmwood Park Zoo, Monty the Fox, LEGOLAND, St. Joseph's University, LaSalle University, and Spring-Ford High School.
Norristown Fire's Hook & Ladder Truck hung a big American flag, and everyone took pictures in front of the large GO BIRDS lit-up sign from Karley's Linens & Rentals, as well as a 7-foot-tall ice sculpture. Attendees also enjoyed face painting, signs and banners, a drone, and Innovative Catering Concepts Food Truck.
The Valley Forge Tourism & Convention Board (VFTCB) is a nonprofit, membership-based sales and marketing organization that actively promotes Valley Forge and Montgomery County, PA as a convention site and leisure visitor destination by encouraging patronage of its 500+ member hotels, restaurants, attractions, and services. The award-winning website links visitors, meeting planners, tour operators, and residents to a diverse portfolio of brands focused on reasons to visit the region.