Montco Officials Help "Flip The Switch" as The Greater Philadelphia Expo Center Introduces The Largest Convention Venue Rooftop Solar Array in Pennsylvania
   
OAKS, PA -- The Greater Philadelphia Expo Center and Fairgrounds has installed the largest solar rooftop array in a Pennsylvania convention venue. "Today we are proud to share news of the most recent improvement at the Greater Philadelphia Expo Center at Oaks. The solar panels installed across our roof  are projected to generate enough energy to power the 140 plus events held here annually, with any surplus delivered back into the grid to power local businesses and homes," announced Pam Derderian, CEO 15 Minutes Inc. and Expo Center spokesperson.
The project cost $3 million and is expected to show an ROI within eight years
This solar project ranks 2nd in Montgomery County for DC current capacity and #12 overall in the state at over 1.2MW (megawatts.)
Though meant for commercial use, these solar arrays are large enough to equip 200 homes
In just over 14 years, the Philly Expo Center has become a leader in the Mid-Atlantic region, hosting world-class entertainment, consumer shows and extraordinary events -- from Cirque du Soleil to The National Dog Show, with over 10 million visitors drawn to the area.
With up to 240,000 square feet of uninterrupted exhibition space, a 5.5 acre outdoor Fairgrounds and thousands of free parking spaces, the Expo Center campus offers hotels and restaurants, safe access to outdoor trails that connect directly to Valley Forge Historical Park, and luxury shopping at the nearby King of Prussia Mall.
An accessible venue for all types of meetings and events – from jewelry and collectibles, to golf, fishing and other sports, fine arts and crafts, boats, recreational vehicles and home décor, it is where businesses, families and enthusiasts can come together to pursue their interests and passions. Find upcoming events held at the Greater Philadelphia Expo Center
The Kennel Club of Philadelphia's National Dog Show held at the Greater Philadelphia Expo Center and telecast on NBC on Thanksgiving showcases Montgomery County and the Philadelphia region to a massive national audience for the 21st consecutive year.
The Expo Center is an FPTC-approved Qualified Film Production Facility, eligible for the Pennsylvania Film Tax Program Credit, and was featured prominently in the Netflix film "Hustle" starring Adam Sandler, with 14 sound stages constructed on-site.
"This is about our evolution as a company – and our progression as a better corporate citizen," added Derderian. "We are committed to the sustainable-energy movement and enhancing the quality of life in our community and in our country for future generations, and we're pleased to align with Montgomery County's sustainability efforts."
Valley Forge Tourism & Convention Board Vice President of Sales & Strategic Partnerships Lisa Karl stated: "We are excited to share in this moment with our partners at the Expo Center. We know more travelers are expressing an interest in frequenting eco-friendly destinations so we're working together with our partners to promote environmentally responsible initiatives, and this provides us with an opportunity to send a message to event planners that we are a destination focused on the future. To support our commitment to this initiative, we are collaborating on a multi-year strategic plan including: research, education, web content and maps, collecting and developing visual assets, advertising to target markets, print collateral and digital brochures, digital marketing, social media promotion and public relations."
Over 80% of our Montco hotel partners promote their green initiatives such as Travel with Purpose by Hilton.
More than 50% of travelers surveyed said environmental & sustainable considerations are essential when planning travel.
71% plan to travel "greener" & more than half indicated that they are determined to make more environmentally conscious travel choices in the next year.  *(Google Insights; New York Times)
According to a recent AMEX survey, 83% said they take sustainability into account when planning meetings and events. \
The Montco 2050: A Comprehensive Plan for a Changing World will guide overall growth and future development. It focuses on broad issues that affect everyone's quality of life, including land use; traffic and transit; open space, parks, and trails; housing; water resources; and the economy. 
Commissioner Ken Lawrence, Chair, Montgomery County Board of Commissioners added: "Sustainability is a key goal of the County, and we are actively engaged in reducing our carbon footprint and supporting the next generation of workers in the clean energy economy."
Montgomery County contains over 3,000 solar energy systems that can generate over 40 megawatts of electricity. In 2019, the county passed a Commitment to Sustainable Operations resolution, setting a goal to transition to 100% clean, renewable electricity for county-owned assets by 2035, and to transition to 100 percent renewable energy for heat and transportation by 2050.
In pursuing this goal, the county created a new initiative, the Energy Resiliency and Sustainability (ERS) program, for county facilities and operations. 
Today is also opening day of Marketplace Events' Philly Home + Garden Show, one of the first events held at the updated Expo Center. With 275+ booths, it is a vibrant marketplace to shop for home-related products and services, connect with industry experts, and enjoy informative presentations from renowned local and national home professionals. If you'd like to consider solar energy for your home, you can meet face-to-face with solar experts at the show, including:
Venture Solar
Tiny World-Philadelphia
Apollo Energy Company
Pinnacle Exteriors -Roofer but also offers Solar
Geoscape Solar
NRG Energy
Orbit Energy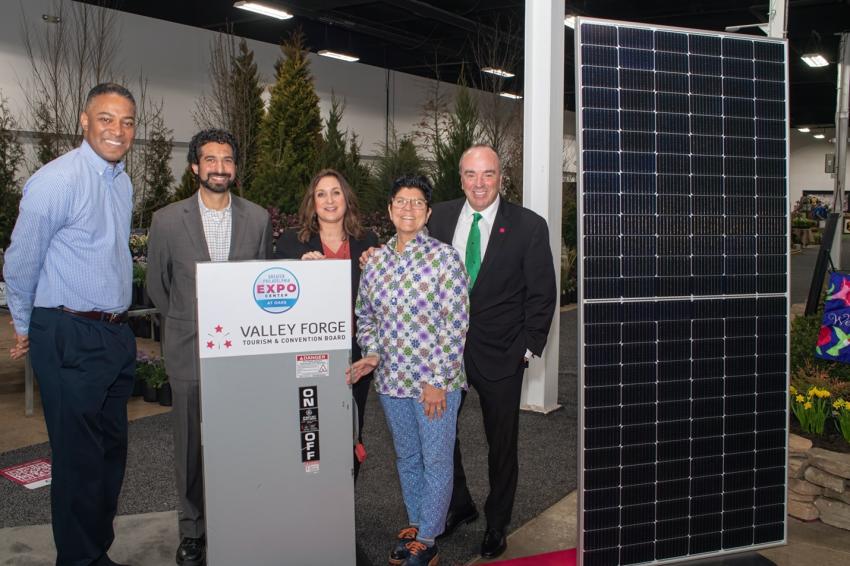 (L-R) Commissioner Ken Lawrence, Chair, Montgomery County Board of Commissioners; Keith Peltzman, Founder and President, Independence Solar; Lisa Karl, Valley Forge Tourism & Convention Board Vice President of Sales & Strategic Partnerships; Pam Derderian , 15 Minutes Inc. & Expo Center Spokesperson; and Mike Bowman President & CEO Valley Forge Tourism & Convention Board flip a gigantic industrial "switch" to ceremonially move "off the grid" and announce the solar project at the Greater Philadelphia Expo Center in Oaks PA (Photo by Michael O'Neill, 2/24/23)
Media Contacts:
Nancy Becker
President 15 Minutes Media and Marketing
215-290-7668
Rachel Riley
Associate Vice President of Communications
Valley Forge Tourism & Convention Board 
610-834-7990/215-280-7305
The Greater Philadelphia Expo Center is one of the largest venues on the east coast, with over 240,000 square feet of uninterrupted exhibition space on a single floor and 5+ acres of outdoor Fairgrounds. A regional draw for over 14 years and host to events such as Cirque du Soleil and the National Dog Show, we have attracted tens of millions of attendees to Oaks and Montgomery County. There are hotels and restaurants on-site, luxury shopping and entertainment nearby, and a trail connecting directly to the Valley Forge National Historical Park. For more Information please visit: phillyexpocenter.com
The Valley Forge Tourism & Convention Board (VFTCB) is a nonprofit, membership-based sales and marketing organization that actively promotes Valley Forge and Montgomery County, PA as a convention site and leisure visitor destination by encouraging patronage of its 500+ member hotels, restaurants, attractions, and services. The award-winning website links visitors, meeting planners, tour operators, and residents to a diverse portfolio of brands focused on reasons to visit the region.