Contact: John Golden
               610.834.7985
               610.420.6337 (m)
               golden@valleyforge.org
Campaign that Welcomed Pope Francis Wins PR Award
The Valley Forge Tourism & Convention Board Was Recognized at the National Press Club, Washington, D.C., for Its "Home Away from Rome" Effort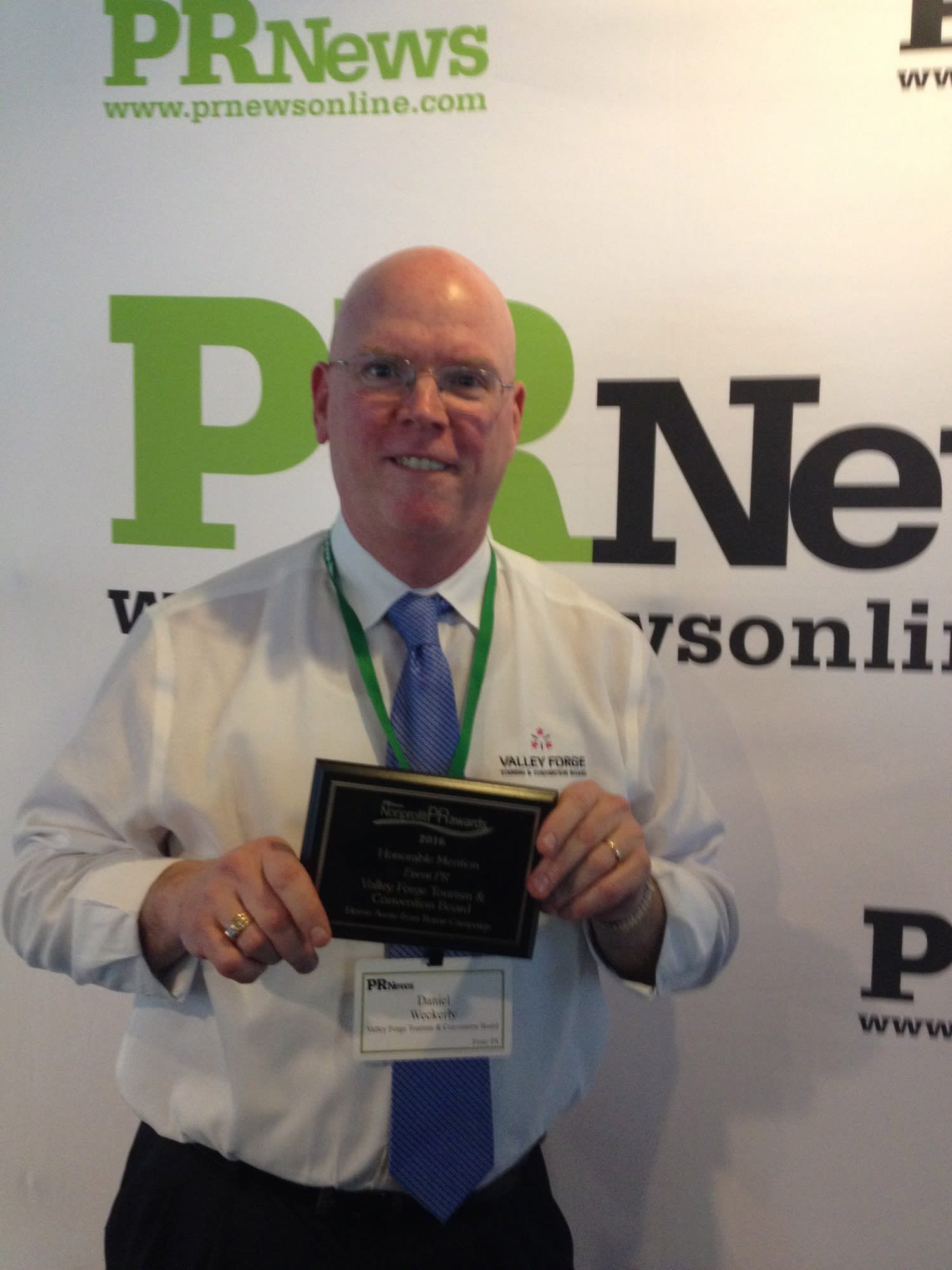 KING OF PRUSSIA, Pa. - The communications efforts of the Valley Forge Tourism & Convention Board (VFTCB) were recognized by PR News at its March 15 Spring Awards Luncheon at the National Press Club in Washington, D.C.
The VFTCB won Honorable Mention in the Event PR category, nonprofit division, for its 2015 initiatives surrounding the World Meeting of Families and the visit of Pope Francis.
The VFTCB promoted both events under the banner "Home Away from Rome." The tagline was a reminder to visitors and residents that, Pope Francis' itinerary included an overnight in Montgomery County, owing to his stay at St. Charles Borromeo Seminary, Wynnewood.
The VFTCB distinction had it sharing the spotlight with nationally renowned nonprofits that included The American Heart Association, the Corporation for Public Broadcasting, Children's Miracle Network Hospitals and the Girl Scouts of the USA. The luncheon also honored advances in corporate social responsibility and diversity, recognizing such companies as Colgate, ESPN, JetBlue Airways, Proctor & Gamble and Macy's.
"Last fall, when we welcomed the World Meeting pilgrims and Pope Francis, Montgomery County's tourism efforts put us on the world stage, alongside our colleagues in Philadelphia," commented VFTCB President and CEO Mike Bowman.
"By all measures, from hotel support from our sales team to marketing support from our communications pros, it was a success for the VFTCB. To see our efforts recognized among so many distinguished brands and PR professionals is a real honor and a testimony to the talent and creativity here at the VFTCB," Bowman concluded.
VFTCB Vice President of Marketing and Communications Ed Harris praised the team's consistent, creative approach. "This project had a number of challenges," he said. "We were charged with ensuring that everyone who came to our area - from destinations all over the world and reflecting a wide variety of faith traditions - were made to feel welcome. Once we received confirmation that Pope Francis' itinerary enabled a visit to Montgomery County, everything came together under the 'Home Away from Rome' theme. It proved to be the perfect encapsulation of an event that had historic, spiritual and familial significance and became the foundation of our web support, our social media and our official welcome to the Pope."
The tourism board is already leveraging its experience with the Papal visit for this summer's Democratic National Convention, when 21 delegations will be housed in Montgomery County hotels.
This win is one in a series of professional accolades to come to the VFTCB Marketing and Communications team; earlier this year, the destination marketer was honored with two recognitions by the Philadelphia Chapter of the Public Relations Society of America, and last spring, it received four awards from the international organization the Association of Marketing and Communications Professionals.
The Valley Forge Tourism & Convention Board is a nonprofit, membership-based sales and marketing organization that actively promotes the Valley Forge area and Montgomery County, Pa., as a convention site and leisure visitor destination by encouraging patronage of its 400-plus member hotels, restaurants, attractions and services. The Board's award-winning website, valleyforge.org, serves visitors, meeting planners, tour operators and residents, as well as hosts The Pursuit, a nationally recognized, twice-weekly blog. The VFTCB recently added Valley Forge Sports, Montco360, Destination Montgomery County Weddings, Destination Montco Golf and Patriot Trails to its portfolio of brands.                                    

About PR News
The PR News Group at Access Intelligence, LLC is a daily intellectual hub that serves the communications and marketing community at corporations, agencies and nonprofits. The PR News group focuses on honing and growing PR practitioners' skills in social media, crisis management, digital PR, measurement, employee relations, media training, CSR and writing through its flagship newsletter, webinars, conferences, awards programs, workshops and guidebooks. With the launch of its weekly newsletter over 70 years ago, PR News has remained dedicated to supporting the growth of communicators all while keeping them abreast of the latest news affecting the industry.