VFTCB announced The Philadelphia Orchestra is coming to Montgomery County in 2019 and 2020;
Competitors from the National Dog Show made a surprise appearance
 
OAKS, PA (October 26, 2018) -- Today, the Valley Forge Tourism & Convention Board (VFTCB) hosted their largest member luncheon in history at the newly renovated Great Philadelphia Expo Center at Oaks. With more than 600 hospitality industry partners and Montgomery County companies in attendance, the VFTCB dazzled guests with a tail-wagging appearance by National Dog Show competitors and featured video premieres of new initiatives taking place in the county. The event's "Reimagine" theme highlighted and celebrated the VFCTB's creativity and vision to reimagine the visitor experience in Montgomery County.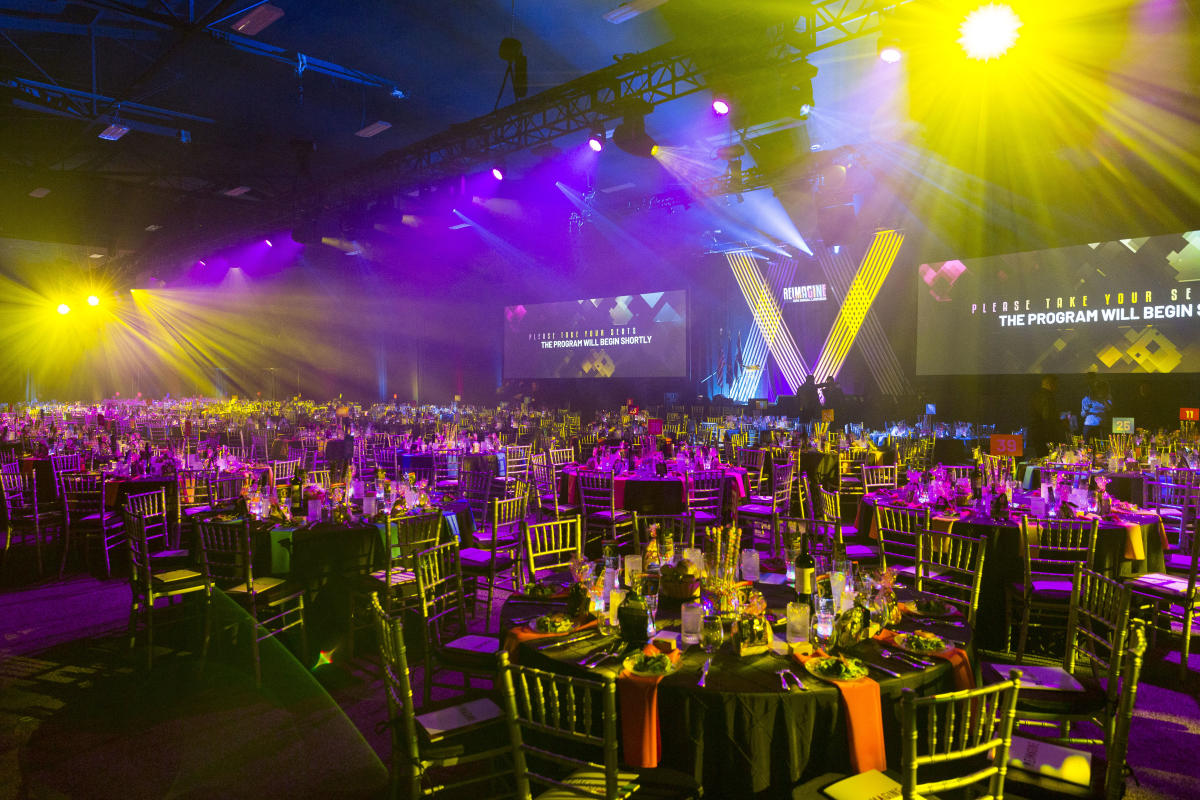 Networking and live music kicked off the luncheon with a Montco Makers-themed lounge highlighting the county's local wineries, breweries, and distilleries. Montco Makers is comprised of 30-plus award-winning breweries, wineries, and distilleries that are easily navigated using MontcoMakers.com and its award-winning app. Monty the Fox, the Phillie Phanatic and other area attraction and college and university mascots joined the networking, taking photos with guests.
The 2018 Member Luncheon began with Valley Forge Tourism & Convention Board's President & CEO, Mike Bowman, as the master of ceremonies welcoming former Chair of the Montgomery County Board of Commissioners and current Pennsylvania Attorney General, Josh Shapiro. Shapiro discussed his ties to Montgomery County, how the county is always reimagining the visitor experience, and gave kudos to Montco for promoting its rich history and tourist attractions to residents across the state.
This year's keynote speaker, Jeff Fromm, is a Forbes contributor and nationally known millennial and GenZ marketer. Fromm has worked with and helped reimagine a collection of the world's leading brands and brought his thought leadership to the luncheon. With more than 25 years of brand marketing experience, Fromm gave insight and advice to the audience in regard to consumer trends and innovation.
2017 County Statistics
Montgomery County is the third largest county in Pennsylvania and Montgomery County's tourism is a major economy driver

In 2017, tourism spending in Montco reached $1.6 billion and grew by more than 2.8% from the prior year. Tourism also supported more than 4.1% of all jobs in Montgomery County, employing over 20,000 people

Montgomery County still holds a 41% share of tourism spending in the Philadelphia suburbs at $3.8 billion, a 2.8% increase over last year

Montgomery County is also outperforming PA and all the other suburban counties with a year-to-date RevPAR of $82.43

The VFTCB has also seen a reach of 92 million in earned media, and a growth in social media to more than 140,000 followers
Arts Montco Announces New Performances for 2019

"This past summer, the Greater Philadelphia Fairgrounds right outside these doors hosted more than 86,000 attendees for Cirque du Soleil's VOLTA show," said Lisa Karl, vice president of sales & strategic partnerships, VFTCB. "In 2019, we're targeting new business opportunities to utilize at this amazing location."
Karl announced that the Big Apple Circus will be coming to the Greater Philadelphia Expo Center May 2019 through June 2019 to utilize the newly updated outdoor space. In addition, Ed Harris, chief marketing officer of VFTCB, shared that Montgomery County will welcome the world-famous Philadelphia Orchestra to the historic Keswick Theatre on March 21, 2019. A side-by-side rehearsal with local students in the Abington School District will take place during the day, followed by a community concert in the evening. The Fabulous Philadelphians will return to the county in 2020 for a major outdoor event.
emBARK Montco

Dazzling the crowd with tricks and talents, competitors from the National Dog Show, which is held annually at the Greater Philadelphia Expo Center at Oaks through 2022, helped VFTCB introduce the emBARK Montco video premiere. Of the 75 hotels in Montgomery County, over 30 are pet-friendly, giving residents and visitors the opportunity to explore Montgomery County without leaving furry family members behind. VFTCB stated a goal of encouraging more hotels to become pet-friendly within Montgomery County.

History Reimagined

The marketing team also debuted a video with a different, more modern take on highlighting the county's history.
"While we're always looking forward, we remember and continue to reimagine our history through our new Patriot Tales comic book to help highlight our Patriot Trails brand, as well as the history at Valley Forge National Historical Park," said Harris. "History is alive and well in Montgomery County, and we're trying to take a fresh approach to connect with different audiences so that they can discover and explore the story of our historic heroes, make them come to life, and hopefully drive more traffic to the park and our other historic sites."
Valley Forge Sports
Valley Forge Sports represents over 50% of VFTCB business and $35 million in positive economic impact for Montgomery County 

This May, The Valley Forge Sports Team brought the inaugural Valley Forge Invitational, an LPGA Symetra Tour, to Raven's Claw Golf Club in Pottstown and the tour will return in May 2019

VFTCB partnered with the BMW Championships at Aronimink Golf Club, bringing thousands of visitors to Montgomery County, and positively impacting room nights 

Future golf partnerships also include the 2019 Big Ten Championship at Philadelphia Cricket Club and the 2020 KPMG Women's PGA Championship at Aronimink
"At VFTCB we strive to use the event funding program to cultivate new business during need periods such as The Pro Football Hall of Fame Regional Championships at the Proving Grounds over Thanksgiving, the East Coast Summer Showcase Basketball Tournament at the Greater Philadelphia Expo Center at Oaks over July 4 weekend and the new My Hockey tournament at Center Ice Labor Day weekend," said Karl.
The Valley Forge Tourism & Convention Board (VFTCB) is a nonprofit, membership-based sales and marketing organization that actively promotes Valley Forge and Montgomery County, PA as a convention site and leisure visitor destination by encouraging patronage of its 500+ member hotels, restaurants, attractions, and services. The award-winning website links visitors, meeting planners, tour operators, and residents to a diverse portfolio of brands focused on reasons to visit the region.