While Montgomery County, PA has more than 1,600 restaurants to choose from, visitors staying at one of the area's 80 world-class hotels, or enjoying a round of golf at one of 53 historic, and top-ranked greens, can enjoy everything from eclectic fine dining to classic comfort food without ever leaving their hotel, or the course.
1750 Bistro & Zinc Bar + Grille
Holiday Inn Lansdale-Hatfield Hotel
Indulge your culinary taste buds in the comforting American-style home-cooked meals at the family-friendly 1750 Bistro located at the 182-room Holiday Inn Lansdale. The casually sophisticated ambiance and diverse menu is perfect for a laid-back elegant business dinner with clients, or a romantic night out. The restaurant's team of culinary experts cook up everything from braised short rib tortellini to delicious crab cakes and signature pork tenderloin and 1750 Strip Steak.
Plus, guests can also hop on a bar stool over at the hotel's Zinc Bar + Grille for a local draft, seasonal cocktail, a weekend DJ, daily dinner specials, and classic pub fare.
Creekside Sports Bar & Grille
Landis Creek Golf Club
Touted as one of the area's best 19th holes, the Creekside Sports Bar & Grille sits on the grounds of the beautiful, 18-hole public Landis Creek Golf Club. A family-friendly facility with outdoor dining, an awesome bar scene, and frequent live music at night, the fully remodeled bar welcomes friends of old with 13 HD TVs, a Golden Tee machine, and a new menu by an expert team of chefs.
Garden Grille & Bar
Fort Washington & Oaks Hilton Garden Inns
For a beautifully prepared breakfast, lunch, or dinner, indulge in a little on-site dining, or room service, at the full-service Garden Grille & Bar at one of Fort Washington newest hotels. The 135-room Oaks location has your hunger covered with fresh, comfortable menu items like flatbread favorites, and mouthwatering burgers.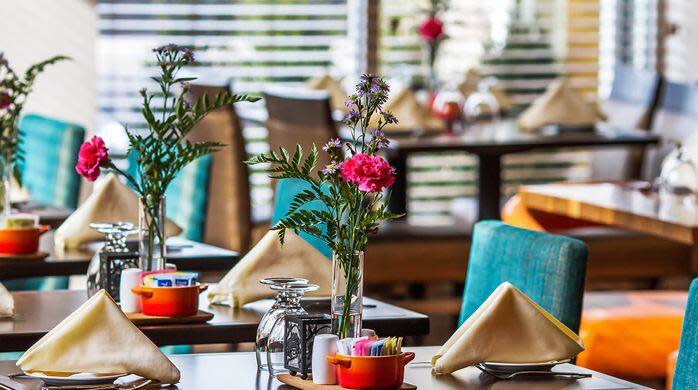 Farmer's Daughter Restaurant
Normandy Farm Hotel & Conference Center
The historic 18th century landmark Normandy Farm Hotel's hip, tongue-in-chic restaurant – Farmer's Daughter – features modern farm-to-table cuisine with luxe, locally sourced seasonal harvest for New American fare that brings innovative ingredients alive on the plate with pure flavors. An airy, large bar offers club chairs, a fireplace, and an extensive list of fresh, creative cocktails.
Rising Sun Inn
Specializing in bison, guests at the historic circa-1700s Rising Sun Inn enjoy hearty American cooking, meadow views, and a unique, massive, and charming stone fireplace in stunning dining rooms, or two-story refurbished 18th century barn.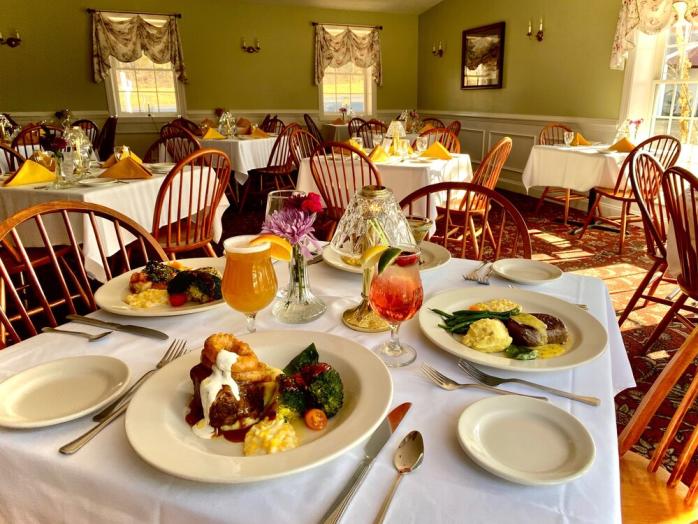 Sessano's
Raven's Claw Golf Club
Taste Santino Ciccaglione's award-winning roast pork sandwiches, daily homemade soup, and delicious, old-fashioned Italian pasta at Sessano's after playing where the pros play – Raven's Claw Golf Club – the site of the Valley Forge Invitational, an LPGA Symetra Tour.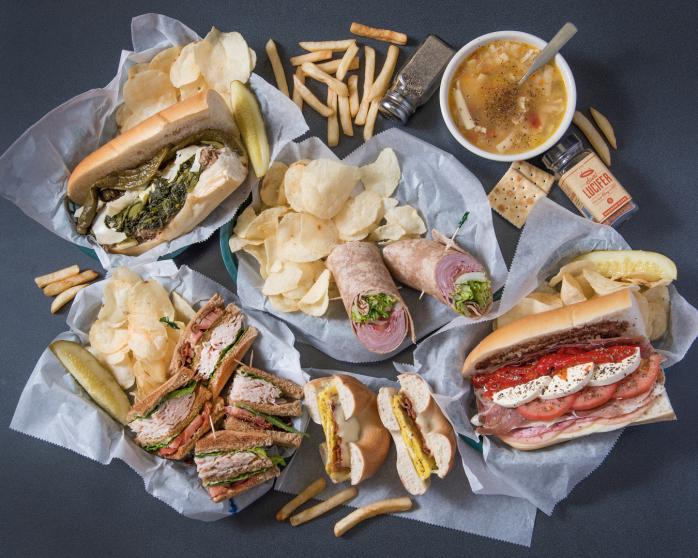 Forager
Crowne Plaza Valley Forge
Experience the culinary talents of the award-winning Forager Restaurant with lounge at this newly renovated hotel with 227 stylish guest accommodations directly across from King of Prussia Mall.
Nearby
Cedar Hollow Inn Restaurant & Bar
This renovated 100-year-old inn offers comfortable dining, a large bar, and delectable American-Continental cuisine with generous portions prepared by CIA-trained chef Stephen Giuseppe.
Historic General Warren Restaurant
A romantic 270-year-old inn and fine dining restaurant, the General Warren also has eight suites with 18th century reproductions, and fireplaces.