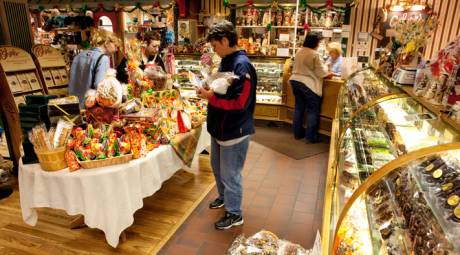 ASHER'S CHOCOLATES
80 Wambold Rd
Souderton, PA 18964
As the calendar pages begin to flip toward Halloween, it's time to start stocking up on candy. Instead of generic fare from the supermarket, fill your trick-or-treaters' bags with something of quality. Asher's has been making chocolates since 1892, so you know that its candy ghosts and bats are not only fun but also delicious.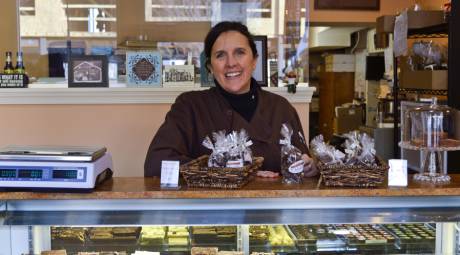 BRIDGE STREET CHOCOLATES
158 Bridge St
Phoenixville, PA
The fresh flavor of pumpkin is folded into the recipes for truffles and fudge this time of year at Bridge Street. And caramel apples are brought to the next level with varieties that include sea salt caramel and bourbon caramel pecan cinnamon.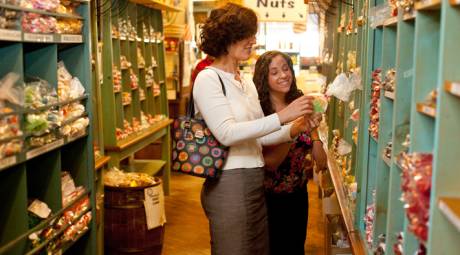 EDWARDS-FREEMAN NUT COMPANY
441 Hector St
Conshohocken, PA 19428
Not all the delights of harvested pumpkins are in the pulp. Edwards-Freeman takes the seeds and roasts them skillfully, adding just the amount of salt to make them an irresistible snack. You'll also find, appropriate to this time of year, cinnamon and hazelnut coffee beans and plenty of candy corn.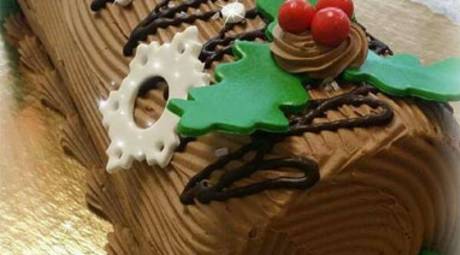 KRIEBEL'S CUSTOM BAKERY
3140 W Ridge Pike
Eagleville, PA 19403
The taste of harvest is baked into the signature desserts coming out of Kriebel's this time of year. Joann's Apple Cake layers moist crumb cake with multiple layers of cinnamon apples. And the rich pumpkin cheesecake begins with a vibrant gingersnap crust.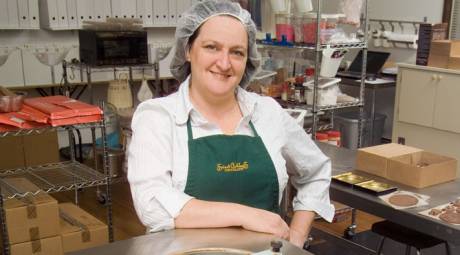 SWEET ASHLEY'S CHOCOLATE
343 Main St
Royersford, PA
One of the signature creations here are the chocolate-covered ginger snaps; they uniquely combine bold and creamy. For the costumed visitors who will soon be on your doorstep, pick up some cute chocolate lollipop fangs, ghosts, mummys, witches or pumpkins
ANNAMARIE'S PLACE
347 Main St
Royersford, PA 19468
Annamarie's dining room bustles with breakfasters looking for huge portions at reasonable prices served by a fast and friendly wait staff. Each harvest time, one of the most popular morning platters is the pumpkin-pie-cheesecake stuffed French toast.
DANISH BAKERS
107 Huntingdon Pk
Rockledge, PA 19046
The family recipes in daily use at the Danish Bakers go back generations, making their old fashioned apple pie a true throwback to the days when gramma would peel local Stayman and Honeycrisps and tuck them lovingly under a flaky crust. There are tons of fall favorites here, including apple dumplings, ghost-shaped sugar cookies and a tough-to-find (but super-yummy) German specialty: plum cake.
DRESHER FARM MARKET
2038 Limekiln Pk
Dresher, PA 19025
If you've got a cider donut obsession, this is the place to satisfy it. One of the Dresher Farm Market owners rises at 2:30 a.m. each day to bake these apple-infused circles of deliciousness. The farm fresh ingredients are harvested locally twice a week.
SCOOPS
515 Fayette St
Conshohocken, PA 19428
Imagine the rich creaminess of pumpkin pie nested in a buttery crust. Now imagine it transformed into ice cream, accompanied by caramel sauce and whipped cream and served in an overflowing glass. That's the pumpkin pie sundae at Scoops.
TOTO'S GELATERIA CAFFE
35 N. Main St
Ambler, PA 19002
Who says frozen treats are just for summer? Toto's, which uses a legit gelato recipe from Italy, stocks its freezers daily with at least 20 options - all of which are fantastico. This time of year, the pumpkin gelato is the way to go.
THE ULTIMATE BAKE SHOPPE
120 Coulter Ave
Ardmore, PA 19003
The desire to cut sugar from the diet can be tough in fall, with so many seasonal treats relying on heavy doses of sweetness. The Ultimate Bake Shoppe has a great alternative in its sugar-free oatmeal raisin walnut cookies.
ZWAHLEN'S ICE CREAM & CHOCOLATE
670 Shannondell Blvd
Audubon, PA 19403
The candy apples at Zwahlen's will make you forego all other hard shelled, red sugared fruit of questionable quality. Creating these beauties begins with large Granny Smith apples that are enrobed in multiple layers of gourmet chocolate. Making them even more festive is the option to decorate with a goofy ghostly face.