Beat the heat this summer
at Montgomery County, PA outdoor pools! 
If your plans changed because of COVID-19, consider a staycation in Montco! Swim in local pools, eat at local restaurants, and discover new establishments in your county that feel like a vacation under the warm summer sun. Just stay local, but in a new place! Montgomery County is a drivable location where you feel like you are on a wonderful vacation, and you are supporting local businesses.
Guests who book hotel stays with the #MakeItMontco Hotel Package from now until December 31, 2020 will receive exclusive hotel rates, and discounts to popular local attractions and restaurants.
Wherever we go, we are ready to cool off! This summer got hot fast and the challenge is finding area pools that are safe and open. Many area hotels have pools open for their guests, so be sure to check pool rules and restrictions when booking your stay.
Nicole Fazio, Marketing Manager at Blue Bell Country Club (BBCC) tells the Montco Explorer that members are asked to kindly wear their face masks when entering or exiting the facility and when walking around.
"We have implemented directional signage instructions to eliminate two-way traffic as well as signage regarding occupancy limits in the bathrooms, washing hands, keeping social distancing both in and out of the pool, and disposing of trash," she said.
BBCC is open seven days a week, and the pool is open from 10:30 a.m. to 7 p.m. Their reservation system includes multiple time slots and a pool Grid System allocating designated areas around the pool has been established. The 27-numbered Grid System marks specific areas where members may sunbathe. The Grid system is designed not to exceed the social distancing requirements, and it is expected that those within each designated area are family or are cohabitating, according to Fazio.
"The safety and health of our members and staff are of the utmost importance during this time," Fazio said. "We have adapted our member experience, modified our steps of service, enhanced our cleaning protocols, and implemented Course & Clubhouse, Pool, Tennis, and Dining Guidelines to ensure a safe and healthy environment. The member response has been extremely positive. It has been a smooth and quick transition to the reservation system and the members have adjusted quickly to the pool guidelines."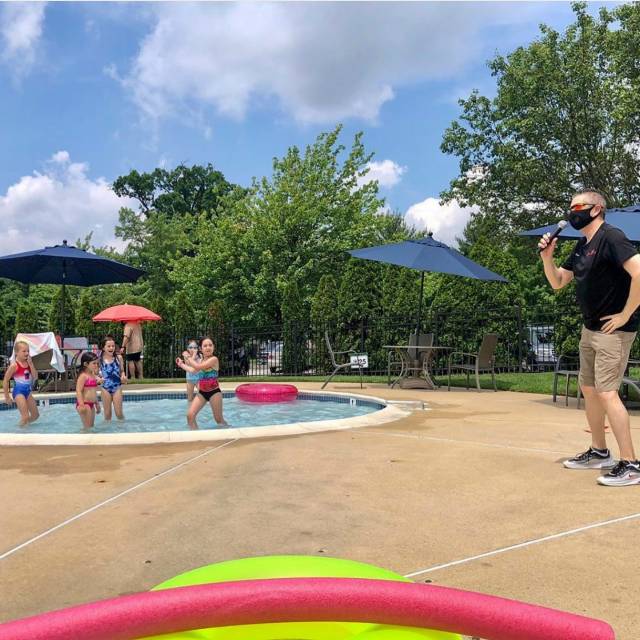 Many local hotels offer both indoor and outdoor swimming, but there are certain regulations in place. The Homewood Suites Valley Forge hotel and the Best Western Plus The Inn at King of Prussia hotel have recently opened their outdoor pools.
Jeannette Wink, Director of Sales and Marketing at Best Western Plus The Inn at King of Prussia opened their pool on June 26, which was later than their normal opening of Memorial Day, and due to COVID-19, they have limited pool hours (10 a.m. to 6 p.m.) and have incorporated safety measures. The only time the outside pool will be closed is for inclement weather.
"Guests do not have to make a reservation when entering our pool area, but the pool capacity is 20 people or less," said Wink. "The pool is being closely monitored by our employees and management staff. We require that all of our hotel guests wear a mask when entering our hotel lobby and other areas of the property. Since the pool is outside, guests do not have to wear their masks, but we do encourage them to socially distance themselves, unless they are with their family."
You'll find that you must make reservations at many swim clubs, and most will ask to take your temperature, as well as asking if you were exposed to anyone with COVID-19. Swim clubs are staying vigilant with disinfecting and cleaning public areas for swimmers' safety.
Local YMCAs, country clubs, hotels, and swim clubs are open for members, and may have restricted access, so please check their availability and guidelines. Each may have different rules, including wearing masks. Timed laps for various gym pools, country clubs, and public pools allow for disinfecting the areas in between each swimmer.
So, cool off this summer when you stay and play at area Montco hotels and seek out area pools for safe swimming! Some other area pools to check out or join:
Brookside Country Club is a members-only club with a golf course, tennis courts, swimming pool and child's wading area, pickleball courts, live music, and dining areas. Check in for times to swim.
610.323.4520
850 N. Adams St., Pottstown
At Whitemarsh Valley Country Club members can swim via reservation, with adult swim times and half-day swim times, along with the diving well and the baby pool area.
215.233.3901
815 Thomas Road, Lafayette Hill
Cool off at the Towamencin Township Community Pool. Get a season pass or a daily pass and swim all summer.
215.368.2615
895 Weikel Road, Lansdale
Nine Oaks Swim Club is a members-only swim club in Royersford. Home of the Gators, this swim club is open with modified swim slots based on pool capacity and reservations are needed.
484.243.0640
777 Mennonite Rd, Royersford