Celebrate Juneteenth in Montgomery County
Montgomery County proudly honors and celebrates Juneteenth, a national holiday celebrating the emancipation of those who had been enslaved in the southern United States. 
 We invite you to join us, here in Montgomery County, on and around the June 19th holiday as our communities gear up for a day of equal observation and celebration this Juneteenth. 
ACME Markets Celebrate Juneteenth
Acme, Bala Cynwyd | Sat. June 10th | 12 - 4 p.m.
Stop by the Acme in Bala Cynwyd on June 10th for an in-store celebration that features product highlights and meal solutions from local minority-owned brands like Glory Foods, Michele's Lawry's, Mrs. Richardson's and much more! The Bala Cynwyd store will also be celebrating with in-store savings, giveaways, entertainment by Craig Satchell, a live DJ, and a special appearance by Patty Jackson of WDAS 105.3 FM!
Porch Performance: Celebrating Juneteenth
Pennypacker Mills, Schwenksville | Sat. June 10th | 4 p.m.
Bring your family out to Pennypacker Mills for a night with abolitionist William Still. William was a prominent Civil Rights activist who coined the term "underground railroad", and was one of the chief "conductors" in Pennsylvania. Hear from William, himself, as he shares his story of how helped as many as 800 enslaved people to achieve freedom. Arrive early for a tour of the mansion before the performance.
The event is free to attend, guests are encouraged to bring a lawn chair for the performance.
Montgomery County Courthouse, Norristown | Thurs. June 15th | 1 - 2 p.m.
To observe Juneteenth celebrations, the Montgomery County Courthouse will hold a special ceremony to raise the official Juneteenth flag. 
Moody Jones Gallery, Glenside | Thurs. June 15th | 5:30 - 8 p.m..
Join Moody Jones Gallery on June 15th for a celebration of Juneteenth and Phenomenal Women. The Artist Talk & Conversation will feature a discussion on Black women's role in Juneteenth, with artists, Kassy Kova, Andromeda Cook and Jazlyne Sabree.
Elmwood Park Zoo | Sat. June 17th | 10 a.m. to 1 p.m.
Head to Elmwood Park Zoo for the Greater Norristown NAACP Juneteenth Celebration on Saturday, June 17th from 10:00 AM to 1:00 PM! This family-friendly event will feature live music, animal meet and greets, and keeper chats. This event is free to attend with zoo admission.
Norristown Borough residents (19401) can visit the zoo on June 17 for FREE by pre-registering online.
Centre Theater | June 17th - June 19th | 10 a.m. to 5 p.m.
Celebrate Juneteenth with an educational trip to the Centre Theater Gallery for the Charles L. Blockson Exhibition, and the view the traveling John Mosley Chicken Bone Beach Collection. From June 17th to June 19th, Independence Blue Cross will be sponsoring free admission for all visitors. 

Celebrating the life's work of Mr. Blockson, a historian, bibliophile, author, and Norristown Native, "The Charles L. Blockson Exhibition" is the first African American Museum in the County and features an impressive collection of artifacts related to the Global Black experience.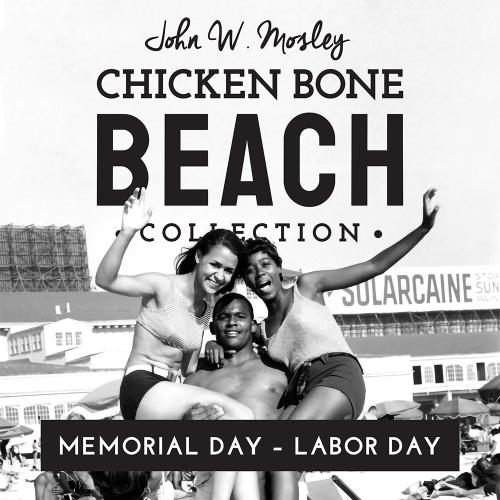 The Charles Blockson Exhibition is proud to present a traveling collection of photographic history. The historic, once-segregated Atlantic City beach, Chicken Bone Beach — a colloquial nod to the popular picnic-basket leftover — was a locus of mid-20th-century African American life. This traveling exhibition features photos and interpretations from beach-bathers taken by world famous photographer John Mosley.​
Juneteenth Celebration at Pottsgrove Manor
Pottsgrove Manor | Sat. June 17th | 12 p.m. - 2 p.m.
Come to Pottsgrove Manor for two presentations on June 17th! While here, guests can explore the past and present of the African Union Church of South Coventry as well as those the free and once enslaved Black ironworkers of Coventry Forge. Following the talks, guests are encouraged to participate in a volunteer cleanup of the nearby historic cemetery.
Norristown | Mon. June 19th | 12 - 6 p.m.
Norristown's Juneteenth Jubilee is surely where you'll want to be on June 19th. Festivities will include live entertainment, vendors, food trucks, and a kids zone, as well as a Harriet Tubman reenactment at the Centre Theater.
30th Anniversary of the Patriots of African Descent Monument
Valley Forge National Historical Park | Sat. June 17th | 11 a.m.
The Valley Forge Alumnae Chapter of Delta Sigma Theta Sorority, Inc. along with the National Park Service invite you to celebrate the 30th Anniversary of the Patriots of African Descent Monument located in Valley Forge National Historical Park. It is the first monument in a National Park to honor Black patriots who served in the American Revolutionary War.
The theme of the anniversary celebration is Celebrating Our History and Presence. A brief reception will follow the celebration at the park's Meeting Room.
A Pop-Up Museum will be featured at the Valley Forge National Historical Park's Visitor Center, from June 16 to July 4. The exhibit tells the story of the making of the monument to the building of the waysides. The exhibit is free to the public.