The two simple words are Workhorse Brewing Company's mission.
 
They could have boasted to be a bigger, more beautiful brewery. It's obvious upon entrance to the 70,000 square foot space that features a large bar, high top and long bench tables, plenty of elbowroom, and dedicated space for private events.
But for co-founder and CEO Dan Hershberg and brewmaster Nate Olewine, "made right" keeps the focus on making great beer and making it easier for people to enjoy it. It isn't a marketing gimmick. It's a promise. A principle that guides Workhorse Brewing Co. from the beginning of the brewing process until the last drop.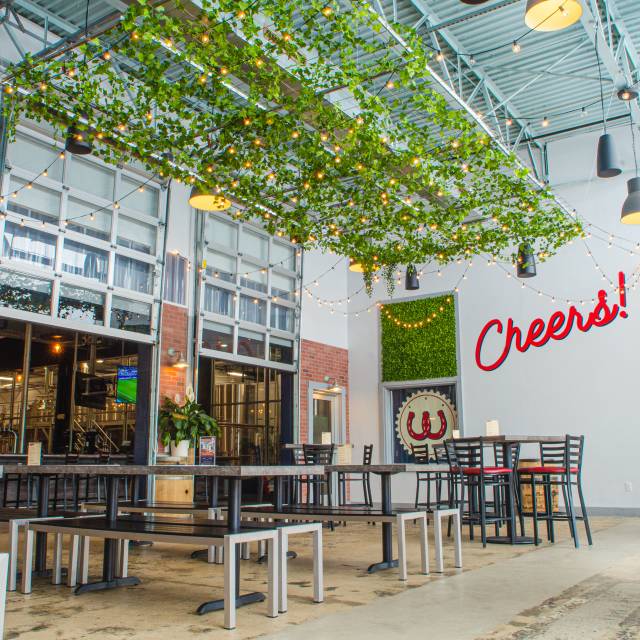 Meet Brewmaster Nate Olewine

Workhorse Brewing Co. has 24 draft lines, a huge production space, and a 30-barrel Rolec system, a top-of-the-line German engineered system focused on automation and quality and control. And one employee who works in production.

Brewmaster Nate Olewine.
 
Olewine has been in the industry for ten years and has a scientific background. He earned his BS in Food Science at Virginia Tech for microbiology, and then moved to UC - Davis where he completed the prestigious Master Brewers Program. Olewine started his career at Victory Brewery in Downingtown, and then moved to rural Virginia to open Devils Backbone. Over the course of his four-year tenure, Olewine's beers won various awards, Devils Backbone won the Great American Beer Festival (GABF) Mid-Sized Brewing Company of the year, and the brewery increased production from 10,000 barrels in 2012 to nearly 80,000 in 2016. Devils Backbone recently became one the largest regional breweries and was purchased by Anheuser Busch.

"Olewine's mentality is the reason we get along so well professionally and personally, is that quality over everything," said Hershberg. "It is the sole driver behind any decision this business makes. It's about a commitment to quality."
 
Olewine took a few minutes to share a beer and some thoughts on the life of a brewmaster.
Do people see the title "brew master" and think it's a dream job.
Olewine: It depends on who you are talking to. A lot of people think it's a super glamorous job but for me I get to exercise so many different disciplines. My background is food science, which is a blend of chemistry and microbiology. I get to do plenty of that. I also enjoy welding and get to fix things. There's a lot of cleaning involved, too. Half the time I'm cleaning or scrubbing something. It's not as glamorous as people think. At the end of the day I get to enjoy this (Olewine holds up glass of beer). There are not a lot of people who at the end of the day get to enjoy the fruits of their labor. It allows me to function from a technical perspective and be creative. 
You are the only one doing production. Is it lonely?
Olewine: My wife works behind the bar every now and it's the only time I see her (laughs). It's a dynamic workplace. I love the work I do. It allows me to focus on my job. 
For someone whose default order is a Miller Light, Yuengling, or Corona with lime, coming into a brewpub can be intimidating. 
Olewine: That was something we initially wanted to address. Not everyone goes into a brewery and wants the West Coast IPA or latest and greatest sour beer. We want to have a portfolio that addresses a variety of tastes people have. It's why we have the Helles, a Vienna lager, and a pils. We wanted to have a varying portfolio with something for everyone. 
What tips would you give people visiting for the first time and their standard order is Yuengling, 
Olewine: All of them. A flight is a good option if you don't know the brand well. If you are looking for something similar to Yuengling, the Vienna Lager is a good transition and Amber Lager from a flavor and color standpoint.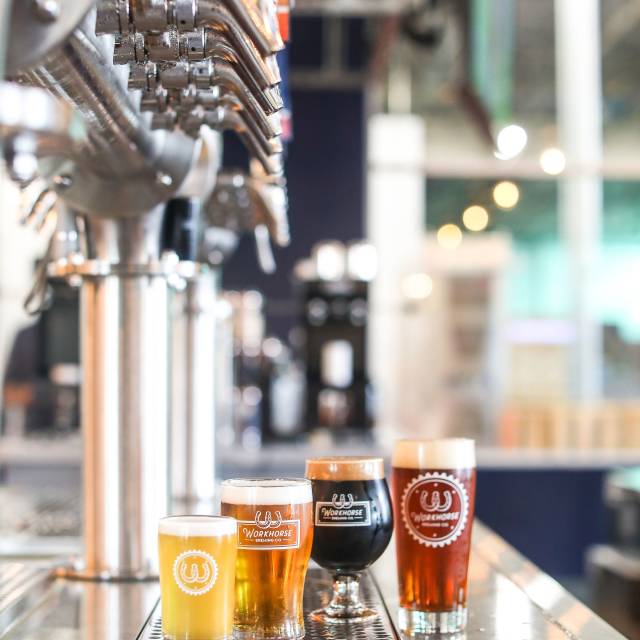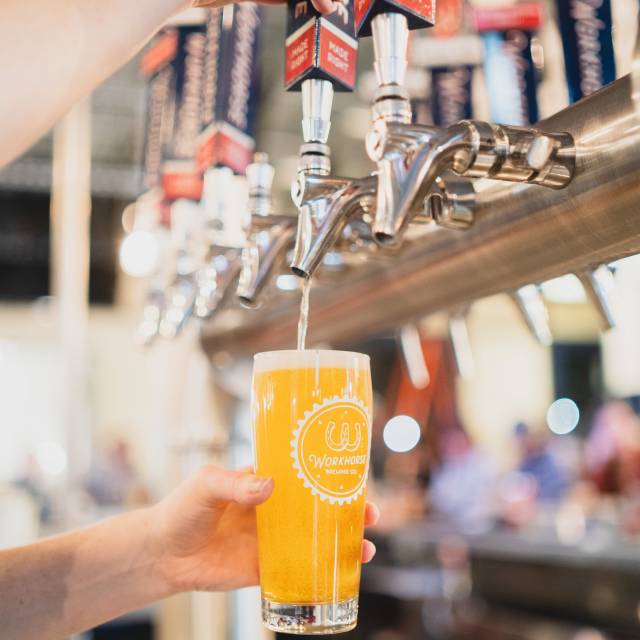 There are also many people who take beer seriously. What would you say to the couple who are regulars at beer fests and keeps a blog about beers they have tried?
Olewine: I enjoy people coming in and critiquing the beer. It's part of the game. I try to get an idea of what styles are their go-to and hone in on the beers that fit their pallet. I drink pretty much everything out there. 
Are there more aficionados who visit Workhorse or people who just want to chill out and have a beer?
Olewine: We get them both. Our best seller is the New England IPA, which is a more hazy, juicy, hop-bomb that doesn't have a lot of bitterness to it. That's what a lot of the aficionados are seeking out right now. But we do get a mix of people who order the Vienna and Helles.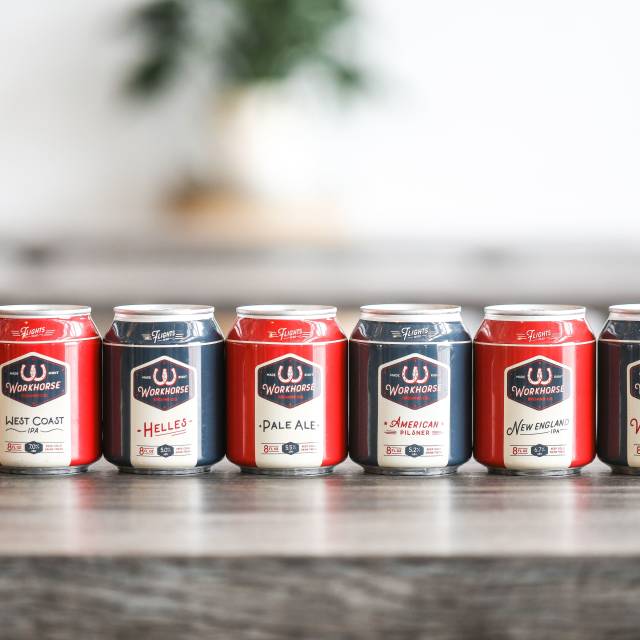 What is it about beer you love the most?
Olewine: It helps that there is the creative side. I've always been artistic. It allows me to exercise all the disciplines I mentioned before and I don't think there are a whole lot of jobs that blend the technical for creative. This is my shop now. It's what I've been working on for a long time. To be able to run a place the way I want to run it and brew the beers I want. And there are people out there who are enjoying the beers I like to produce. It's a dream come true. My grandfather said, "find a job you like working and you'll never work a day in your life." It sounds kind of hokey but it's certainly true. If you don't love your job it's hard to show up every day.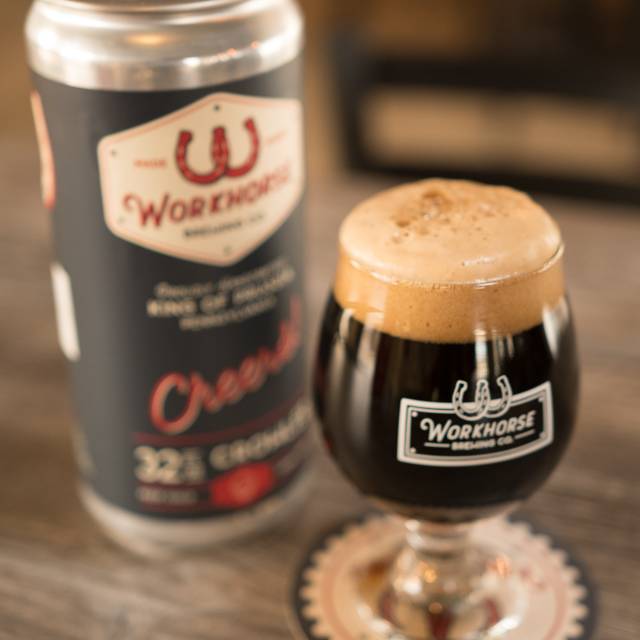 There are a lot of breweries in the area and more area always popping up, why should people come to Workhorse Brewing Co.?
Olewine: We are trying to be as true to style as possible. I enjoy the competition. I think its what's best for the consumer because it's what makes everyone bring his or her "A" game. When I first got into the industry, the consumer wasn't as well versed as they are now so they know what a good beer is. 
---
Workhorse Brewing Co. opened in August 2018 and is King of Prussia's only brewery. They are "taking flight" this Summer with "Flights to Go" which is a six-pack of 8 oz cans filled with each of Workhorse's six core brands: West Coast IPA, Pale Ale, Vienna Lager, Helles and Pilsner.